Union Luxury Apartments Lahore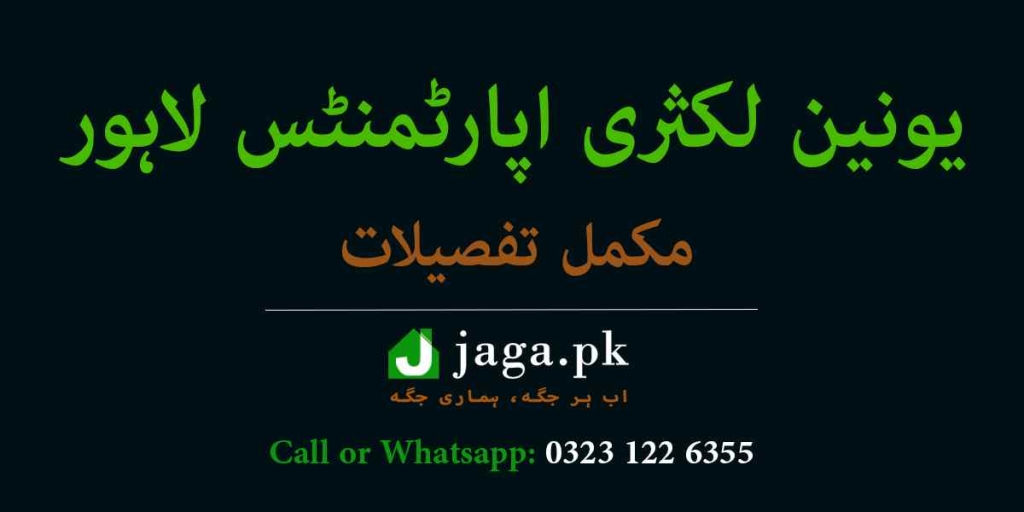 A new and uppermost project which is situated at a very perfect place in Lahore. This location is established on modern and recent ideas while providing exceptional living choices.
All the living wishes will be truly satisfied here at this location which has something distinctive and advantageous to provide its inhabitants. The living status and level will go to new peaks as modern ideas are thoroughly kept in view.
---
---
---
Union Luxury Apartments are divided into the following sizes: studio, 1 bed, 2 bed, and 3 bed. You will feel at home, no matter where you land. It gives you a pleasant living with all resources and convenience as well and you will find upscale furnishings and all necessary and ongoing support.
You have to bring yourself only, no need for anything. Each luxe apartment is vast and has room services such as a fully furnished kitchen, big windows, and an outdoor balcony, permitting the room to be stuffed with natural light whilst providing breathtaking natural landscape scenes. We have everything to make your stay unforgettable and catchy.
At Union Apartments Heights Etihad Town, you will notice a team committed to approaching your expectations.
The developers have selected the best place for this project which adds more to its worth and respect. All the amenities and benefits will be available here to offer dream habitation to people.
The world's finest brand shops are also here to serve all the shopping requirements of people. The trade and living, choices are really vivid here. It is going to be an investment hub for multiple nearby attractions as well.
In this video, you can check if the model house is ready for a visit. The quality feels low because of the compressed video size. You can check the quality by visiting the 2-Bed model apartment physically.
Union Luxury Apartments Lahore Location Map
Union Apartments has a rich locality in the heart of the city. Situated in Etihad Town Main Raiwind Road, Lahore, the project enjoys closeness to Orange Line Metro Train Terminal, Lahore-Islamabad Motorway, Ring Road, Thokar Niaz Baig, University of Lahore, Comsats University, University of Central Punjab, and Shaukat Khanum Hospital.
Being the main place of Lahore city, you don't need to travel for long hours to reach your daily requirements because all contemporary amenities and facilities are provided close to Mengal this project including, commercial zone, shopping malls, banks, entertainment zone, well-reputed schools and universities, and well-structured hospitals.
Especially, the presence of public transport helps you to visit all inner zones easily while adding calm to your life.
The entire above-mentioned location particulars make the plan more feasible for its anticipated investors as place plays the most important role in any real estate project.
The location is easy and reachable for all without any trouble. You don't need to go to some other place because it contains all that it needs for an ideal locality.
Golden Sand Apartments and Palace Mall Apartments and Shops are also nearby Union Developers-owned luxe apartment buildings.
Union Luxury Apartments Payment Plan
The 2023 payment plan of Luxe Apartments' Lahore by Union Developers is not only smooth but provides extensive flexibility to its consumers.
It is planned with very unique and recent trends while immolating every type of ease to people. The ownership is given in a very easy manner. It contains a very easy installment plan in order to satisfy the customer.
The price of apartments is around 15000 per square foot. There will be a total of 11 floors and 6 blocks in the project. The booking has been started. For booking and details call/WhatsApp the numbers given below.
| Category | Total Price | Advance | 20 Monthly Installments | 4 Half Yearly Payments | On Possession |
| --- | --- | --- | --- | --- | --- |
| Studio | 6,995,000 | 1,095,000 | 115,000 | 551,250 | 1,395,000 |
| 1-Bed | 9,495,000 | 1,495,000 | 145,000 | 801,250 | 1,895,000 |
| 2-Bed | 22,495,000 | 3,395,000 | 345,000 | 1,926,250 | 4,495,000 |
| 3-Bed | 25,995,000 | 3,895,000 | 395,000 | 2,251,250 | 5,195,000 |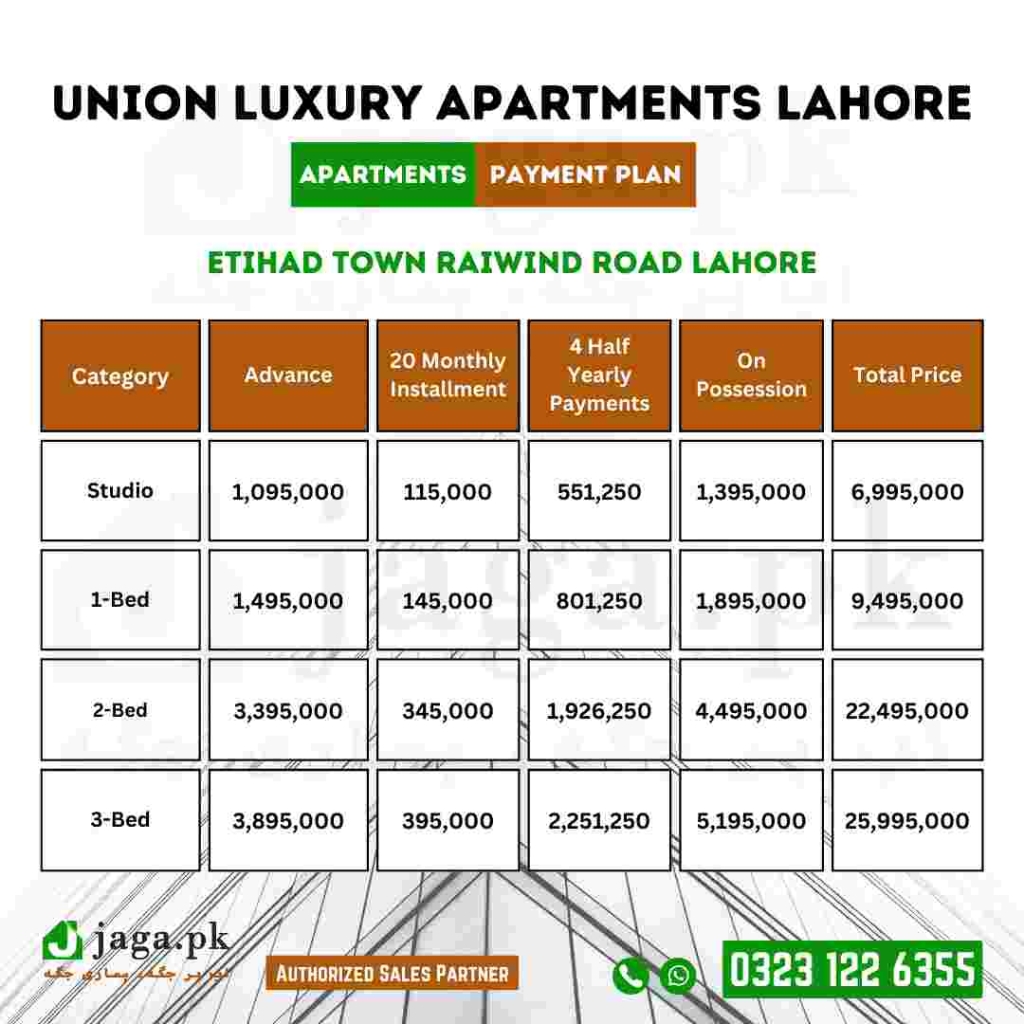 ---
---
Union Luxury Apartments Project Plan
The project is giving contemporary-style luxury apartments in different categories. People can select according to their requirements. Both large and small apartments like Studio, 1, 2, and 3-bed apartments are present.
The total area of the project is 4 acres. The buildings are consisting of 6 towers where 5 blocks contain 11 floors and 6th contain 9 floors each which are all well-equipped and established according to modern ideas.
There are around 800+ units with 800+ car parking spaces in the basement and on-ground. For 2-Bed and 3-Bed apartments, there will be one dedicated car parking space. For studio and 1-Bed apartments, the car parking rent will be included in the maintenance charges or they have to pay 10 lac extra for dedicated car parking space.
The possession of apartments will be given in 2024.
On the other hand, if you talk about Union Luxury Apartments' property structure, surely you cannot stop your hand because blazing apartment cutting gives you aerated and spacious living space.
This project has a distinctive identity in its surroundings because of its interior/ exterior artwork, intelligent locality, and diversity of apartment properties. There is nothing that has missed out on this towering infrastructure because it contains everything from basic life needs to luxuries of the modern-day.
For reaching each floor flexibly, developers have organized fast-speed lifts, in case emergency fire control and earthquake control systems are ordered.
This progress is guaranteed all future advantages, After the first visit you can feel that you can secure your credits by being a part of the community at Etihad Town Apartments Lahore.
Studio Apartment Layout/Floor Plan
The gross area of the studio apartment is 501 sq ft, where the covered area is 372 sq ft while 129 sq ft is the circulation area.
1-Bedroom Apartment Layout/Floor Plan
The Gross Area of 1 Bedroom Apartment is 640 sq ft, where the covered area is 475 sq ft while 165 sq ft is the circulation area.
2-Bedroom Apartment Layout/Floor Plan
The Gross Area of 2 Bedroom Apartment is 1507 sq ft, where the covered area is 1127 sq ft while 380 sq ft is the circulation area. There will be dedicated car parking as well for 2-Bed Apartments.
3-Bedroom Apartment Layout/Floor Plan
The Gross Area of 3 Bedroom Apartment is 1807 sq ft, where the covered area is 1263 sq ft while 544 sq ft is the circulation area. There will be dedicated car parking as well for 3-Bed Apartments.
---
---
Developers of Union Luxury Apartments Lahore
This is a project of Union Developers, a bright and popular name in the industry. They work with great eagerness and devotion.
The developers are devoted to high quality, probity, and honesty in order to give the best services to the clients.
They work with the purpose of making available the finest and most comfortable living spaces for families and a suitable investment environment for trade buyers.
The designation and popularity of developers are increasing day by day because of their honesty in their work.
The goal and work of developers are sincere and that is why they have gained a very good status in the real estate industry of Pakistan.
The other projects of the developers include:
Union Luxury Apartments Lahore Features and Facilities
Union Heights has to offer the most luxurious and modern contemporary features to its residents.
Being a top-grade locality and giving convenient facilities, this project has shown to be one of the most reputable ones. Below are briefly described features that the society offers:
Executive Club
Swimming Pool
Supportive Reception
Turkish Hamam
Gym
Cafe
Grand Reception
High-Speed Elevators
Dedicated Car Parking for 2 and 3-Bedroom Apartments
For Studio and 1-Bed Parking is rental.
Earthquake resistant structure
Gated society
24/7 security and safety guaranteed
Roads are carpeted and are 35' to 150' wide
A fully-equipped sports complex
Grand Jamia Mosque
Union Mall
Community Club
5 Star Hotel
Shops in each block and commercial complexes
Self-generating electricity
Business Area
ATM machine
Reserve Car Parking
Police stations
Post offices
Fire Station
Bus Terminal
Telephone Exchanges Gated Community
Security and surveillance system for 24/7
Uninterrupted electricity power supply
Well established hospitals
There are multiple investment options at affordable rates.
Shopping malls, cinemas, and gyms
---
---
Commonly Asked Questions
Below we have answered a few of the frequently asked questions.
Is Union Luxury Apartments approved?
Yes, it is approved by LDA (Lahore Development Authority) and all concerned authorities.
Who is the owner of the project?
Mian Amir Mahmood is the owner of this project.