China Town Lahore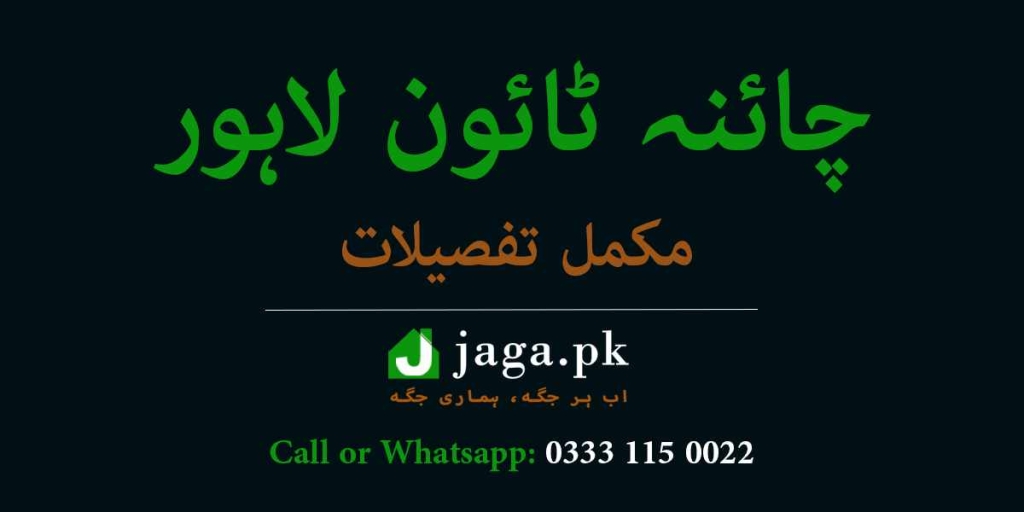 Lahore often termed the 'Heart of Pakistan,' is a city that beautifully marries its rich historical tapestry with the hustle and bustle of modern urban development. As the cultural and economic hub of Pakistan, it offers a unique blend of traditional charm and contemporary aspirations.
In this evolving landscape, there's a surge in the demand for housing societies that resonate with modern amenities, strategic locations, and thoughtful planning. Everyone dreams of a place that not just offers a home but a lifestyle.
Amidst this backdrop emerges China Town Lahore, a housing society that promises to be more than just a collection of homes. Nestled in a prime location, offering attractive payment plans, and boasting world-class facilities, this venture promises to redefine urban living in Lahore.
---
---
Imagine residing in a place where every detail, from the width of the roads to the design of the parks, is crafted with you in mind. Where international standards meet local flavors, and where you're not just buying a plot but securing a future filled with comfort, convenience, and luxury.
In this article, dive deep into what makes this housing venture stand out. From its strategic location, and transparent payment plans, to the developers behind this vision and the unmatched facilities it offers – get ready to discover your dream abode in Lahore's newest landmark.
China Town Lahore Location Map
Finding a residential area in Lahore that offers both convenience and connectivity can be challenging. Many housing societies are either too far from essential amenities or aren't easily accessible.
Without a prime location, residents often find themselves wasting hours in transit, missing out on the benefits of city life, and dealing with the hassle of long commutes. This can lead to frustration, increased expenses, and a compromised quality of life.
Enter China Town Lahore. Positioned strategically near the Sialkot Motorway Interchange, it boasts a prime location that promises not just connectivity but also unparalleled convenience.
Whether you're looking for proximity to major roads, renowned educational institutions, or the city's major landmarks, this housing scheme has it all. Say goodbye to tedious commutes and embrace a life where everything is just a short drive away.
Here's a breakdown of its location:
Main Location: Situated near the Sialkot Motorway Interchange, Lahore, it lies directly opposite the Lahore Smart City.
Proximity to Major Roads:

A mere 2-3-minute drive from the Ring Road.
Approximately 5-6 minutes away from the Eastern Bypass, GT Road (N-5), and the Lahore-Islamabad Motorway interchange at Kala Shah Kaku.

Nearby Landmarks:
Public Transport: As of now, public transport isn't accessible due to its location on the motorway, but with its growing popularity and more housing societies sprouting around it, this could change in the future.
Given the influx of future housing projects in its vicinity, especially RUDA, China Town is well-positioned to become a hub of activity and a coveted residential spot in the city.
China Town Lahore Payment Plan
Navigating the intricacies of housing society payment structures can be a daunting task. Many potential homeowners find themselves overwhelmed by complex payment terms, unexpected costs, and unclear installment plans.
This confusion can lead to potential financial mishaps, missed opportunities, and unnecessary stress. The fear of hidden fees, sudden balloon payments, or being caught off-guard with unplanned expenses can make the dream of owning a home seem out of reach.
But worry not! We're here to break it down for you. Chinatown Lahore offers a straightforward and transparent payment plan:
Available Plots: They're offering plots in sizes of 3 marla and 5 marla.
Pricing Made Simple:

3 marla plot:

Total Cost: 765,000
Booking Fee: 175,000 (This is your initial payment.)
Monthly Payments: 5,500 for 5 years. No confusion, no fuss.

5 marla plot:

Total Cost: 1,250,000
Booking Fee: 275,000
Monthly Payments: 9,500 for the next 5 years.

No Unexpected Surprises: You won't be hit with balloon payments out of the blue. The plan is as straightforward as it sounds.
Clarity on Additional Costs: While the prices are clear-cut, keep in mind they don't cover development charges. So, you might have some additional fees.
With this transparent plan, the housing society ensures you're well-informed, making your journey to homeownership smoother and stress-free.
---
China Town Lahore Project Plan / Society Map
Ever imagined living in a meticulously planned society where every detail, from the broad boulevards to green parks, is carefully designed for residents? Enter the world of China Town Lahore!
It isn't just another housing society; it's a vision brought to life by top Chinese town planners. Here are some captivating highlights:
Broad Boulevards: The main boulevard stretches an impressive 220 ft, ensuring smooth traffic flow and grandeur.
Street Design: Even the smallest streets in the society won't be less than 40 ft wide. No cramped lanes here!
Organized Layout: The entire society is methodically divided into blocks and sectors. Each has its dedicated central commercial area, ensuring you have everything you need close by.
But that's not all! Imagine stepping out of your home to:
Lush Parks: With parks located in every block and sector, your morning walks and evening strolls just got greener.
Essential Amenities: From educational institutions, a cricket stadium, and gyms, to hospitals and graveyards, the society promises a holistic living experience. Everything is within reach.
Safety Assured: With approvals from TMA and all relevant housing authorities, you can be assured that this project adheres to all safety and regulatory standards.
So, are you ready to envision your life in this housing society? Dive deeper into the society map, explore each sector and block, and discover a world designed just for you. Secure your spot in this architectural masterpiece and step into a future of comfort and convenience.
---
Developers of China Town Lahore
When choosing a place to call home, the reputation and expertise of its developers play a pivotal role. Behind this project stands a name that's synonymous with excellence.
Meet the team at the helm of this ambitious project – Legend Developers. Partnering with seasoned Chinese developers, they bring a fusion of international standards and local understanding. Here's why they stand out:
Years of Experience: Legend Developers have been in the industry for years, gathering invaluable insights and expertise.
A Strong Team: Their team comprises seasoned professionals who ensure every detail of the project is executed to perfection.
First Own Housing Project: While they've been instrumental in other ventures, China Town is their very own flagship project, making it a testimony of their commitment and vision.
Imagine living in a society where:
Quality Meets Excellence: With their rich history, you can expect top-notch infrastructure, innovative design, and a community-centric approach.
Trustworthiness: Their partnership with renowned Chinese developers adds an extra layer of assurance to the project. This collaboration promises a blend of aesthetic appeal and structural integrity.
Innovation at its Best: Their unique insights and dedication mean that this town is not just another housing society but a landmark in urban development.
Interested in being a part of a community shaped by industry leaders? Dive into the vision of Legend Developers for this venture. Join hands with a developer who doesn't just build houses but crafts homes with passion and precision.
Features and Facilities China Town Will Have
In today's fast-paced world, everyone yearns for a residence that offers a harmonious blend of modern amenities, security, and leisure facilities. But finding such a place in Lahore can be quite challenging, with many housing societies falling short of expectations.
Living in a society without essential amenities can lead to a myriad of issues. From safety concerns, and lack of entertainment options, to basic infrastructure problems like interrupted water supply or power outages, the list goes on. Such challenges can make daily life tedious and stressful.
But there's good news! China Town Lahore stands out by ensuring that residents experience nothing short of excellence. Designed with an eye for detail and an emphasis on resident well-being, the society boasts a range of features and facilities that cater to every need:
Essential Utilities:

Continuous supply of Gas, Electricity, and Water
Underground wiring to ensure safety and aesthetics

Safety and Security:

24/7 security surveillance
Gated community for added peace of mind

Recreation and Health:

Parks in every block and sector
Sports complexes and a cricket stadium
State-of-the-art gyms

Education and Knowledge:

Schools and colleges within the society
Proximity to renowned universities

Healthcare Facilities:

Fully-equipped hospitals
Emergency services available round the clock

Daily Needs and Shopping:

Grocery stores for daily essentials
Supermarkets for a comprehensive shopping experience

Connectivity:

High-speed internet services
Well-maintained wide roads for easy navigation

Other Amenities:

Graveyard
Central commercial areas in every sector
With such a vast array of facilities, society promises a lifestyle that's comfortable, secure, and above all, fulfilling. So, why compromise when you can have it all? Choose this marvelous housing project and elevate your living experience.
---
Commonly Asked Questions
Below we have answered a few of the frequently asked questions.
Who are the main developers and owners of China Town Lahore?
It is a prestigious project developed by Legend Developers in collaboration with experienced Chinese developers.
And the project is owned by Tanveer Bajwa.
Is the NOC for China Town Lahore approved?
Yes, the housing venture has obtained its NOC and is fully approved by the relevant housing authorities, ensuring that the project adheres to all the necessary regulations and standards.
What makes China Town different from other housing societies in the region?
The project stands out due to its prime location, well-thought-out design by renowned Chinese town planners, and an array of world-class facilities.
Furthermore, its transparent payment plans and the reputation of its developers add to its uniqueness and trustworthiness.
Are there any hidden charges apart from the plot prices mentioned?
The prices mentioned for the plots do not include development charges.
Potential buyers are advised to consult with the sales department of China Town Lahore to get a detailed breakdown of any additional costs.