Al Qaswa City Lahore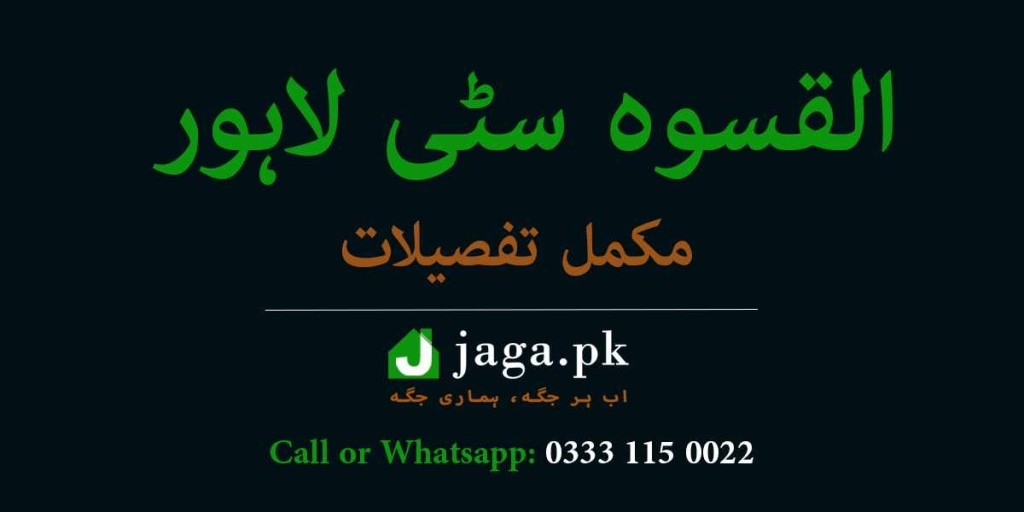 Lahore, often dubbed as the 'Heart of Pakistan', is a city that gracefully marries its rich history with the aspirations of a progressive future. With its bustling streets, historic landmarks, and vibrant cultural scene, Lahore embodies a spirit that is both ageless and contemporary.
Amidst the city's ever-evolving skyline, Al Qaswa City Lahore emerges as a beacon of modern living. Nestled conveniently near Kala Shah Kaku and Urban City, this housing society promises to redefine urban luxury while staying rooted in the city's traditional ethos.
---
---
Imagine residing in a place where every convenience is at your doorstep, where meticulous planning meets aesthetic design, and where the promise of a comfortable life isn't just a marketing tagline but a tangible reality.
Delve deeper into this article and embark on a journey through Al Qaswa City. From its strategic location, easy payment plans, and impressive project layout to the experienced developers behind the venture – discover what makes this housing society the next big thing in Lahore's real estate landscape.
Al Qaswa City Lahore Location Map
Navigating through Lahore's bustling streets and vast housing societies can be quite a task, especially when you're looking for a strategic, well-connected location for your future home.
Choosing the wrong location can mean longer commute times, inaccessibility to main roads, and being far away from essential amenities and academic institutions. All of these factors can seriously dampen the joys of living in a new housing society.
Enter Al Qaswa City Lahore – positioned at a locale that promises unparalleled connectivity and convenience. Here's a glimpse into its strategic location:
Prime Location: Situated on Main GT Manno Abad, it's right near the urban buzz of Kala Shah Kaku.
Quick Access: Just a 4-5 minute drive from pivotal points like the ring road, eastern bypass, and the Lahore-Islamabad Motorway interchange at Kala Shah Kaku. Not to mention, it's practically on GT Road (N-5) itself.
City Proximity: Only 25 minutes away from the heart of Lahore, including landmarks like DHA and Allama Iqbal International Airport. Plus, it's a brief 4-5 minute drive from Muridke city.
Educational Institutes: Renowned universities such as GCU, UET, and UHS (Kala Shah Kaku campuses) are in close proximity.
Neighboring Societies: It's surrounded by notable housing societies like SA Gardens, Al Kabir Orchard, Green Valley, Lahore Smart City, and Urban City.
Public Transport: One of the prime perks is its location on the main GT Road, ensuring 24/7 public transport availability, and making commuting a breeze.
Choosing Al-Qaswa Housing Society means being at the crossroads of convenience, connectivity, and modern living. Explore its location further with a detailed location map to truly grasp the advantages on offer.
Al Qaswa City Lahore Payment Plan
Investing in real estate, especially in a bustling city like Lahore, often comes with a hefty price tag. Many people dream of owning a plot in a prime location but are discouraged by exorbitant prices and complicated payment structures.
Without a clear and affordable payment plan, potential buyers might find themselves stretching their budget, encountering hidden costs, or dealing with ballooning payments down the road. The dream of owning a piece of land can quickly turn into a financial nightmare.
The project, keeping the needs and concerns of its prospective buyers in mind, presents a transparent and affordable payment plan:
Flexible Options: Plots of 3 and 5 marlas are available, catering to varying needs and budgets.
3 Marla Plots:

Total Price: 900,000 PKR
Booking Amount: 200,000 PKR
Monthly Installment: 6,500 PKR spread over 5 years

5 Marla Plots:

Total Price: 1,750,000 PKR
Booking Amount: 350,000 PKR
Monthly Installment: 10,500 PKR spread over 5 years

Transparency: The mentioned prices are exclusive of development charges. It's always recommended to get in touch with the sales department for any additional charges or clarifications.
With this payment plan, owning a plot in a premium housing society has never been this straightforward. Make the wise choice, and invest in a future filled with promise and potential.
Al Qaswa City Lahore Master Plan / Society Map
When envisioning a dream home, what's outside the four walls matters just as much as what's inside. The layout of a housing society, the accessibility of amenities, and the design philosophy play a pivotal role in shaping your everyday life.
Al Qaswa City Lahore takes urban planning to the next level. With a layout designed by professional local town planners, this housing society ensures that residents experience a harmonious blend of comfort and functionality.
Imagine living in a place where:
Main Boulevard: A spacious 150 ft wide, ensuring smooth traffic flow and giving a grandeur feel to the society.
Street Design: Even the smallest streets are 30 ft wide, promising ease of access to every nook and corner.
Block-wise Amenities: Each block is meticulously planned with its own central commercial area, ensuring convenience is never more than a few steps away.
Green Spaces: Every block boasts its own park, making sure residents have ample space to relax, play, and rejuvenate.
Facilities Galore: From educational institutes, playgrounds, and sports complexes to gyms, graveyards, and lush trees – the society offers a holistic living experience.
Don't just dream about such a meticulously planned living space – delve deeper into the detailed project plan and society map. Discover the thoughtfulness in design and layout that promises a life of convenience, luxury, and fulfillment.
Developers of Al Qaswa City Lahore
In the real estate world, trust is paramount. With countless housing societies emerging in Lahore, it's often challenging to discern which developers have the expertise, experience, and ethical practices to deliver on their promises.
Investing in a housing society without a credible developer backing the project can lead to countless issues. Delays in project completion, compromised quality, and potential legal hassles can turn your dream investment into a prolonged nightmare.
Al Qaswa City Lahore stands tall, backed by the dedication and prowess of Al Qaswa Developers:
Experienced Team: Al Qaswa Developers is not new to the real estate arena. They bring with them years of experience, ensuring that every aspect of the project is crafted with precision and professionalism.
Ethical Practices: Trust and transparency are at the heart of their operations. Every stage, from planning to execution, adheres to the highest standards of integrity and excellence.
Commitment to Quality: While this housing venture is their first independent housing project, their dedication to quality is unwavering. They understand the nuances of urban planning and are committed to delivering a society that resonates with luxury, functionality, and sustainability.
With Al Qaswa Developers at the helm, residents and investors of the project can be assured of a housing society that isn't just built on land, but also on a foundation of trust, expertise, and dedication.
Features and Facilities Al Qaswa City Will Have
In today's fast-paced world, merely owning a piece of land or a home isn't enough. Modern-day residents seek a living environment that caters to their comprehensive needs, ensuring that every facet of their life – from leisure to utility – is addressed within their residential society.
Settling for a housing society that lacks essential amenities can lead to inconvenience, additional expenses, and a compromised quality of life. The lack of parks means less space for kids to play. No nearby schools or colleges could mean longer commutes for education. The absence of basic utilities can disrupt daily routines.
Al Qasva City Lahore recognizes these concerns and offers a bouquet of features and facilities designed to elevate the living experience of its residents:
Utility Services: Gas, electricity, and water are provided, ensuring a hassle-free lifestyle.
Digital Connectivity: High-speed internet keeps you connected in this digital age.
Security: 24/7 security ensures the safety and peace of mind of residents.
Education: Proximity to renowned educational institutions means your child's education is just a stone's throw away.
Leisure and Fitness: Parks, gyms, and sports complexes promote a healthy lifestyle.
Daily Essentials: Grocery stores within the society mean you don't have to venture far for daily needs.
Features and Facilities at a Glance:
Gas, Electricity, and Water Supply
High-Speed Internet Access
24/7 Security
Nearby Schools and Colleges
Parks in Every Block
Playgrounds and Sports Complexes
Gyms
Graveyards
Wide Roads
Grocery Stores
With such an exhaustive list of amenities, Al-Qasva City ensures its residents experience a life that's both comfortable and convenient.
Commonly Asked Questions
Below we have answered a few of the frequently asked questions.
Who are the developers behind Al Qaswa City Lahore?
It is a proud venture by Al Qaswa Developers. They bring years of experience in the real estate industry, and while this is their first independent housing project, they are committed to delivering excellence in every facet of society.
Is the No Objection Certificate (NOC) approved for Al Qaswa City Lahore?
Yes, the project has received approval from TMA and all other relevant housing authorities. The project adheres to all legal and regulatory requirements, ensuring a secure investment for potential buyers.
What are the nearby landmarks or institutions around Al Qaswa City Lahore?
Al-Qaswa Housing Scheme boasts a strategic location with close proximity to renowned educational institutions such as GCU, UET, and UHS Kala Shah Kaku campuses.
It's also near other notable housing societies like SA Garden, Al Kabir Orchard, Green Valley, Lahore Smart City, and Urban City. Plus, it offers the convenience of being just a short drive away from DHA, Allama Iqbal International Airport Lahore, and Muridke City.