Etihad Town Lahore
Lahore city can be portrayed as a model of human development and termed the city of Gardens. It is the capital of Punjab and an exceedingly urbanized and optimistic city in Pakistan.
A huge history is appended to this city. It comprises numerous bona fide spots that have a connection with Mughal and Victorian times. It is the key town that is hooked up with Sheikhupura from the west and the Kasur area from the southern side of the city.
On the east side of Lahore, you will find the Wagah border. The Ravi River is situated in the northern piece of the city. Punjabi is the fundamental language of the city. Nevertheless, the Urdu and English dialects are the significant wellspring of correspondence in the city.
In light of the quick advancement, the work city is growing outward and so the real estate sector has grown. All of us desire to live in such an urbanized city and Etihad Town Lahore is going to offer that kind of urbanized city. It is a spotless and marvelously planned residential community in the town.
It is a place where the residents will be able to experience the true luxury of life in the serene environment on Raiwind Road. By residing in this housing society, you will get total significant serenity and peacefulness.
All the essential life traits will be available in the Town to make your life more convenient and easy. Properties here are arranged in such a way that all moderate to higher-income people can buy their plots.
The plots in the public are accessible for both business and private reasons. Location is also a highlight of this venture because developers have placed phase 1 of the housing scheme on Raiwind Road and phase 2 on Jia Bagga Road, which is the central area of Lahore. The nearness of the Ex-Prime Minister Muhammad Nawaz Sharif House and Ring Road in the region has expanded its ubiquity.
The first 8 minutes of the video describe the location on a satellite view and the last six minutes contain a real video of the housing venture.
The most amazing characteristic which I am going to tell you is that it is a legally permitted housing project with approval from Lahore Development Authority (LDA) so, investing here will be a harmless choice.
The development work in phase 1 is completed and possession of plots has been given to the investors. Every single necessity is part of this housing society which you can only see after a single visit to the site. However, I will share some incredible information about this stunning scheme.
Etihad Town Phase 1 Lahore
Phase 1 is completely developed and delivered to investors for possession. A lot of houses have been constructed in it and more than 700 families are now residing here. Many houses are under development.
Phase 1 has 2 blocks A and B and its extension has C, D, E, A-extension, and B-extension blocks. It is approved by LDA (Lahore Development Authority). It is well-planned with wide roads, car parking spaces, parks, playlands, schools, mosques, commercial and residential plots, and a lot more. The plot sizes for residential plots in phase1 are 5, 10, 12, and 18 marlas, and 1 Kanal, and 2.2, 4 & 8 marlas for commercial plots.
Society has launched a new deal of 2.2 marla commercial plots and park-facing 5 marla residential plots with the name of block B-extension and A extension. For prices contact on numbers given below.
---
Do you have any queries? Get in Touch
Etihad Town Lahore Phase 1 & Extension Location Map
I have fewer words to admire the location of this multi-purpose project that is perfect and far from busting deals and a madding swarm of the main city. I will say that developers are the wise ones in selecting a location that is quite rich and peaceful.
The Town is positioned about 3.5 kilometers from Raiwind Road near the Sheikh Zayed Palace, Lahore. The key localities are Thokar Niaz Baig, Lahore Ring Road, Orange line train, and Lahore-Islamabad Motorway. This area is an important location as it encompasses educational institutions, commercial buildings, and all rich housing schemes in its vicinity.
Read All the details in the blog. For other details and updates of the project like Society Map (Master Plan), Facilities, Best Price Offers, etc. Whatsapp at (0303 5532489) or from mobile click it–> wa.me/923231226355.
Etihad Town Lahore Phase 1 Payment Plan and Prices
Interested investors will discover both commercial and residential plots. The Union Developers had presented a very adaptable installment plan for its investors that is now complete.
The plots can be purchased in dimensions 5 Marla, 8 Marla, 10 Marla, and 1 Kanal for residential purposes and 2.2, 4, and 8 Marla for business reasons.
The plots for sale in Phase 1 are available on cash payment only. The prices of residential plots vary between 19 to 22 lac per marla and commercial plots rates vary between 63 to 115 lac per marla.
Apartments Installment Schedule 2022
Union Developers launched Etihad Town Luxury Apartments where they are offering studio, 1-Bed, 2-Bed, and 3-Bed luxury apartments at affordable prices. For Details click here.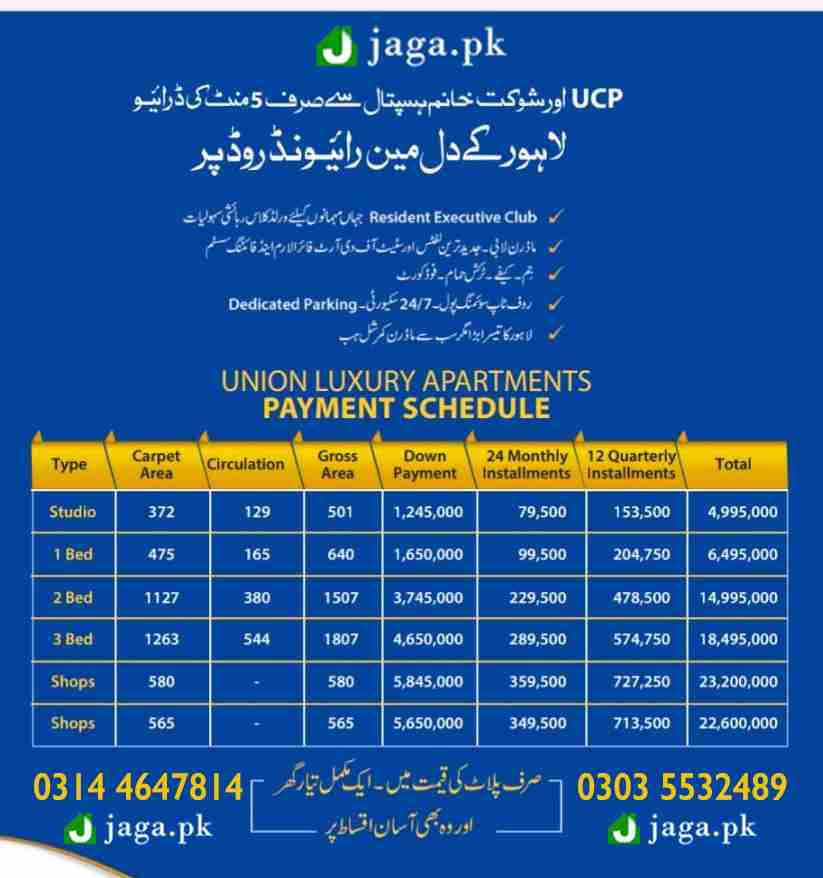 ---
Do you have any queries? Get in Touch
Etihad Town Phase 1 Lahore Project Plan / Master Plan
The housing venture is being created with the vision to give an extravagant living experience for which the colossal tract of land has been gained on Raiwind Road, Lahore. It is a brilliant chance to put resources into private and business plots.
According to the LDA-approved master plan plots are available in dimensions of 5 Marla, 8 Marla, 10 Marla, 12 Marla, 18 Marla, and 1 Kanal for residential purposes in A, B, C, D, E, A-extension, and B-extension blocks.
The minimum road in society is 30 feet with main boulevards of 80 and 150 feet.
Residences provide a blank canvas for the residents to color as per their tastes and preferences.
The community is serene with every modern amenity that one could desire, providing incredible aesthetics within this residential colony; everything has been carefully planned so it can meet upscale lifestyles while also fulfilling all requirements of each person's living situation in mind.
There are 2.2, 4, and 8 Marla commercial plots for business reasons.
The commercial plots in Etihad Town are a one-stop destination for businesses of all sizes.
These high-value properties provide exceptional facilities and unparalleled access to the many amenities that make it such an attractive place to do business, including strategic planning by Union Developers which helps you get more exposure while drawing potential customers right into your store.
The Housing scheme is affirmed by the LDA so a secure option for living and long-term investment. Talking about the development status of the project I will mention here that the society has an amazing design plan where you will feel secure in the secure boundary wall within the community protected by security gates.
The other features that the dwellers are going to enjoy in society are 24-hour high security, wide roads, beautiful internal streets, green parks, education centers, health centers, and commercial markets.
---
Do you have any queries? Get in Touch
Etihad Town Phase 2 Lahore
There is a need for housing societies to cater to housing needs in Lahore. To overcome this problem Etihad Group recently launched its phase 2 at Jia Bagga Road.
It comprises 3 and 5 marla residential plots along with 4 marla commercial plots. It will have all the facilities and amenities a person needs to live a peaceful and secure life. Approval from LDA is under process and soon will be available.
Below we have discussed its complete location, payment plan, and project plan.
Etihad Town Phase 2 Location Map
Location is always an important aspect to consider when purchasing a property and with this project, you are certainly not going to be disappointed. The development is located just off of Main LDA Road from Halloki Interchange and offers easy access to a number of different parts of the city.
If you are looking for a place to call home that is close to all of the action, then this is definitely the development for you.
Etihad Town Lahore Phase 2 Payment Plan 2022
With the increased population, it is very difficult to buy affordable property near the city area of Lahore. With the proposed development of this housing society, you will have an opportunity to become a property owner in this posh locality at a very reasonable price.
The payment plan is designed in such a way that it is easy for buyers to make an investment.
Below we have shared the pre-launch installment schedule for 2022.
Residential Plots Updated Installment Plan
| Plot Size | Total Price | Booking |
| --- | --- | --- |
| 3-Marla | 2,850,000 | 570,000 |
| 5-Marla | 3,9500,00 | 790,000 |
3,5 Marla plots for sale
---
Do you have any queries? Get in Touch
Commercial Plots Updated Installment Plan
| Plot Size | Total Price | Booking |
| --- | --- | --- |
| 4-Marla | 12,000,000 | 2,400,000 |
4 Marla commercial plots for sale
---
Do you have any queries? Get in Touch
Etihad Town Lahore Phase 2 Project Plan / Master Plan
It is going to be a well-planned housing venture with a number of different amenities that will make your life easier.
The complete master plan is not revealed yet but it will have 3,5,10 Marla and 1 Kanal residential plots along with 2.66,4,5, and 8 marla commercial plots.
The land has been acquired and LDA approval is under process.
In terms of amenities, Phase 2 Etihad Town has a lot to offer its residents. There is a central park that spans over 7 Kanals, a community center, a mosque, and a number of other smaller parks scattered throughout the development. There is also 24/7 security, a gated entry, and CCTV cameras installed throughout the community to ensure the safety of residents.
It is the perfect place for those who are looking for a peaceful and secure place to call home that is still close to all of the action.
With its convenient location and amazing amenities, it is no wonder that this development is one of the most popular in Lahore. Contact us today to find out more about this project and how you can become a part of it.
---
Do you have any queries? Get in Touch
Developers of Etihad Town Lahore
Etihad Group and Union Developers are named and highly appreciated organizations in the real estate market of Pakistan, which delivered this housing cum commercial project.
It is a leading firm that has a great history in the field. They are working for many years and have done work in the biggest ventures, including DHA, Bahria Town, Paragon City, and many other gigantic projects.
It is the first housing project of the Etihad Group, the second one is Etihad Garden Rahim Yar Khan. The developers have always tried to deliver according to the trendy needs of the people and have provided a timely delivery of their projects. Soon the apartment building is going to be built in their housing society in Lahore.
The developers have also launched and going to start construction of their following projects in Lahore.
Etihad Town Raiwind Road Lahore Features and Facilities
Following are the facilities and amenities available in the vicinity of the town:
---
Do you have any queries? Get in Touch
Commonly Asked Questions
Below we have discussed a few of the frequently asked questions.
Is society approved by LDA?
Yes, Phase 1 and the extension of phase 1 are approved by LDA while Phase 2 is under the process of approval.
When society is going to give possession in Phase 2?
Possession will be given after 1.5 years of booking.
Who are the owners of the housing scheme?
Ch Munir and his son Raheel Munir are the owners of the housing venture.
Is phase 1 of the project completely developed?
Yes, Phase 1 of the project is completely developed, only the extension of the A and B blocks is under development.