Lahore Smart City
Lahore has been a historical city of arts, culture, heritage, and architecture. It has been the preferred choice of Mughal Emperors in the past due to its geographical location and rich cultural background.
Now with the arrival of the Lahore Smart City (LSC) Project, the city will be further embellished and ornate with the aesthetic and modern architecture of this landmark master-planned project.
LSC is an LDA-approved project. The management received NOC (approval letter) in February 2021.
Location Map
Payment Plan
Features
Project Plan
Developers
---
Do you have any queries? Get in Touch
It is a land of elegance and a masterpiece that may well be a housing community that's planned to be the best housing scheme in Lahore Pakistan.
This megaproject reflects state of art town planning, diligent designing as well as aesthetic landscaping which leaves one spellbound and mesmerized. The town is crafted for future lifestyles keeping in mind green living and zero carbon footprint.
Every home here is constructed with the utmost luxury that allows you to reside in a contented life and peaceful life with all the facilities surrounding it.
This project was launched back in 2021 and pre-launch booking was started in August 2020, at this moment society is booking on post-launching rates, and like Capital Smart City Islamabad it'll be a successful project providing a luxurious living experience. Lahore Smart City, after its completion, will be the second smart city in Pakistan.
The greenery, parks, clean and well-maintained roads, and well-maintained rows of trees, as well as clippings of beautifully built houses and parcels, were wiped out in a wonderful way.
What more can you ask for? A very quiet and calm environment, an ideal place for those who want to measure their luxury, happiness, and peaceful life.
With all protective measures in mind, this residential community offers residents the most promising security. It remains active 24 hours a day to ensure that residents live a peaceful life in the immediate vicinity of the community.
As technology is progressing so fast and therefore individuals have become more and more propelled and are growing so swiftly with every passing day and need everything to be immaculate and unrivaled.
So, this housing venture is here to fulfill all of your living and business desires by providing an assortment of amenities summed up in one umbrella.
Therefore, there's no reason that you wouldn't be wanting to live in a community like this as it suits all the seasons.
This housing community is a choice for living that is natured by nature itself.
Here we are going to brief you about everything like location, features, types of plots, and payment plan that this amazing community has.
Lahore Smart City Location Map
When buying a property everyone prefers a location that is ideal enough to spend a peaceful and happy life.
A location where all the life essentials are available and safe in terms of security is prioritized by everyone.
Address and locations are also one of the main things that add to the importance of property and this project is a whole package that gives you an ideal location with all the necessary life facilities in its surroundings.
Exactly located at Ring Road and Grand Trunk(GT) Road Kala Shah Kaku CPEC Route, at Eastern Bypass Lahore, this housing scheme has many luxurious facilities, markets, malls, restaurants, and many other essential places in its surroundings.
Lahore Smart City is located in an ideal location that can be accessed easily from many entrances. One entrance at the main GT Road, 2nd at Chak 46 Road, the Third at Ring Road Eastern Bypass, and the 4th at Sialkot Motorway.
The address of the head office of the society is 8-C Broadway Commercial DHA Phase 8 Lahore, opposite Allama Iqbal International Airport Lahore.
There are multiple Authorized Dealers in society. You can contact the above/below-given numbers for plots and files sale and purchase.
Distance from nearest landmarks
A 0-minute drive from National Highway and GT Road.
A 2-minute drive from Lahore-Islamabad M2 Motorway Interchange.
18 minutes drive from DHA Lahore.
18 minutes drive from Lahore International Airport.
A 2-minute drive from Lahore-Sialkot Motorway Interchange.
Opposite Sa Gardens, Capital City, Green Valley, and Basit Town.
At the backside of Adams Housing and Al Kabir Orchard.
A 5-minute drive from Iqbal Garden.
A 5-minute drive from GCU (Govt. College University) Lahore, UET (University of Engineering and Technology) Lahore, and UHS (University of Health Sciences) Kala Shah Kaku Campuses.
Lahore Smart City Payment Plan 2023
The payment plan is one of the main things of concern for every investor. So here you all get happy and do not get worried about the rates as the developers are offering very affordable prices with a flexible installment plan of 3 years.
The price of each Marla here is between PKR 424,500 to PKR 537,000 for residential plots.
The prices/rates of commercial plots are around 22.5 lac per marla where you can book a plot for 10% booking followed by 10% confirmation after one month.
Keep visiting this blog post for updated information about the project. And keep visiting our website for updated information about different projects in the country and find the best property that fits your needs.
Smart City Lahore has to offer residential plots of 5 Marla, 7 Marla, 10 Marla, 12 Marla, and 1 Kanal.
The payment plan is extremely flexible and it's made with such discretion that any individual can purchase the plot of their choice easily.
The amount itself is incredibly affordable but yes the installments have made the acquisition of plots or houses very easy for people that want to possess a dream to possess a home of their own.
The booking is completed by the advance payment of 10% followed by 10% Confirmation within 60 days and also the remaining amount is distributed in 12 Quarters and every quarter that easy installment is paid. The amount period is 3 years and the amount is split into 12 quarterly installments.
With this best plan, it's established that each mediocre person is ready to shop for a home for himself and make his life better because all the facilities are needed to steer a life so peaceful.
So don't miss the prospect and book for yourself the superb deal of plot as soon as possible before it gets occupied by some other person and there's no room for more bookings of purchase.
Below we have shared all the payment plans that Lahore Smart City introduced. You have to pay a premium on all sizes of plots whether it is in old rates or new. The premium varies each day.
So, call us for more updated information.
Post-Launch Rates Residential Plots Payment Plans 2023
Executive Block
| Description | 5-Marla | 7-Marla | 10-Marla | 12-Marla | 1-Kanal |
| --- | --- | --- | --- | --- | --- |
| Total Price | 2,685,000 | 3,490,000 | 4,950,000 | 5,425,000 | 8,050,000 |
| Booking | 286,500 | 349,000 | 495,000 | 542,500 | 805,000 |
| Confirmation | 286,500 | 349,000 | 495,000 | 542,500 | 805,000 |
| 12 Quarterly Installments | 179,000 | 232,700 | 329,700 | 361,700 | 536,700 |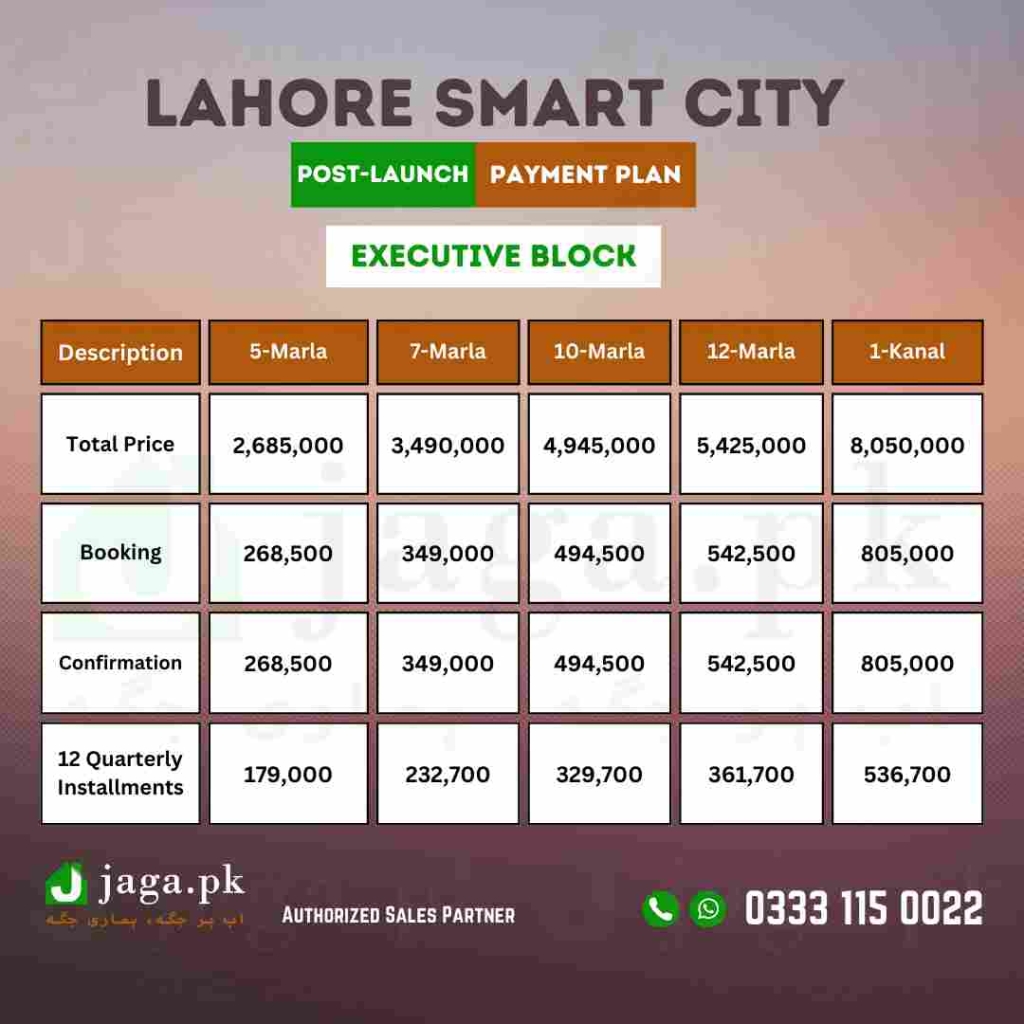 Overseas Block
| Description | 5-Marla | 7-Marla | 10-Marla | 12-Marla | 1-Kanal |
| --- | --- | --- | --- | --- | --- |
| Total Price | 2,845,000 | 3,700,000 | 5,325,000 | 5,750,000 | 8,490,000 |
| Booking | 284,500 | 370,000 | 532,500 | 575,000 | 849,000 |
| Confirmation | 284,500 | 370,000 | 532,500 | 575,000 | 849,000 |
| 12 Quarterly Installments | 189,700 | 246,700 | 355,000 | 383,350 | 566,000 |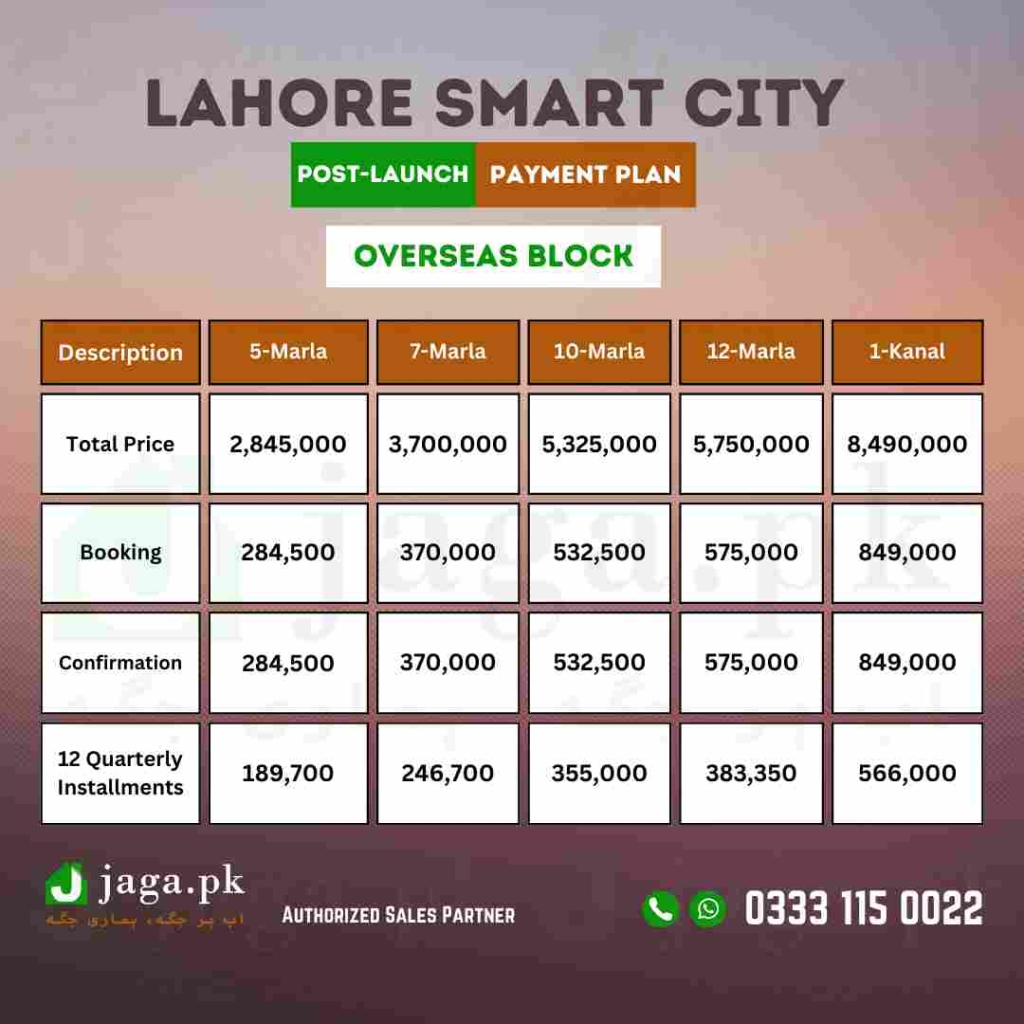 Launch Rates Residential Plots Payment Plans
Executive Block
| Description | 5-Marla | 10-Marla | 1-Kanal |
| --- | --- | --- | --- |
| Total Price | 2,160,000 | 3,960,000 | 6,480,000 |
| Booking | 216,000 | 396,000 | 648,000 |
| Confirmation | 216,000 | 396,000 | 648,000 |
| 12 Quarterly Installments | 144,000 | 264,000 | 432,000 |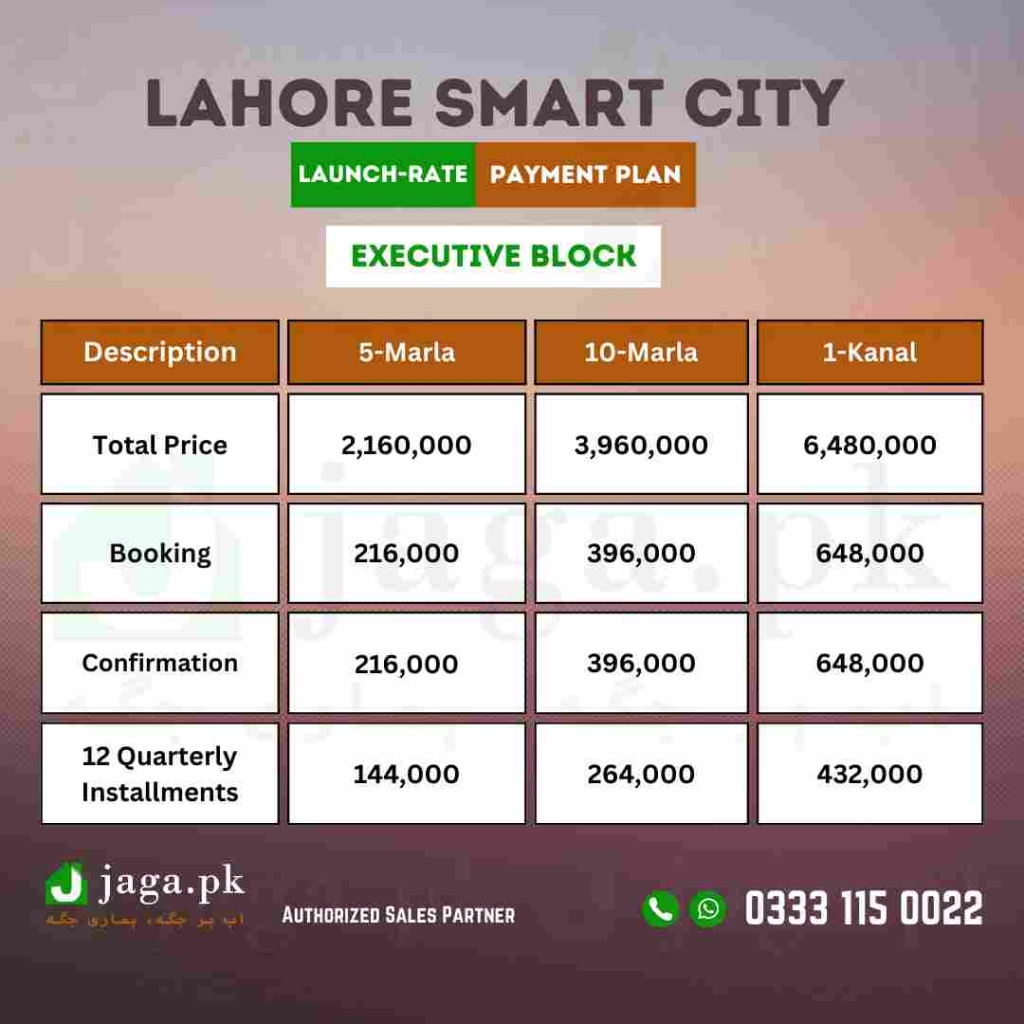 Overseas Block
| Description | 5-Marla | 10-Marla | 1-Kanal |
| --- | --- | --- | --- |
| Total Price | 2,280,000 | 4,080,000 | 6,600,000 |
| Booking | 228,000 | 408,000 | 660,000 |
| Confirmation | 228,000 | 408,000 | 660,000 |
| 12 Quarterly Installments | 152,000 | 272,000 | 440,000 |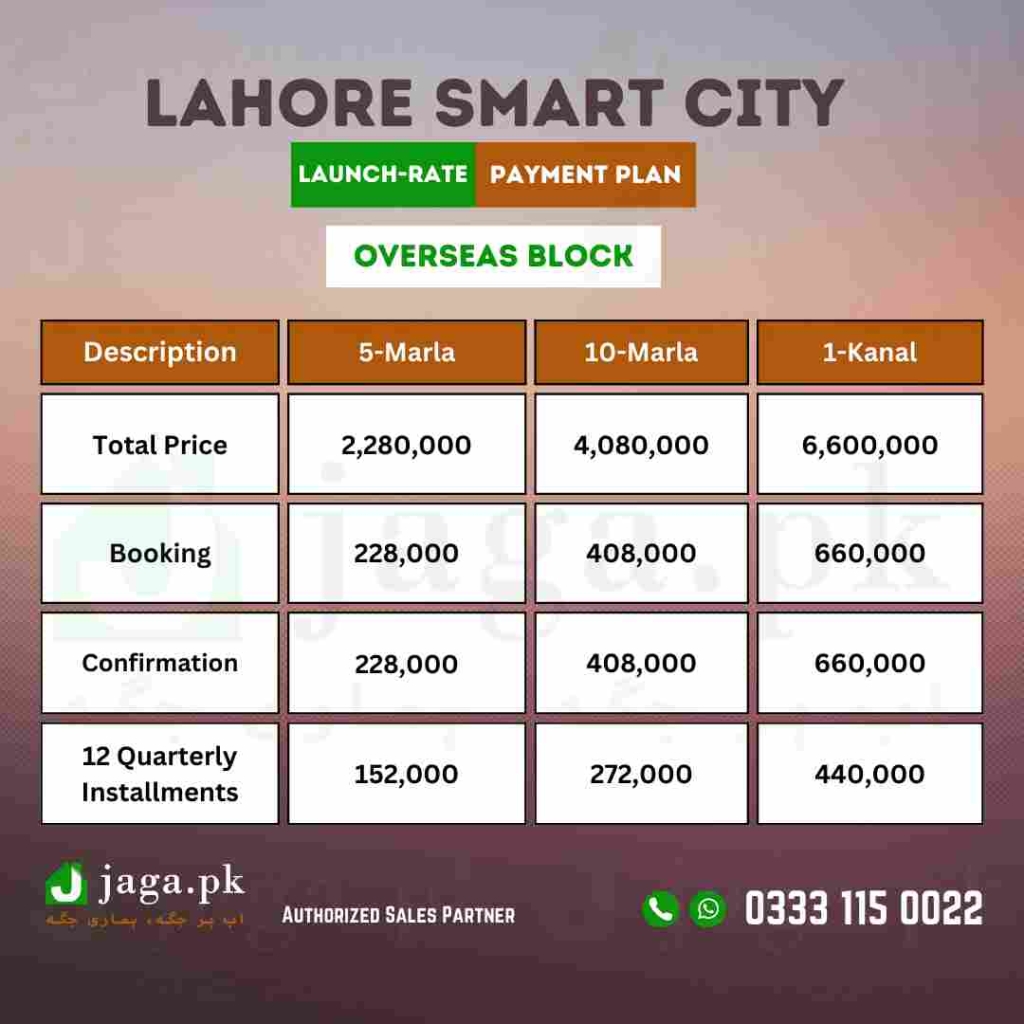 Pre-Launch Rates Residential Plots Payment Plans
Executive Block
| Description | 5-Marla | 7-Marla | 10-Marla | 12-Marla | 1-Kanal |
| --- | --- | --- | --- | --- | --- |
| Total Price | 1,800,000 | 2,820,000 | 3,300,000 | 4,380,000 | 5,400,000 |
| Booking | 180,000 | 282,000 | 330,000 | 438,000 | 540,000 |
| Confirmation | 180,000 | 282,000 | 330,000 | 438,000 | 540,000 |
| 12 Quarterly Installments | 102,800 | 161,150 | 188,500 | 250,300 | 309,500 |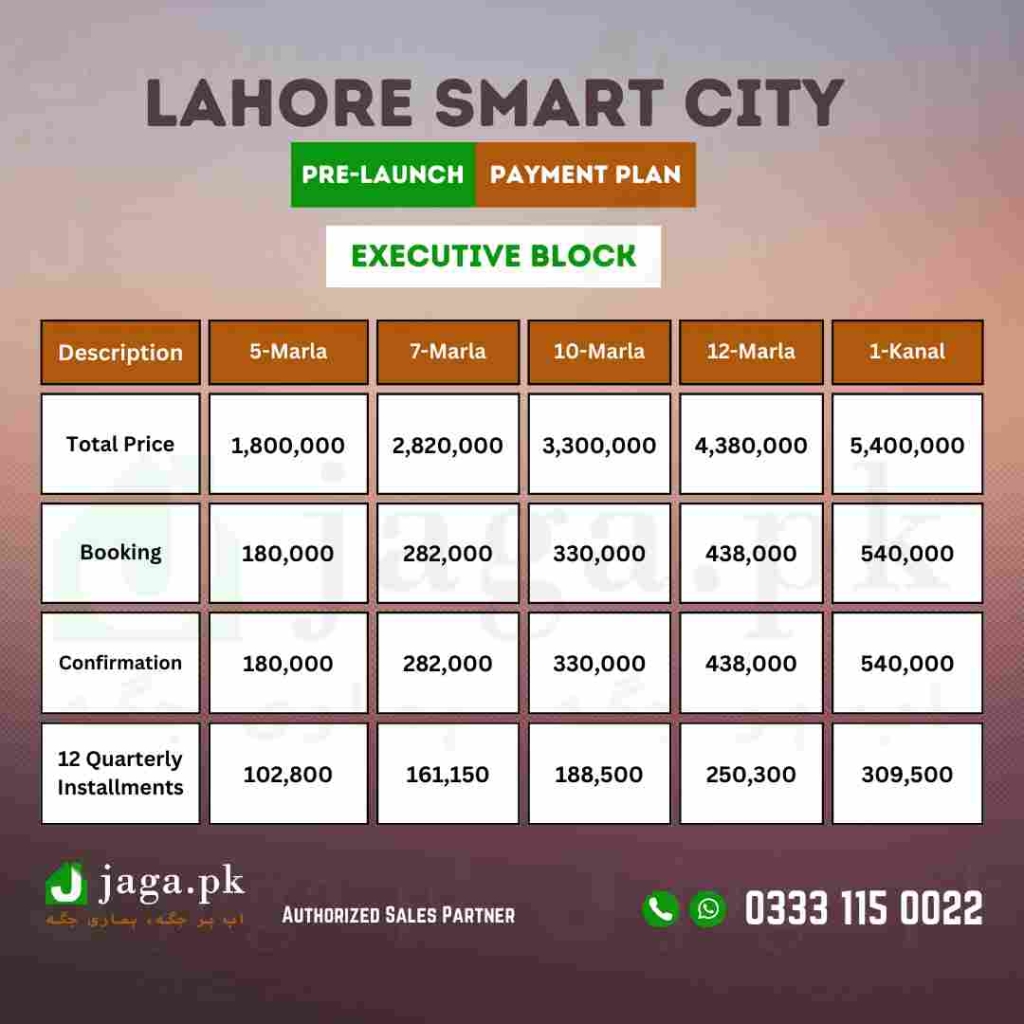 Overseas Block
| Description | 5-Marla | 7-Marla | 10-Marla | 12-Marla | 1-Kanal |
| --- | --- | --- | --- | --- | --- |
| Total Price | 1,900,000 | 2,975,000 | 3,400,000 | 4,500,000 | 5,500,000 |
| Booking | 190,000 | 297,500 | 340,000 | 450,000 | 550,000 |
| Confirmation | 190,000 | 297,500 | 340,000 | 450,000 | 550,000 |
| 12 Quarterly Installments | 108,500 | 170,000 | 194,500 | 257,050 | 314,500 |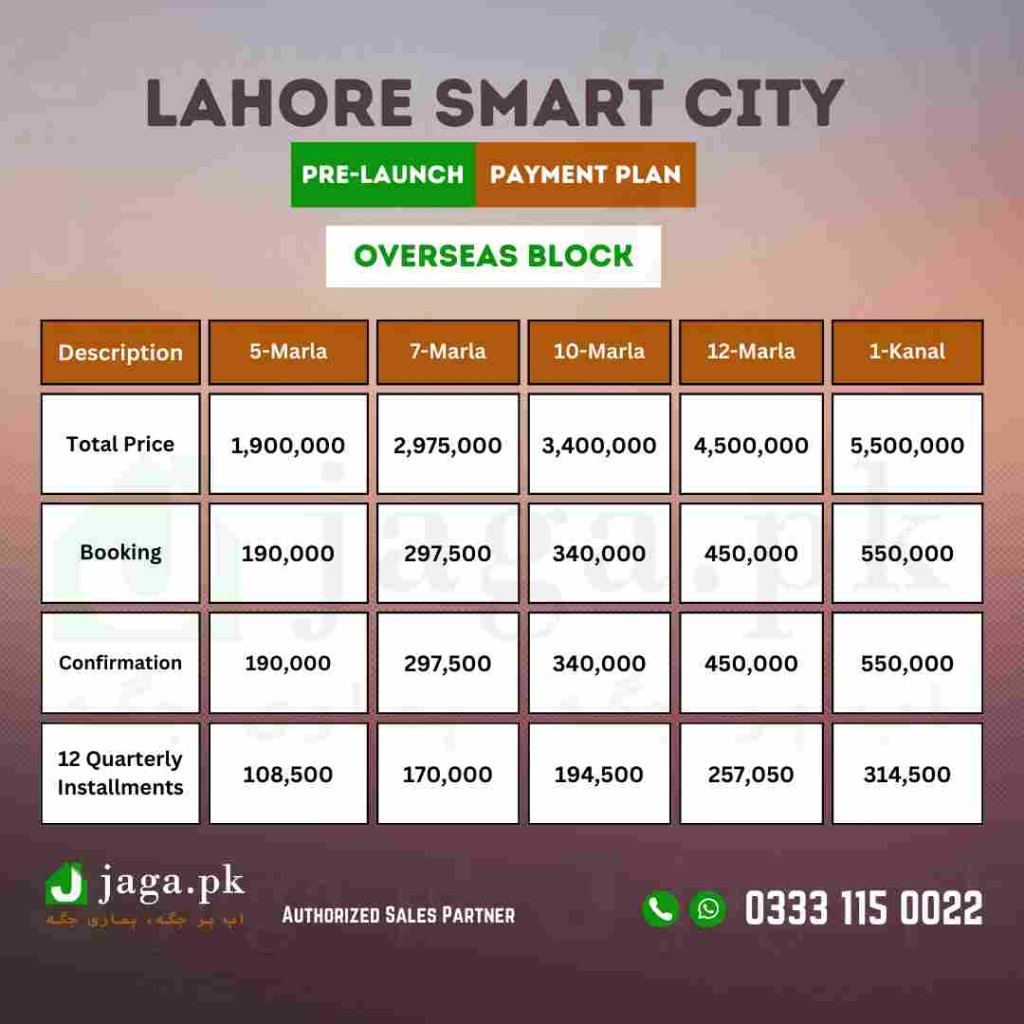 Note: All files are available with profit which varies every day.
Note: You have to pay all the pending installments, the amount paid by the previous customer, and some profit which varies daily for transfer files.
Pre-Launch Rate Commercial Plots Installment Plans 2023
Executive Block
| Description | 2.66-Marla | 4-Marla | 6-Marla | 8-Marla |
| --- | --- | --- | --- | --- |
| Total Price | 6,900,000 | 8,950,000 | 16,800,000 | 17,450,000 |
| Booking | 690,000 | 895,000 | 1,680,000 | 1,745,000 |
| Confirmation | 690,000 | 895,000 | 1,680,000 | 1,745,000 |
| 12 Quarterly Installments | 460,000 | 596,700 | 1,120,000 | 1,163,500 |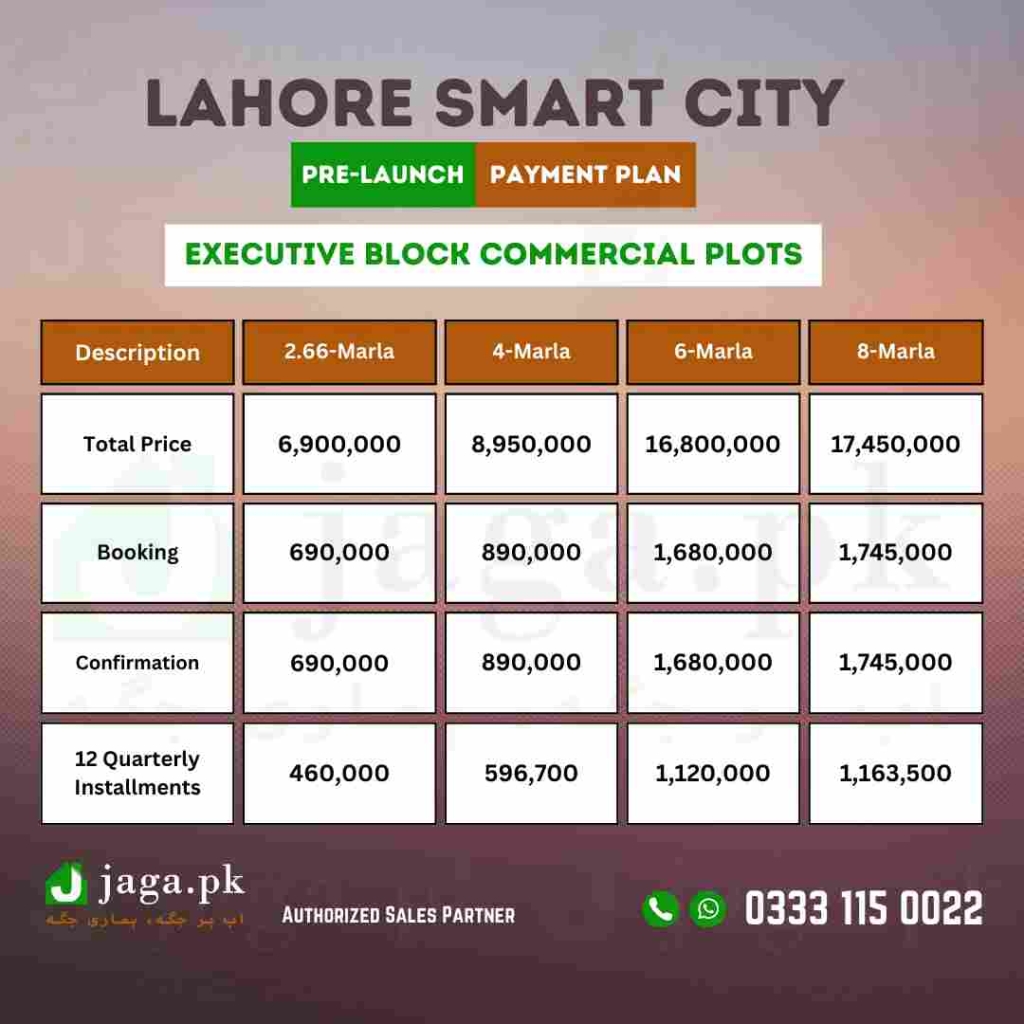 Overseas Block
| Description | 2.66-Marla | 4-Marla | 6-Marla | 8-Marla |
| --- | --- | --- | --- | --- |
| Total Price | 6,900,000 | 9,450,000 | 16,800,000 | 17,950,000 |
| Booking | 690,000 | 945,000 | 1,680,000 | 1,795,000 |
| Confirmation | 690,000 | 945,000 | 1,680,000 | 1,795,000 |
| 12 Quarterly Installments | 460,000 | 630,000 | 1,120,000 | 1,196,700 |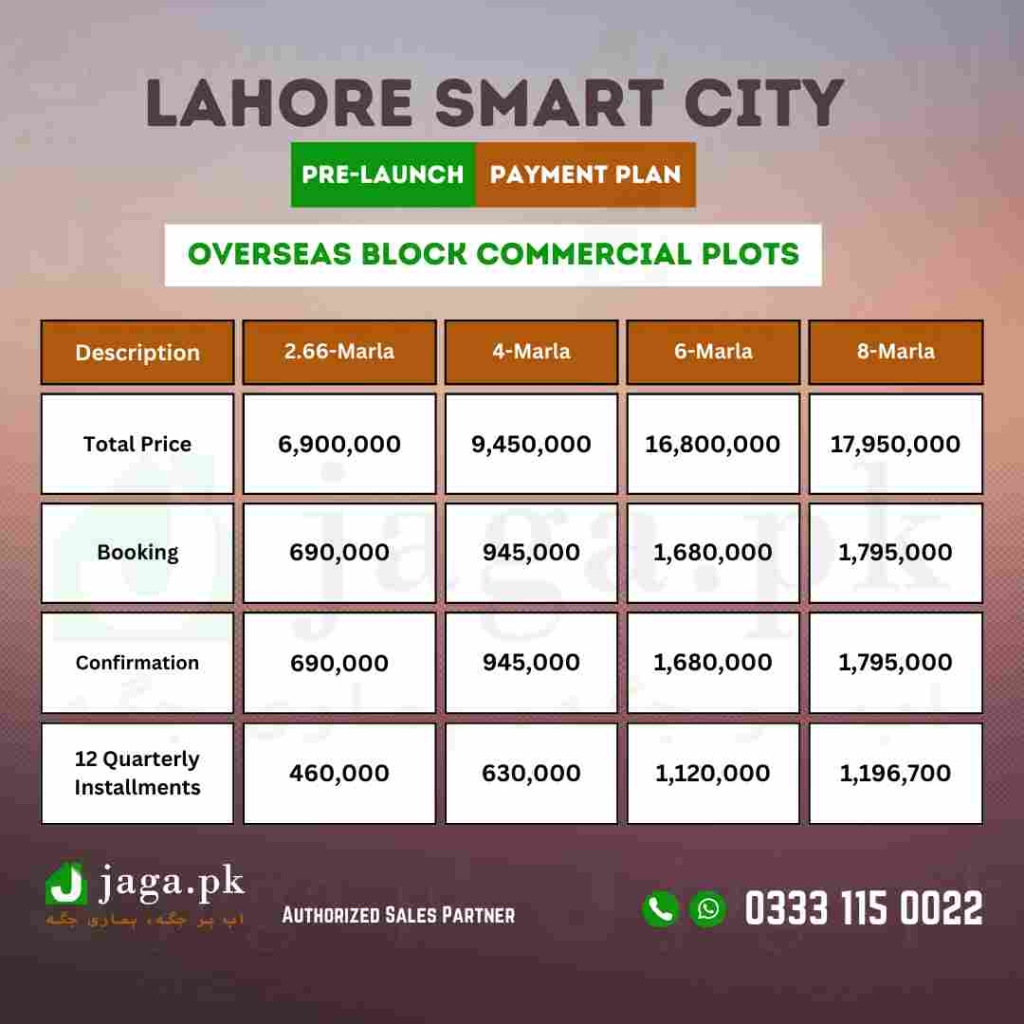 Note: All commercial plots are available with some profit means you have to pay profit with the booking amount to book the plot. The profit amount varies daily. Contact the numbers given below for details.
Below is some additional information that is necessary for the buyers to go through before proceeding to purchase:
Park Facing/Corner/Main Road plots have 10% higher prices.
In addition, the main boulevard plots have 15% higher prices.
10% discount on Lump Sum Payment and 5% rebate on half payment.
MS Fee is PKR 12,000 up to 5 Marla plots and PKR 15,000 for more than 5 Marla plots and 20,000 for any size commercial plots.
The prices mentioned above are subject to change without any prior notice.
Installments are supposed to be paid by the 1st of each installment month.
The prices are exclusive of development costs.
The prices are exclusive of Taxes and Government dues.
In case of failure in confirmation amount within two months of booking automatically result in cancellation and 75% of the booking amount will be refunded in 6 months.
LSC Booking Process
The reservation is completed with a 10% deposit taken after that 10% confirmation after 60 days, with the remaining amount being transferred in 12 quarters and this simple deposit is paid every quarter.
After receiving your documents and payment receipt we'll fill out the booking form, attach all the documents with the payment proof and submit it for the processing of membership performa.
Payment Options:
Down Payment in Cash/Pay Order/ Demand Draft/Bank Transfer in Favor of Title: Lahore Smart City (Pvt) Ltd.
Bank Account Number UBL: 0205-0002 6845 1541
Askari Bank IBAN Number: PK69 ASCM 0007 0702 0000 8919
Required Documents
Documents required for Locals
3 Passport size pictures with Blue Back Ground.
1 ID Card Copy of Owner.
1 ID Card Copy of the Nominee.
Documents Required for Overseas
3 Passport size pictures with Blue Back Ground.
1 ID Card, Passport, Visa, Iqama, or residence card Copy of Owner.
1 ID Card and Passport Copy of Nominee.
For Booking Call or Whatsapp:
Lahore Smart City Project Plan and Master Plan
The main aim of this project is to provide futuristic amenities to its residents and a unique life experience.
It is going to be an iconic development that will not only enhance the wonder of the town and surroundings but will serve the residents with a snobbish living style.
Capital Smart City Lahore provides its residents an unmatched structural planning, civic facilities, and stunning architecture.
The plan of the project has been carefully designed by dividing the whole society into different categories per different themes. The updated information will be provided soon.
The whole area has been designed to give a modern living coupled with international standard facilities and a peaceful environment.
This project aims to give a new life experience to its residents. This mega-project is like a dream come true.
According to the master plan which is also available on the official website, there are two blocks Executive and Overseas, and multiple districts in the housing venture.
There will be four entrances as you can see in the map picture below.
First entrance A will be on National Highway joining Lahore-Sialkot Motorway and Lahore Ring Road.
The second entrance will be on the main GT Road with the Name B through a railway line underpass.
The third entrance C of Lahore Smart City will be on Sialkot Motorway.
The fourth and final entrance D will be on Chak 44 Road.
Districts Lahore Smart City will have
Below we have shared the total number of districts and what each district will have inside within the LSC vicinity.
LSC Executive and Overseas Block
The executive and overseas block offer:
Residential plots.
Residential villas.
Hospitality.
Retail.
Food and beverages.
Health Care
Education.
Religious institutes.
LSC Gate Precinct
Gate Precinct has:
Service apartments.
Offices.
Commercials and retails.
5-star hotel.
3-star hotel.
Apartments mixed-used buildings.
LSC Sports District
Sports District offers the following things:
Football Stadium.
Cricket stadium.
Residential apartments.
Race tracks.
Retail.
Food and beverages.
LSC Financial Square
Financial Square has to offer:
Financial square gate offices.
Bank corporate offices.
Residence apartments.
Conference and exhibition halls.
LSC Theme Park
The main purpose of the theme park is to provide leisure and entertainment:
Street food truck park
Bird park.
Holiday resort.
Food and beverages.
Retail.
LSC Healthcare District
As the name implies, the healthcare district offers medical and healthcare facilities:
Hospitals
Clinics
Laboratories
Health sectors
Training institutes
LSC Education District
It offers educational and medical facilities:
University
Colleges
Schools
Training camps
Medical colleges
Daycare centers
Lahore Smart City (LSC) is a model for sustainable development across the country.
The concept of this new smart comprises a comprehensive urban management model that encourages international standards of efficiency and control on the one hand and the best practices of inclusion and participation on the other.
It leverages and harnesses modern technology to enable the smart city to function more reliably while providing sustainable solutions to its residents. It's a community with a safe and secure neighborhood and 24/7 security and camera surveillance.
The Green Space Connectivity is a master plan that integrates the existing rich natural features through eco-spines and seamless recreational trails.
It also takes forward and integrates the existing land use and environmental value map to improve the urban environment by infusing a variety of green parks and public open spaces to keep the atmosphere fresh and clean.
It is going to be a new destination to live, learn, and play with the aim to develop areas and attract future investments. It captures a radial growth pattern with a large centrally located business district and well-distributed sub-centers and neighborhood centers in the periphery.
Offering 5 Marla to 1 Kanal residential plots and 2.66 to 8 Marla commercial plots with convenient public facilities are distributed across the various neighborhoods.
Lahore Smart City LDA Approved/NOC
According to our sources, the housing scheme got its Approval Letter or NOC (No Objection Certificate) from Lahore Development Authority (LDA) in February 2021. The area of approved land is mentioned in that NOC delivered by LDA. We'll share it soon on jaga.pk.
The development has been started soon after the development approval by LDA. It is expected that society will deliver the project by 2027.
Lahore Smart City Developers
The developers and owners of this project are none other than Future Development Holdings Pvt. Ltd – a well-known name in the real estate industry that is aimed to provide successful projects. They are known as the best land developers in Pakistan and are a sister concern of Habib Rafiq Limited (HRL).
FDHL is one of the best land engineers and resource managing firms that work to grow best in clad shrewd urban societies by focusing on providing luxury living.
It is a team of highly experienced professionals who have made each of their projects through inventing urban planning, key venturing, and lifecycle sources and have generated integrated areas having international standards with strong quality commitment.
Surbana Jurong is also a part of the project which is best to design smart cities in the world. It is a Singapore-based company that designed CSC and is now designing Pakistan's second smart city in Lahore.
HRL & FDHL has already delivered multiple projects in the country including Capital Smart City Islamabad, Royal Orchard Multan, Sargodha, and Sahiwal.
The name of owner of this housing society is Zahid Rafique.
Lahore Smart City Features and Facilities
Here are some of the other features of the Smart City Housing Scheme in Lahore.
400 Feet Central Boulevard
24/7 security system & maintenance
24/7 power backup system
Gymnasium
Cinema
Community Center
Health & fitness club
Firefighting system
Underground utilities
Spacious parking
Theme Park
Parking for visitors & handicapped
Parks & children's play area
Shopping mall
Central mosques
Indoor games
Rainwater drainage system
The Street Cafes
Walking Tracks
Dancing Fountains and Music
Revitalizing Garden
Open Air Theater
Safe for Bicycle and Walks
Variety of Hospitality
All basic Utilities
Grand Jamia Mosque
Education at each level
Community Club
Allocated Parks and Greenery
Ensuring Healthcare
Transport at Ease
Smart homes and villas.
Grand park includes a skating ring and an F-2 race track.
Holistic smart lifestyle.
Lahore Time Square.
Waterfall park.
Madame Tussaud's Pakistan.
Plug and play offices.
Sustainable job opportunities.
The Lahore Eye.
Cricket Ground
Lahore Downtown
Besides all these features, this project offers a wonderful opportunity for investment due to a variety of reasons, including:
More than 50% return on investment in the next three years is expected.
It is a secure and gated community.
Easy installment plan of 12 quarters.
It is undergoing massive infrastructural development at a fast pace.
The demand for this kind of housing scheme in Lahore has gone up due to changing preferences, and this project will help meet that demand.
---
Do you have any queries? Get in Touch
Lahore Smart City Latest News & Updates
Find out the latest news about the project in this section.
Balloting of Executive 1 and Overseas 1 Block Announced
The management of Lahore Smart City announced the balloting of executive 1 and overseas 1 blocks. The balloting will be held in May 2023.
To be eligible for balloting one must have paid at least 40% payment of the plot and get an acknowledgment receipt from the society head office.
There are 2 options: pay 60% amount and get a plot of your wish or pay 40% to be a part of balloting.
Note: It is a first come first serve offer. After the completion of the quota, no one will be awarded the acknowledgment receipt.
Possession Announced for Sector A and B
The management of Smart City Lahore has announced possession in sectors A and B after 1.5 years of sale. In both sectors, possession has been given and people started constructing homes.
To be eligible for possession in sector A, one must have paid the total amount of the plot in cash and will start construction within 90 days after having an allotment.
Note: Development charges for plots in Sectors A and B will be announced after 1 year to ease the people in constructing their dream property and development charges will also be charged in installments.
---
Do you have any queries? Get in Touch
Commonly Asked Questions
Below we have answered a few of the frequently asked questions.
Is Lahore Smart City approved by LDA?
Yes, it is approved by LDA (Lahore Development Authority) and other concerned departments.
When the possession will be given to plots?
The possession in sectors A and B has been given and in the other blocks, it will be given after the completion of payment.
Who is the owner of Lahore Smart City?
FDHL (Future Developments Holdings Pvt Ltd) owns this housing venture and the name behind the project is Zahid Rafique.
What is a smart city?
A smart city is an urban area that uses different kinds of electronic data collection sensors to manage assets and resources efficiently.
This includes data collected from citizens, devices, buildings, and other elements in the city. Smart cities use a variety of technology solutions to reduce costs and resource consumption and improve the quality of life for their citizens.
Examples of this include energy-efficient buildings, smart transportation systems, waste management, and water management. Smart cities also provide many opportunities for economic growth and job creation.
These include new business models, more efficient use of resources, better public services, and improved health outcomes. Overall, a smart city strives to create an environment that is safer, cleaner, and healthier for its citizens while providing more economic opportunities.
Is it safe to invest in Lahore Smart City?
Yes, it is considered safe to invest in LSC. It is approved by LDA and other government bodies and has been designed with features that offer investors great returns on their investments.
Furthermore, the development work on the project has already started, which indicates that this housing scheme is a reliable option for investment.
This residential project offers a variety of housing options and amenities that cater to the needs of all kinds of people. Therefore, it provides a great opportunity for investors to invest their money in a safe environment with high returns.
How big is Lahore Smart City?
The management of LSC has already acquired more than 20000 Kanals (2500+ acres) and still, more land is being added for development.
The project includes many sectors and blocks and plots of different sizes ranging from 5-20 Marla. In addition to that, commercial plots are also available in different sizes.
Apart from this, there will be many other features included in this housing scheme such as parks, mosques, a waterpark, and many others.
Overall, this project offers a variety of options to its residents and investors which makes it one of the biggest housing schemes in Pakistan.