SA Gardens Kala Shah Kaku |Lahore
You can't consider that SA Gardens is just another ordinary place to live. While it is a complete saving for your generation. You can call it a Blessing and people who have visited it, trust that line I said before. You are going to fall in love after seeing all the facilities and features it provides. But the first thing is that you must know everything about it.
---
---
The first feature that everyone looks for when buying a new property, is where their house is going to be. This society is at one of the best locations in Kala Shah Kaku only 17 km away from central Lahore, which makes this housing scheme even the best.
---
---
It is situated a little outside of the city area and is connected to different commercial areas. So stop worrying about a lot of travel when thinking about going somewhere.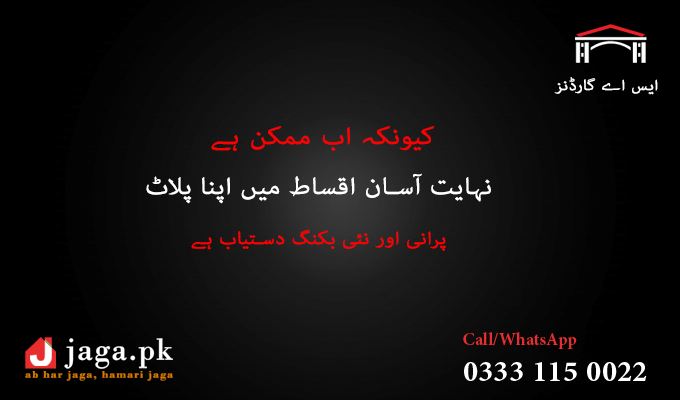 Now when we look at the facilities and our necessities and what this housing venture is providing us. You will know that it is a promising brand and has every comfort that you have dreamt of.
It is one of the most secure gated communities, making your family and yourself safe. You shouldn't lose this great chance of having your property in a society that has complete security.
5 Marla Houses in this housing society have the perfect designs and ventilation. Because when engineers were building the houses here, they focused on the needs of the people. And they tried their best to fulfill the needs of everyone.
Your kids are going to have a wide area to play in and a much safer place to roam around. You can try running and walking around enjoying the fresh air that this housing society greenery is providing. But after providing you with these many facilities, you still don't have to pay much. It has an easy installment plan that provides you with ease.
Location Map
Location is the main thing when you are going to buy property anywhere. Most of the time, you see that there is a very far distance between housing schemes from commercial areas. And you have to drive a lot when you are in that type of housing scheme.
But this is not the case in this society. While we look at SA Garden Lahore location map, it is located in the green area outside the noisy area of the city.
You don't need to drive a lot to go anywhere. Because it is at the prime location of the main GT Road Kala Shah Kaku near Eastern Bypass Lahore. And a drive of 20-30 minutes will take you to the inward focus of Lahore. And it is connected to the motorway interchange as well.
The Lahore Bypass as you can see on Google Maps connects the Lahore Ring Road and GT Road with a Motorway going to Sialkot, Lahore, Islamabad, Multan, and other large cities of Pakistan, and this gives you a continuous and quick way to travel.
Let's discuss its drive from the main areas of the city.
At main GT Road.
A 4-minute drive away from Eastern Bypass Lahore.
4-minute drive away from UET, UHS, GCU Kala Shah Kaku Campus.
A 4-minute drive away from Kala Shah Kaku Motorway Interchange.
A 4-minute drive away from Ring Road Lahore.
Opposite Lahore Smart City and Adams Housing Lahore.
4 minutes' drive away from Basit Town.
6 minutes drive away from Iqbal Garden Lahore.
A 5-minute drive away from Sialkot Motorway Interchange.
20 minutes drive away from Lahore Airport, DHA, and Askari X.
25-30 minutes drive away from Azadi Chowk, Data Darbar, GCU Lahore Campus, Mall Road, and Zilla Katchery Lahore.
40-45 minutes drive away from Johar Town, Raiwind Road, and Shaukat Khanum Hospital.
10 minutes drive away from Muridke and THQ Hospital Muridke.
10 minutes' drive away from Shahdara and Bajwa Hospital.
6-10 minutes drive away from Punjab College, Aspire College Shahdara, and Superior College, Govt. Degree College Muridke.
Read All the details in the blog. For other details and updates of the project like Society Map (Master Plan), Facilities, Best Price Offers, etc.. Whatsapp at (0303 5532489) or from mobile click it–> wa.me/923035532489.
Payment Plan
SA Gardens payment plan is also essential information that you must know. And only after acknowledging the installment plan, are you going to decide, whether you are buying a plot in it or not. So for that, I have prepared an installment schedule for you. These schedules are for Sher Afghan, Sher Alam, Badar, and Premium Blocks Phase 2.
SA Garden Sher Alam Block Payment Plan 2023
| Plot Size | Total Price | Down Payment | 55 Monthly Installments | 5 Annual Payments | Balloting Payment |
| --- | --- | --- | --- | --- | --- |
| 3-Marla | 960,000 | 250,000 | 7,500 | 40,000 | 97,500 |
| 5-Marla | 1,600,000 | 400,000 | 13,000 | 65,000 | 160,000 |
3,5 marla plots prices and installment plan for Sher Alam block
---
---
Premium Residencia Block Pre-Launch Payment Plan 2023
| Plot Size | Total Price | Advance 30% | 4 Quarterly Payments |
| --- | --- | --- | --- |
| 10-Marla | 9,500,000 | 2,850,000 | 1,662,500 |
| 1-Kanal | 17,000,000 | 5,100,000 | 2,975,000 |
10 Marla and 1 Kanal Plots for Sale
SA Premium Homes Installment Plan 2022
The details of the houses and villas are given below. Read it here. The plan to pay the price of apartment houses is flexible. You have to pay the amount completely in 4 years while possession will be given in 2 years.
| | | | | | | |
| --- | --- | --- | --- | --- | --- | --- |
| Floor | Total Price | Booking 15% | Confirmation 15% | Monthly Installment | Every 6th Month | At Possession 15% |
| Ground | 5,200,000 | 780,000 | 780,000 | 36,111 | 130,000 | 780,000 |
| First | 4,700,000 | 705,000 | 705,000 | 32,639 | 117,500 | 705,000 |
| Second | 4,200,000 | 630,000 | 630,000 | 29,167 | 105,000 | 630,000 |
SA Homes 4 Years Payment Schedule
Badar Block Sector E Installment Plan 2023
The society recently launched a new block on an easy 2.5-year installment plan in sector E of Badar Block.
Below we have discussed the whole payment plan.
| Plot Size | Total Price | Booking | 30 Monthly Installment | After Every 6th Month |
| --- | --- | --- | --- | --- |
| 3-Marla | 1,400,000 | 300,000 | 9,500 | 135,000 |
| 5-Marla | 2,300,000 | 500,000 | 21,000 | 195,000 |
3,5 Marla Badar Block E sector Plots for Sale
---
Residential Plots Installment Plan 2020 | Files Available in Resale with Profit
| Status | Plot Size | Advance | Installment/Month | Balloting 10% on 36th Month | Total Price |
| --- | --- | --- | --- | --- | --- |
| Sold | 3 Marla | 172,500 | 7,475 | 69,000 | 690,000 |
| Sold | 4 Marla | 230,000 | 9,967 | 92,000 | 920,000 |
| Sold | 5 Marla | 287,500 | 12,458 | 115,000 | 1,150,000 |
| Sold | 6 Marla | 345,000 | 14,950 | 138,000 | 1,380,000 |
| Sold | 8 Marla | 460,000 | 19,933 | 184,000 | 1,840,000 |
| Sold | 10 Marla | 575,000 | 24,916 | 230,000 | 2,300,000 |
When you are looking to buy Plot files, you are on the right portal jaga.pk can provide you with updated plot and file information.
---
---
Badar Block Extension – Sector D
The housing venture is offering plots of 5 Marla and 10 Marla in Sector D of Badar Block with a commitment of possession in 6 months. The rates and prices of the plots available for sale are mentioned below.
| | |
| --- | --- |
| 5 Marla | 10 Marla |
| 2,000,000 | 4,000,000 |
Badar Block Sector D plots for Sale
Sher Afgan Block

Commercial Plots Payment Plan 2022
---
---
Prices of Ready Possession Plots
On the ground, ready possession Plot Prices in Phase 1 vary between 5 lac to 10 lac per marla. While in Phase 2 plot rates vary between 5 lac to 12 lac per marla as of February 2023. For the sale and purchase of plots in both phases, you can contact on above-given numbers.
Prices of Ready-for-Possession Built Houses
Ready house prices in Phase 1 vary between 15 lac to 20 lac per marla while in Phase 2 house rates vary between 23 lac to 33 lac per marla as of February 2023. For sale and purchase or rent of houses, contact on above-given numbers.
Project Plan
Society is dealing with two phases and both are made awesome. But you might have not knowledge of where is Phase 1 and Phase 2. Both have entry gates on the main GT Road Kala Shah Kaku. The distance between both phases is only 1/2 km. Phase 1 is completely developed and Phase 2 has extensive land for future development.
Both phases are well-planned and have 13 developed blocks as of January 2022. There are plot cuttings of 3,4,5,6,7,8, and 10 marlas available in the town. Moreover, the master plan of both phases is approved by the Town Municipal Authority TMA Ferozwala, and Phase 2 is also approved by LDA.
Sa Gardens Phase 1
We all will be looking for the facilities in a housing scheme, where we are going to buy our dreamland. Getting in the deep info of phase 1. There is the Head Office of Society at the main entrance and SA Dastarkhwan. You will also get many easily available eateries.
There is one of the well-known food brands that are available here in the Phase 1 commercial area at main GT Road. And you can go out to eat there. Brands like McDonald's, Pind Hotel, ZFC, Shiru's Kitchen, and Bhatti Tikka Shop. All of these food brands are easily accessible to people living in society.
So whether it is late-night hunger or you are hungry early in the morning. You are going to survive by visiting these restaurants.
And if there is an emergency and you need to go quickly to the hospital. For that, you don't need to drive for hours and take the risk of losing the patient.
In phase 1 Sohail Block there is a Government Hospital with few facilities. But you do not need to worry Tehsil Headquarters Hospital Muridke and Government Teaching Hospital Shahdara are only a 10-minute drive away from here. You can visit these hospitals to complete checkups.
At the start of Phase 1, there is a Shell petrol pump so you won't have to worry about getting out of petrol also. Also, you can find the Govt. Primary School in Phase 1 vicinity.
Blocks in Phase 1
Phase 1 of the SA Garden Housing Scheme KSK is divided into 5 Blocks. Each block provides you with the proper ease you would be looking for in your home.
Each block is properly divided into 3,4,5,6,7,8,10 Marla plots, There are both kinds of plots available in each block; commercial and residential, and you can go with your desired one. Now if we look at each block of Phase 1, we will know what amazing features each block has. The 5 blocks are as follows:
Furqan Block
Sohail Block
Faris Block
Sher Afzal Block
Sher Azam Block
Properties in all of the above-mentioned blocks are awesomely divided.
Sa Gardens Phase 2
When you find phase 1 easily. You shouldn't be worried about the location of phase 2. As both of the phases are not at a far distance from each other. But still, if you don't know where to go and what to do to reach phase 2.
It is near to Kala Shah Kaku Interchange, Lahore Eastern Bypass, Motorway interchange, GCU Lahore KSK, and UET Kala Shah Kaku Campus. The total Parco petrol pump is a 1-minute drive from Phase 2. It is also 2 minutes away from Phase 1 and Capital City Lahore.
At the start of phase 2, there is a commercial area. All facilities that are necessary for good living are available here.
Blocks in Phase 2
When you have a look at SA Garden Lahore Phase 2 blocks, there are 7 developed blocks in it, and in each block, you will get the proper ease. Each block has separate specifications that match our needs.
There are properly cut plots, both residential and commercial. You can choose residential plots for living there or go with commercial plots for business purposes. Now let's have a look at the names of all blocks in Phase 2.
Kamran Block
Arslan Block
Shoaib Block
Charagh Block
Tahir Block
Faisal Block
Sher Zaman Block
Badar Block (Sector A, B, C, D (under development), E (New Booking))
Sher Afghan Block(Under Development)
Sher Alam Block (Development to start in 2025)
Premium Residencia Block(Under Development)
---
---
SA Premium Homes Phase 2 SA Garden Lahore
Recently SA Marketing launched SA Premium Homes in an event held at SA Gardens Head Office where all authorized dealers participated. They have given the contract for the development of houses to Rai Estate and Builders.
The houses are well-designed to provide comfort and luxury to the residents. To make the environment better surrounding SA Premium Homes, the developers are developing a lush green park in the center of the street, which means all the houses in the project will be park-facing.
The houses will comprise 3-story buildings. Each Floor will have a separate apartment of 5 Marla whose entrance will be separated through stairs. Terraces on all floors will have their own home lawn. There will be a dedicated car parking space for each apartment house. There will also be a rooftop bar-BQ Area for each house.
The designer of the SA Premium Homes kept it in mind while designing to make it environmentally friendly. That's why you'll see greenery everywhere in the street and in front of the houses.
Each house in the project will have 2 bedrooms with attached bathrooms, a kitchen, a living room, and a terrace.
The houses are available for booking with a relaxation of 4 years to pay and get possession in 2 years. The prices are not too high in comparison to the market. The complete payment plan of SA Premium Homes is discussed above in the payment plan section. For other details and booking contact us on given numbers.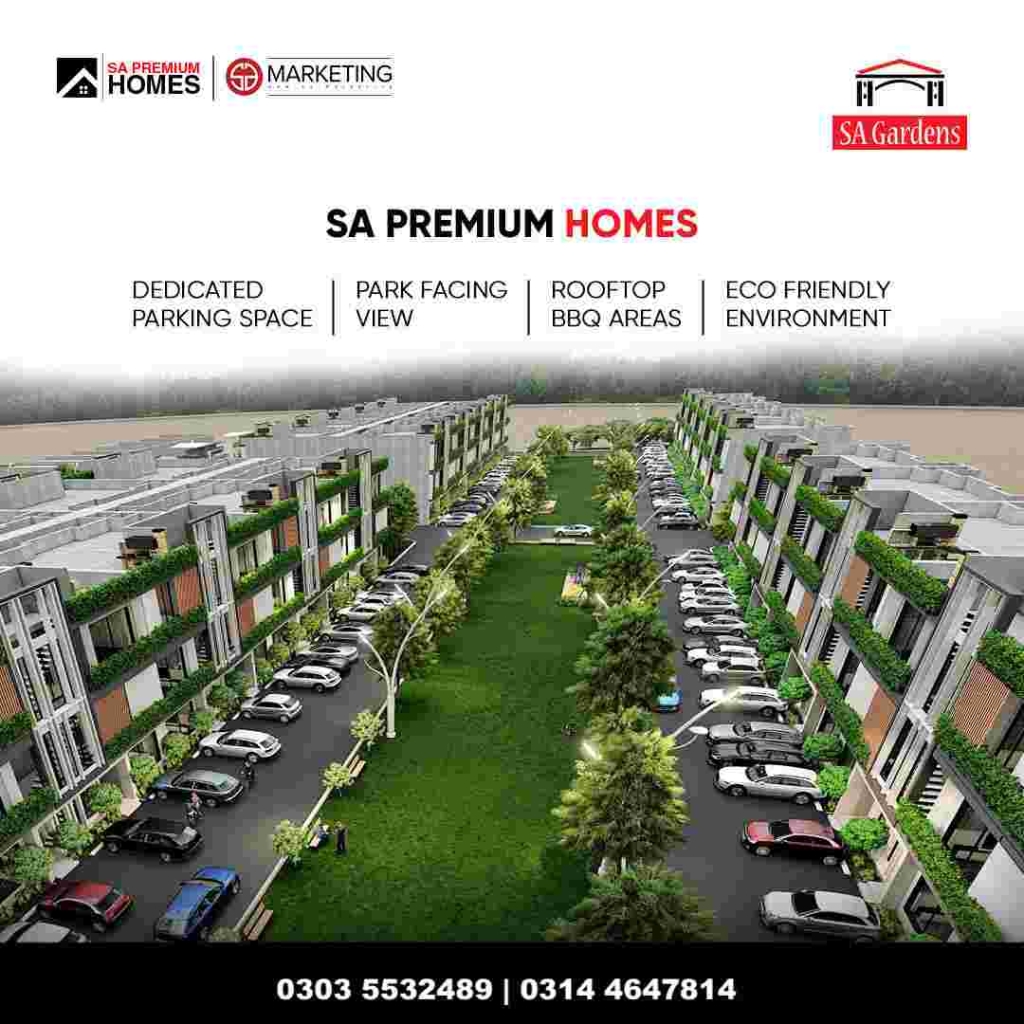 Premium Residencia Lahore
It is a block within Sa Garden Housing Scheme. Premium Residencia will have a separate entrance from the main GT Road and it has only 8 marlas commercial and 10, 20 marla residential plots.
This block has a prime location within the housing society. It will have a Wave Pool, Beaconhouse School, Sports Complex, Formula 1 racing tracks, Amphitheater, and a lot more.
The plots are ready for possession and available with an installment plan of 1 year.
For Booking and details contact us now.
---
---
Developers
SA Group is a renowned and emerging brand in the real estate market of Pakistan. It is their only project but this single project is larger than a lot of housing societies in the area. There are sub-commercial projects also developed by the same developers within the housing society.
The developers believe in providing quality living standards to the community. Their hard-working management and development team make sure they deliver the projects on time. Their all delivered projects show their skill set and dedication to work. Soon SA Group is going to launch more housing societies and shopping malls in different cities of the country.
Features and Facilities
It is the best society and has the most awesome features. Don't know why I am saying this all.
Just because I know what amazing features it has, and trust me, those all features are that everyone looks for when he wants to own a house. And now is the time to introduce to you properly what amazing features this society has.
Luxury Architecture
If you are looking for a house or a well-structured building you can call your home. This problem of yours is resolved, and you can visit to see the luxurious architecture of the homes it has. The ventilation in the houses is awesome, and that keeps you fresh.
Pure Water Supply
Pure water is a blessing of ALLAH! And we all know that. An increase in population has increased the water problems and many areas don't have pure water to drink. But SA Gardens Lahore has a pure water supply offering you to drink and use for cooking.
Gas Supply
The lack of resources resulted in no availability of Gas at homes. But you won't face it while living here. You can cook all the time you want, you can do all your chores on the available Sui Gas.
Green fresh view
The plants and greenery are a true source of a really pleasant environment. And in this busy life, you need that to relax your mind and body. This housing society is a full green fresh view.
Life In Safety
You can live here as you are living in a safe zone. And in this century, you can't survive without proper security. But SA Gardens Kala Shah Kaku has a proper gated community that gives you security 24/7. Because it cares about you and the people who choose it.
24/7 Availability of Public Transport
As it is located at the main Grand Trunk (GT) Road, the busiest road in the country, you will have access to public transportation 24 hours 7 days a week.
Commercial Area
Most of us face problems in reaching the commercial area, as living in housing societies makes this difficult. It takes time to reach commercial areas and needs more travel to buy anything. But this housing scheme has a huge commercial area not just from a shopping point of view but business as well.
Additional Features and Facilities
The list of features is not finished yet. Here are some more features that you may not know and haven't seen in society.
Electricity Backup.
Gas.
Schools.
Masjids.
Largest front on main GT road.
24-hour availability of public transportation.
Well, Structured Town.
Gated Community.
Internet.
Street Lights.
24/7 Security.
Modern Sports Complex with Tennis and Basketball Courts.
Modern GYM.
Best Sewerage System.
Shopping Malls.
Grocery Stores in each Block.
Nearby Universities and Colleges.
Nearby Hospitals.
Clinics.
LDA Approved.
Zoo.
Parks.
Play Grounds.
Horse Riding Club.
Formula 1 Racing, Dirt Bike Racing, and Jeep Racing Tracks for the first time in Pakistan were introduced by this housing venture.
---
---
Commonly Asked Questions
Below we have discussed a few frequently asked questions.
How many phases Sa Garden has and where are they located?
There are 2 phases of the housing scheme and both are located at the main GT Road Kala Shah Kaku. Both are only half km away with separate entrances on the main GT Road.
Is it approved by LDA/TMA?
Yes, both phases are approved by LDA (Lahore Development Authority) and TMA (Town Municipal Authority.
Is Sui Gas available within the housing venture?
Yes, sui gas is available within society.
Does society have a school within its vicinity?
Yes, there is a government school in Phase 1 and an educator's school in Phase 2.
Beaconhouse School is under construction in phase 2.
Are electricity connections given by Wapda or by society?
Electricity connections are given by Wapda in phase 1 while in phase 2 few blocks have electricity connections given by society and others given by Wapda.
Is Sa Gardens in district Lahore or Sheikhupura?
It is located in the district of Sheikhupura but nearest to the city area of Lahore rather than the city area of Sheikhupura. That's the reason people think Kala Shah Kaku is a part of the Lahore district.
Who is the owner of this project?
Sohail Afzal Malik and Shoaib Afzal Malik are the owners.