Citi Housing Multan | Phase 1 and 2
Multan is said to be the city of saints but people never used to live there just due to poor infrastructure and non-availability of modern facilities. But in the last few years, the city has shown a lot of developments in terms of set-up and associated facilities. Further, the City Multan now demonstrates top-notch advancements as compared to the recent few years.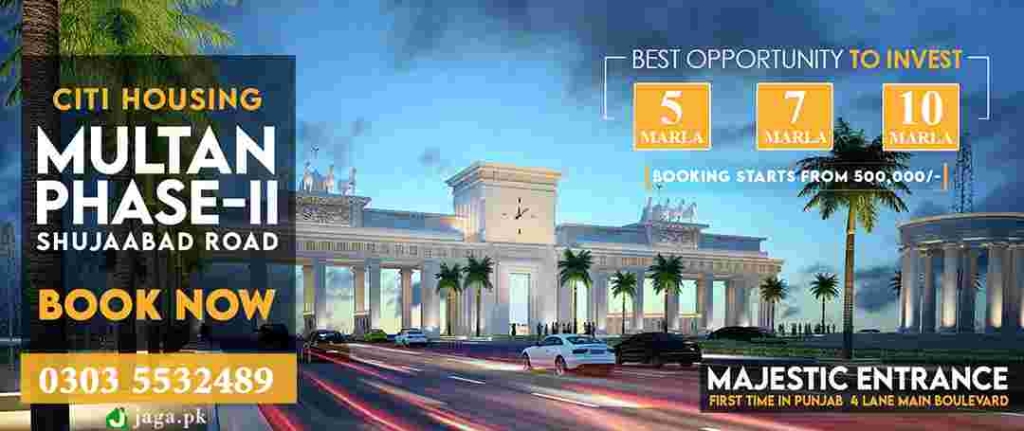 So people from around areas started residing there to get better opportunities for living and earning, thus increasing the population of the city and creating a shortage of living spaces. This factor has given chances to the real estate developers to introduce many residential and commercial schemes in the city and one of them is Citi Housing Multan.
Location Map Phase 1
Payment Plan Phase 1
Features Phase 1
Project Plan Phase 1
Developers
Balloting & Launching Phase 1
Location Map Phase 2
Payment Plan Phase 2
Features Phase 2
Project Plan Phase 2
Balloting & Launching Phase 2
---
It is a rousing residential venture revealed by CEO Mr. Zorair Malik. They have already delivered the five most successful Housing projects in Gujranwala, Faisalabad, Jhelum, Kharian, and Sialkot and now Multan is their next target to bring more revolutions like Tower 21 Lahore.
Let me inform you that City Housing Multan was launched on the 1st of June 2020 as Phase 1. Phase 2 was launched on 17th March 2021. It has become a word of mouth among the investors so think what is the value of the project.
It is a golden project of the city of saints that will reshape the way and standard of living with uttermost accomplishments and intercontinental amenities. In this housing scheme, the dwellers will have high-class living with the state-of-the-art formation and scrupulous infrastructure.
The project's phase 1 is located at Bosan Road near DHA Multan and BZU and phase 2 is located on ShujaAbad Road connecting Multan Road near M-5 Motorway, the developers mark this place as the best housing society on the map of Multan city. Continuing our discussion let's move on to a few main factors of the project which investors want to know before investing.
For Society's Map/Master Plan send us a WhatsApp message by clicking the number below.
---
Citi Developers
The project is presented by Citi Housing (Pvt) ltd group which has delivered four successful groups in different cities of Pakistan.
The housing scheme is presented by CEO Mr. Zoraiz Malik and owner & Chairman Mr. Aamir Ishaq Malik who has promised to provide the best ever project in Multan city. From their inception till now they have become the name of quality in the real estate sector and have to build a strong brand name.
They always present something unique and innovative by designing a flawless combination of living, commerce, and entertainment with the help of their expert professional team. And at this time they will definitely set remarkable history.
---
Citi Housing Multan Phase 1 Location Map
As we all know that the location of any housing venture counts a lot in the victory of both the project and the developer. Sometimes the developers offer high-end facilitation in the project but fail to select good locations which causes their project not to gain good recognition.
As I have already informed you that according to the exact location map of the housing scheme, it is situated at the ideal location of Multan on Bosan Road.
If you search for the location on Google Map you will see that the city housing society phase 1 is situated in Moza Luftabad having a distance of a few minutes from Bahauddin Zakariya University (BZU) and the famous development of Multan DHA.
Citi Housing Multan Phase 1 Payment Plan
Because the first priority of the developers is their clients so keeping in view their financial positions the housing society has offered affordable prices with a flexible installment plan.
The developers have designed a very convenient payment plan which spanned over a period of 3 years. In the first lot, they have offered plots and files of 5 Marla, 10 Marla, 1 Kanal, and 2 Kanal with almost 15% down payment while the balance payment can be made after every quarter for 10 quarters.
Now only plots are available on installments in B, D, E, and Jinnah Block. In each block, different sizes of plots are available from 5 to 10 marla in the residential category and 2.5 to 8 marla in the commercial category. The installments schedule is given below which spreads over a duration of 1 to 3 years.
Keeping in view the above discussion I will give you the opinion to visit the site and book a file by filling in so that you can get huge returns after the balloting.
---
D, E, and Jinnah Block Phase 1 Residential Plots Installment Plan 2022
| Status | Plot Size | Measurement | Booking Amount | 12 Quarterly Installments | Total Price |
| --- | --- | --- | --- | --- | --- |
| Available | 5 Marla | 25 x45 (1125 sq feet) | 500,000 | 196,000 | 2,850,000 |
| Available | 7 Marla | 31.5 x 50 (1575 sq feet) | 600,000 | 262,500 | 3,750,000 |
| Available | 10 Marla | 35 x 65 (2275 sq feet) | 700,000 | 380,000 | 5,250,000 |
B Block Phase 1 Residential Plots Installment Schedule 2022
| Status | Plot Size | Measurement | Booking Amount | 5 Quarterly Installments | Total Price |
| --- | --- | --- | --- | --- | --- |
| Available | 5 Marla | 25 x45 (1125 sq feet) | 1,600,000 | 270,000 | 2,950,000 |
| Available | 10 Marla | 38 x 60 (2275 sq feet) | 2,800,000 | 490,000 | 5,250,000 |
Commercial Plots Citi Housing Multan Phase 1 Installment Plan 2022
| Status | Plot Size | Measurement | Booking Amount | 8 Quarterly Installments | Total Price |
| --- | --- | --- | --- | --- | --- |
| Available | 5 Marla | 25 x45 (1125 sq feet) | 2,200,000 | 1,100,000 | 11,000,000 |
| Available | 8 Marla | 30 x 60 (1800 sq feet) | 3,000,000 | 1,812,000 | 17,500,000 |
Jinnah Block Phase 1 Commercial Plots Payment Schedule 2022
| Status | Plot Size | Measurement | Booking Amount | 8 Quarterly Installments | Total Price |
| --- | --- | --- | --- | --- | --- |
| Available | 2.5 Marla | 15 x 40 (600 sq feet) | 800,000 | 345,833 | 4,950,000 |
10% extra shall be charged for each special category (corner, facing the park, main boulevard).
5% discount on lump sum payment.
Balloting information is given below in the balloting and launching section.
---
Citi Housing Multan Phase 1 Project Plan
The project will be a grand residential scheme that will serve a large no of people with high-class and standard living coupled with associated facilities. It will be as successful as the previous City Housing Schemes were.
It is anticipated that like the previous projects this project also consists of 2 phases where every phase is be divided into different blocks featuring the crowning conveniences.
The most important fact about the CITI Housing Multan is that it got approval from Multan Development Authority (MDA). Also, the project will be equipped with international standard schools, health care centers, gymnasium, theme parks, fitness clubs, the supply of water, sui gas and electricity, and most important a zoo.
Phase 1 consists of 9 blocks named A, B, C, D, E, F, G, H, I, and Jinnah Block. Canal divides the different blocks of the housing venture and there is Ring Road Multan at the backside of the society. A beautiful bridge has been constructed to connect both sides of the scheme.
Further information will be revealed soon, keep visiting our page.
Balloting & Launching of Phase 1
The Citi Housing Multan is launched on 1st June 2020. In the launching ceremony, they said this is going to be the first-ever project in Pakistan which is developed first and then launched for booking.
The representatives also said they will fulfill all the commitments they made with their customers. For the first 100 customers, society was offering possession if they pay 50% of the total amount of the plot. On first come first serve base plot numbers will also be allotted. The balloting of the rest of the files was after the 5 quarterly payments.
Important information which I want to share with you is that we also came to know that the developers of the project offered 5 & 10 marla and 1 & 2 Kanal files after the launching ceremony. For the latest updates keep visiting our official website.
---
Features and Amenities of Citi Housing Multan Phase 1
The project will present elite facilities for their beloved dweller. The basic feature is Wafi Citi which is an exclusive project featuring a beautiful gated entrance, a theme park, and a zoo. Here people will be served with the following facilities.
MDA Approved with approval number 1685/DUP/MDA.
The developers of this project have designed Masajid for all blocks and an outstanding Mosque where a classy interior has been used with Islamic art. The walls of the Mosque are assorted with Quran verses and Islamic Calligraphy which gives a beautiful view. The Citi Housing Multan Grand Mosque will have a capacity of 2000 People.
Education is the basic need of every individual because it not only makes you successful but also needed to survive in today's world. So, keeping this factor in view the project offers the finest quality schools constructed stylishly with beautiful furniture and other educational equipment.
A big Citi Medicare Hospital is also planned to be built in the society to provide good health to residents. The hospital will be equipped with a range of medical equipment, operation theaters, medical stores, patient rooms, etc.
Another amazing facility of this society is a shopping mall with the name Citi Mart. At Citi Mart, the residents will enjoy the best shopping experience. Here the residents, as well as the surrounding dwellers, can have all they need from clothing, grocery, electronics, food restaurants, gaming areas, and many other items.
Minimum 40 feet wide roads.
Proper supply of purified water.
Sui Gas supply.
Lush Green Parks and Zoo for your children.
Here you will have one of the most luxurious and beautiful marquees of the town having a serving capacity of over 1500 guests. The developers will appoint a highly efficient team that will offer a unique theme for every ceremony.
To ensure the right level of security for the residents of the society the developers have planned a very strong security system. The society has secured entry gates, 24/7 CCTV Camera surveillance, static-guarding, mobile patrolling, etc.
In order to facilitate the residents to maintain their routine life the society supply 24/7 electricity. Also to provide a continuous power supply in case of a power failure and load shedding they have installed power generators with a planned underground wiring system.
Citi Housing Multan Phase 2 Location map
Multan is the city of saints has some crucially important developments recently and thus the city has announced itself to be another development hub with the league of many other big cities. Citi Developers have made a significant effort to choose the location in order to facilitate the residents in the best possible way.
The location contains almost all types of amenities in the vicinity. The area is surrounded by some other crucial points as well in order to facilitate life. It is situated on the Shujabad road connecting with Multan Road which is going to be the new center of the city.
This is because numerous new housing societies are being established there expanding the parameters of Multan road and even beyond that. Nishter Hospital 2 at Pull Bulail is also nearby.
The location of the Citi Housing Scheme Phase 2 Multan is very promising with respect to the facilities it has in its surroundings. This is the new center of the city and there are a lot of important city points around the corner which includes Multan road, Shujabad road and many other developing societies which provide an important vicinity.
It is a peaceful and calm environment for someone who is looking to move away from the city's hustle and bustle. The developers have chosen this location for the purpose to provide an exclusive high-quality infrastructure to the residents of Multan. For that matter, they have left no stone unturned to choose an exciting location again.
It is an ideal place in the lap of nature. The area is also away from bothering city traffic. It is a community containing all the modern-day facilities within itself. This location is ideal for someone who is looking to manage work-life balance and most of us are looking for an ideal location like this which contains a river in front and a whole lot of markets on the other sides.
---
Citi Housing Multan Phase 2 Payment plan 2022
The payment plan is something that most property buyers are worried about. It is true that installment plans for some societies are not clear and to cope with this issue, the developers have devised a clear and concise payment schedule for their consumers to help them make a beautiful house in this gorgeous society.
Thus, developers of Citi Housing Multan provide a smooth and easy payment plan to satisfy maximum clients. Hence committing with their high-class standard is something which they have done very well of course along with other facilities as well. It contains a very smooth eye-catchy installment plan in order to satisfy the customer.
The estimated prices of these plots are given below to give you an idea of the market rates. Remember, these are just to give you an idea about the prices, to get a precise quote about a plot, contact the numbers given below to book. Because the booking is with plot numbers the prices of some plots may be higher than the actual amount.
A 5 Marla plot comes at a total estimated price of PKR 2,550,000. A down payment of PKR 500,000 has to be paid in advance while the remaining amount which is 171,000 can be paid in 12 quarterly installments over the span of 3 years.
A 7 Marla plot comes at a total estimated price of PKR 3,450,000. A down payment of 600,000 has to be paid in advance while the remaining amount which is PKR 246,000 can be paid in 12 quarterly installments over the span of 3 years.
A 10 Marla plot comes at a total estimated price of PKR 4,550,000. A down payment of PKR 7000,00 has to be paid in advance while the remaining amount which is PKR 321,000 can be paid in 12 quarterly installments over the span of 3 years.
A 10% additional will be charged for acquiring a Corner, Facing Park, and Main Boulevard plot.
Remember, the prices are subject to change depending upon the location, date of purchasing, market inflation, and other related factors.
You can contact us to get the exact price quote for your plot. Or, you can visit this amazing society to get a clear picture of the ground reality.
---
Citi Housing Multan Phase 2 Project Plan
The developers of this wonderful society have held a long engaging survey with their team of highly professional and talented engineers along with architects to produce this amazing locality.
The main aim of this project was to provide a place where people could live a standard and peaceful life with all the necessities provided and the opportunity of investment can also be availed. In order to live a healthy and peaceful the placement of particular town matters a lot along with its surroundings.
Locations are one of the main things as well that adds to the importance of property and this project is a whole package that gives you an ideal location with all the necessary life facilities in its surroundings. As discussed above it also provides the residents and investors an opportunity for crop production.
The Citi Housing Multan Phase 2 could be a pioneer for connecting the Multan and Shujabad road and absolutely perfect for someone who wants to enjoy the life of both cities.
The developers also have a plan to have a Motorway M-5 Interchange for the society.
According to the Master Plan/Society Map, there are 7 blocks named A, B, C, D, E, F, K-C Block in the housing society.
It is also an excellent opportunity for someone who wants to stay away from the hectic procedure of construction. Also, an investment here will give you many options to earn the maximum. This is the place where you can secure your investment for the future.
You can live here and that is more likely to happen because once you started living here there is no going back. The locality also contains commercial areas, parks, a central mosque, and other amenities.
You can invest in plots or you can go for flipping the houses as there will be a huge demand for readymade houses in near future. So, this is the best opportunity for you to grab your plot and get started right away.
---
Phase 2 Launching and Balloting
Phase 2 of City Housing Multan is going to be launched on 17th March and there will be no balloting because the booking will be with the plot number. The payment plan and location map of phase 2 are discussed above.
Keep reading our blog page for future updates.
Citi Housing Multan Phase 2 Features & Facilities
Citi Housing Scheme brings amazing features to live and enjoy a peaceful life in this society. This is an amazing living society not because of its location and quality of work but because it contains very smooth eye-catchy payment plans in order to satisfy their clients.
You will enjoy all the facilities of a world-class housing society at a cheaper rate.
MDA Approved
400 feet wide Main Boulevard
Minimum 40 feet wide streets.
Accessible by Road
Broadband Internet Access
Satellite or Cable TV availability
CCTV security
Spacious lobby
Wide stairs and corridors
Sound Structure
Near to all modern amenities
ATM machine
Prime locations
Easy accessibility
Emergency exits
Brand visibility
Centrally Air Conditioning
Reserve Car Parking
RFID system for residents
Police stations
Post offices
Fire Station
Telephone Exchanges Gated Community
Security and surveillance system for 24/7
Uninterrupted electricity power supply
Well established hospital
Shopping malls, cinemas, and gyms
Entertainment areas such as parks Community centers
Commercial markets
Educational institutes
Wide road networks
Own sewerage system
Soft and hard landscaping
Water filtration plants
Master-planned and Gated Community
Vast Commercial Areas
Spa for Gents and Ladies
Gymnasium
Tennis court
Swimming pool
Jogging track & bicycle lanes
BBQ and Picnic areas
Gaming room for cards, snooker, and tennis
Citi Housing Multan Phase 2 is near the proposed side of Ghala Mandi and the Iron market
Underground supply of electricity and water
250 Kanal amusement park for residents
The international standard school system
Lush green park and zoo for children
---
Commonly Asked Questions
Below we have answered a few of the frequently asked queries.
Who is the owner of the project?
Major Malik Amir and his son Malik Zorair are the owners.
Is society approved by MDA?
Yes, it is approved by Multan Development Authority (MDA).
When the possession will be given in phase 2 and Jinnah block phase 1?
Possession will be given after half payment.
---