Citi Housing Jhelum
A housing society with outstanding architecture and all facilities is situated in the center of modern Jhelum.
Arranged and established to precision, this gated community provides a flawlessly protected and luxurious lifestyle with a picturesque landscape.
City Housing Jhelum previously named Satellite Town offers a world-class healthcare facility, an international standard school, a centrally air-conditioned mosque, an awesome zoo, a luxury gym, a spectacular spa, a privileged movie theater, an opera cinema, Eiffel Tower, and beautiful parks.
This epic project offers its residents comfort, convenience, and class that remains the true hallmark of Citi Housing's signature Gold Standard Living.
Location Map
Payment Plan
Features
Project Plan
Developers
---
Jhelum District is located in the Pothohar Plateau of the Punjab province. This ancient district was established on 23 March 1849. It is famous for offering a large number of soldiers to the British and later to the Pakistan armed forces. Because of this, it is also known as a city of soldiers.
It is the land of martyrs and warriors. Salt is a Porterfield at the Mayo mine in the Salt Range. There are two coal mines in the district. The Pakistan Railway obtains parts of its supply from there.
In Punjab Province, these are the only coal mines that are in working condition. The main center of the salt trade is Pind Dadan Khan.
Here are a few views of its location, features, payment plan, and project plan which make it easy for you to decide why it will be a good option.
Citi Housing Jhelum Location Map
It is located in the heart of Jhelum City on the main GT Road. It has very easy access to bus lines and the subway.
World-class restaurants, entertainment places, and shopping malls are closely accessible at the location of Citi Housing Jhelum. It is a top-grade luxury project with trading and novelty. In the metropolis, it is the foremost commercial project from its construction to its site.
It's a very captivating and alluring place for a business person or a worker. Location is very categorical and advantageous.
The surrounding area is not stuffed with crowds. The developers have made a significant effort to choose the location in order to facilitate the residents in the best possible way.
It is situated on a lush green hillock which makes this project unique from other projects.
The University of Punjab is a few kilometers away from it. Roots Millennium School, Citi land Theme Park, Al Hassan Grand Marquee Jhelum, Satellite Town Park, Ch. Akhtar Hotel and Restaurant and CNG Station are present in their surroundings.
International Schools, banks, gyms, zoos, Well-equipped hospitals, and beautiful mosques are there. In short, it's a very amazing and ideal place to live as it contains every amenity of life.
Citi Housing Jhelum Payment Plan 2023
There are different size plots available for sale in this housing venture including 5 Marlas, 10 Marlas, 1 Kanal, and 2 Kanal. These are available in easy installments in Hyde Park Block and Emerald Hills Block. Its prices vary from plot to plot. They offer a 2.5-3 years installment plan.
Plots and houses in other blocks which are developed are available only in cash. Their price range is mentioned in the tables below.
The payment plan is very much flexible and reasonable for anyone who wishes to construct his/her dream house in that locality. The developers present a very reasonable payment and flexible installment plan.
It contains a very smooth eye-catchy payment plan in order to satisfy the customer. Citi Housing Society Jhelum has a vast range of factors and qualities i.e. ideal location, economic rates, and availability of all living conveniences.
Emerald Hills Block Payment Plan 2023
Plot Size
Total Price
Booking
12 Quarterly Installments
Balloon Payment After 4th Installment
On Possession
5-Marla
3,990,000
950,000
174,166
475,000
475,000
10-
Marla
7,499,000
1,650,000
349,916
825,000
825,000
1-Kanal
13,000,000
2,450,000
675,000
1,225,000
1,225,000
2-Kanal
22,500,000
3,499,000
1,291,833
1,749,500
1,749,500
5,10 marla and 1,2 kanal residential plots prices and payment plan
---
---
Hyde Park Block Updated Installment Plan 2022
| | | | | |
| --- | --- | --- | --- | --- |
| Plot Size | Dimensions | Total Price | Down Payment | 10 Quarterly Installments |
| 5 Marla | 25×45 | 2,475,000 | 475,000 | 200,000 |
| 10 Marla | 35×65 | 4,450,000 | 799,000 | 365,100 |
| 1-Kanal | 50×90 | 8,450,000 | 999,999 | 745,000 |
| 2-Kanal | 75×120 | 14,500,000 | 1,440,000 | 1,306,000 |
Updated Installment Plan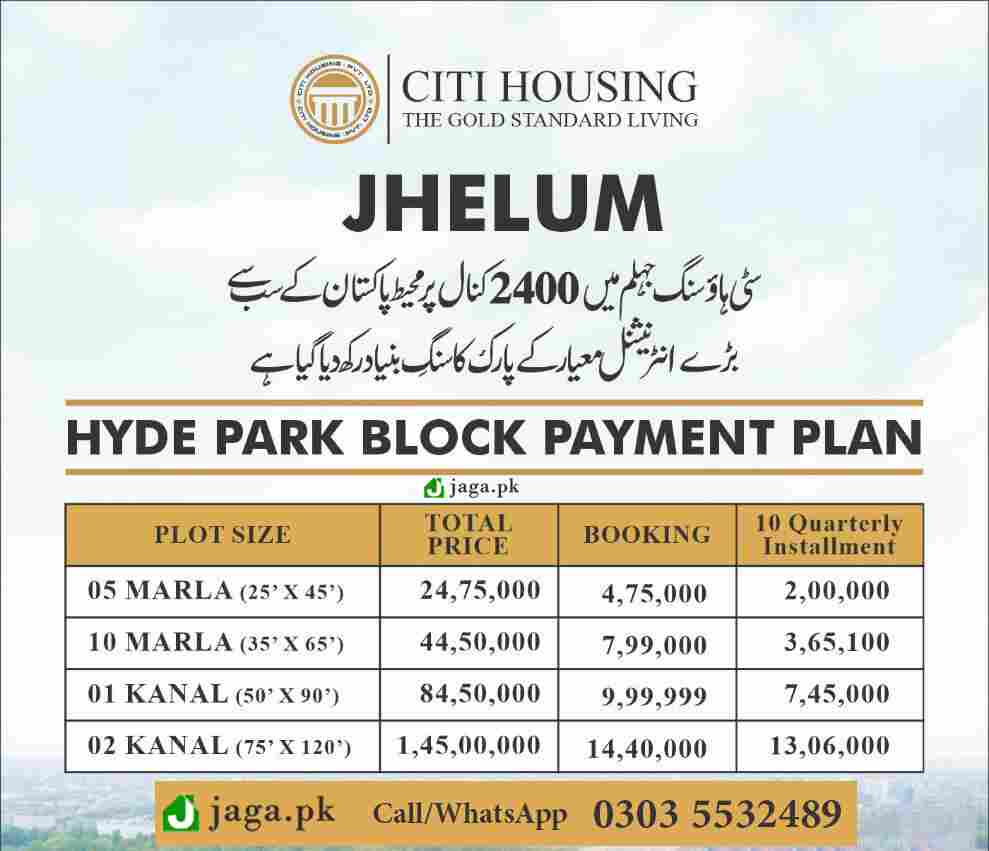 ---
---
Project Plan of Citi Housing Society GT Road Jhelum
Showing a real sense of class, this project has made deliberate efforts in offering super luxurious facilities, infrastructure, and entertainment amenities. Citi Jhelum's eminent devotion to detail is unbeatable.
Its way of doing state-of-the-art things makes its inhabitant proud owners of the property. People of Jhelum observe Citi-Housing as the benchmark to the standard quality of lifestyle, maintenance, horticulture, town planning, development, and construction.

The City Housing Scheme Jhelum is trying to give a healthy lifestyle to its inhabitants. The optical experience of a pedestrian heightens after showing expensive plants along the streets, beautiful flower beds, fixed bushes, streetlights, and ensigns, sidewalk configurations, picturesque parks with manicured grasslands punctuated with a lump of flowerbeds, etc.
The inhabitants have easy access to a beautiful artistic Mosque and an international standard school system.
In addition to these privileged facilities, others are also offered like uninterrupted underground utility tunnels, lush green parks, a Zoo for entertainment, educational institutes, an extensive network of open wide roads, and a hospital.
The whole project is divided into blocks including A, B, C, D, E, F, G, H, J, K, Overseas block, Eiffel Tower Block, DD block, Hydepark block, Emerald Hills Block, and more.
All of the above-mentioned blocks have residential plots of 5 marlas to 2 Kanal and commercial plots of 2 to 8 Marla.
All plots have access to natural gas, electricity, water, telephone, and internet lines.
The site is located at a height of more than 234 meters above sea level. The surrounding environment is fully developed which gives a peaceful living to its residents.
City Housing has been designed for those who have a passion for excellence and an uncompromising attitude with an eye for detail.
It is a unique project in the area. It is surrounded by commercial centers, residential areas, and public amenities.
There are multiple commercial markets in society. The town also has a Dancing Fountain, Jhelum Eye, Eiffel Tower, Zoo, Cinema, Banks, Gym, Hyde Park, and a lot more.
Developers of the Citi Housing Scheme
It is the real estate project of Citi Housing Developers. The Developers' good work in their first works won the public interest. The housing venture provides residential and commercial plots to its residents.
The Residential plots include 5,7,10 Marla and 1,2 Kanal Residential plots while 2,4,8 commercial plots are also part of the project.
All these facilities within the same location; captivate the public and everyone would like to be a part of such a magnificent Housing Society.
The developers have much experience in real estate. They have projects with the same name in Gujranwala, Sialkot, Faisalabad, Kharian, and Multan, and a luxury apartment building in Lahore with the name Tower 21.
It is another quality real estate project offered by the first modern real estate project in Jhelum. They have complete knowledge of legal and official standards.
For public comfort, the town provides the plots to its members on easy installment plans spanning over a period of 2.5 years.
---
Citi Housing Scheme Jhelum Features and Facilities
It is one of the best cities. It contains all the amenities of life. The residents of this place will experience an above-standard living style.
It is going to become a great public attraction. Because it contains much-needed recreational and enjoyment opportunities. Below, we list down salient amenities of the housing venture:
Gated Community
Flats and Apartments
24/7 Security
Registry on Completion
Mosque
Parks
Underground Electrification

Mini Desert

Eiffel tower
Theme Parks
Dancing Fountain
200 Feet Tall Jhelum EYE
Commercial Arena
Free Wi-Fi zone
Advance infrastructure
Eco-friendly city
Luxurious farmhouses
Security and surveillance with 360-degree drones
Educational institutes
Modern banks
Shopping complex
CCTV security
Spacious lobbies in apartment buildings
Wide stairs and corridor
Sound Structure
Near to all modern amenities
ATM machine
Banks
Prime locations
Easy accessibility
Brand visibility
Reserve Car Parking
RFID system for residents
Nearby police stations
Nearby post offices
Fire Station
Telephone Exchanges
Gated Community
Security and surveillance system for 24/7
Uninterrupted electricity power supply
Well established hospital
Shopping Malls
Opera cinema
Gyms
Zoo
Horse Riding Club
Cricket Ground
Football Ground
Tennis Court
Basketball Court
Badminton Court
Kids Play Area
Boating Club
Dirt Car Racing Track
Jogging Track
Cycling Track
Food Court and Coffee Shop
---
---
Commonly Asked Questions
Below we have answered a couple of frequently asked questions.
Is Citi Housing Jhelum approved?
Yes, it is approved by all concerned authorities.
Who is the owner of the Citi Housing Society?
Major Malik Amir (Son-in-Law of Malik Riaz) is the owner of the venture.
When society is going to give possession?
Possession has been given in all blocks except Eifel, DD, and Hyde Park blocks.
In these blocks, possession will be given after complete payment.