Tower 21 Lahore
You are looking to buy a new apartment, but there are too many choices and it's hard to know what property is good value for money.
Tower 21 Lahore offers luxury apartments with a 2.5-year payment plan at competitive prices. The building has ample car parking and is located in the heart of Gulberg III, Lahore. It is also one of the tallest residential buildings in Lahore.
Location Map
Payment Plan
Features
Project Plan
Developers
If you're looking for an investment that will give you maximum returns on your money then this may be the right choice for you. We have all the details available online so do check them out before making up your mind about investing in Tower 21 Apartments.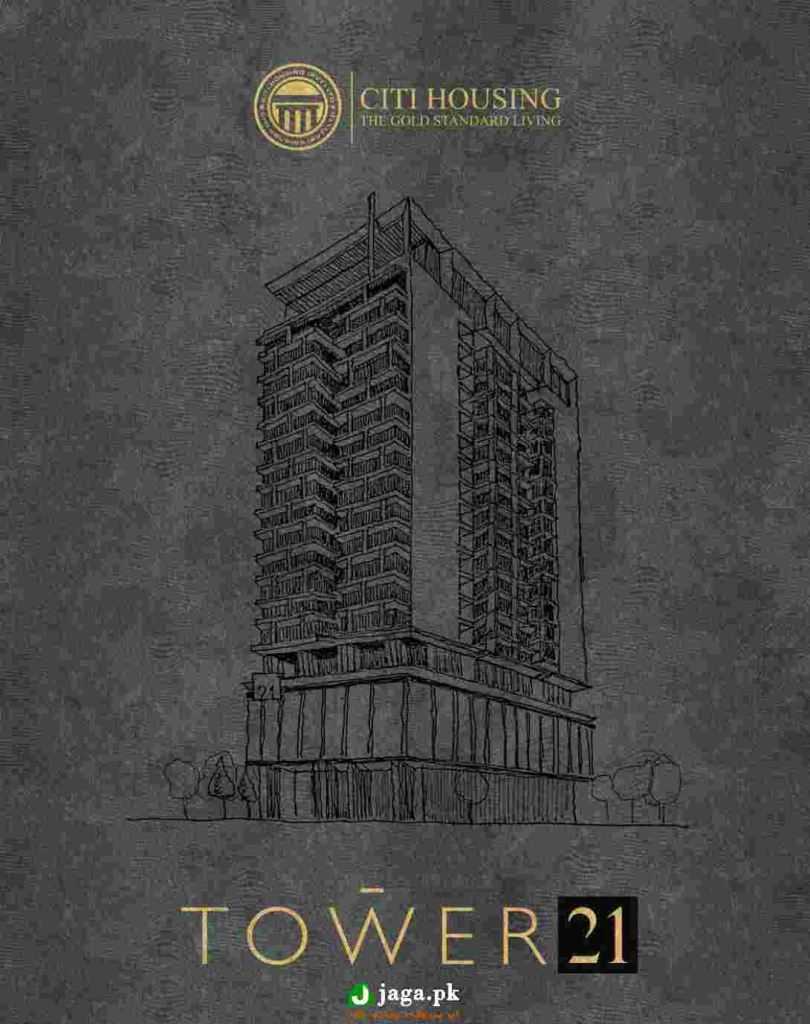 Below everything has described the project from location to features it is going to have.
Click To Whatsapp/923047320074
Tower 21 Lahore Location Map
Finding a good home to live in Lahore is hard, and finding the right place can take years.
Tower 21 has been designed with the perfect blend of modern architecture, state-of-the-art facilities, and luxurious amenities that will make life easier for you.
It's located in Ali Zaib Road/Main Qarshi Road Gulberg III opposite Miyawaki Qarshi Park adjacent to HSY Studio near all major transport hubs. Its location means that all major cultural, social, and commercial facilities are within easy reach. You can easily access all parts of the city without facing problems of traffic congestion.
As for future prospects, Gulberg III is developing into Lahore's most prestigious address with excellent infrastructure in place in terms of roads, electricity, gas, and drainage systems. This means that there is great potential for future development in the area.
Tower 21 Lahore offers 1/2/3 bedroom apartments at an affordable price range within easy reach of schools, hospitals, and other basic necessities of life. Let us check its distance from known places.
A 1-minute drive away from MM Alam Road.
A 3-minute drive away from the main boulevard Gulberg.
A 5-minute drive away from Liberty Market.
A 3-minute drive away from Lahore Cantt.
A 7-minute drive away from DHA Lahore.
Nearest to all the commercial hubs of the city.
A 5-minute drive away from Gaddafi Stadium.
Model Town and Ferozpur Road are within a few minutes drive distance.
Hafeez Center, Askari Tower, Sadiq Trade Center, Indigo Heights, Monal Restaurant, IT Tower, etc. are also the few nearest places.
Below is given the exact location map of the project.
Tower 21 Gulberg Lahore Payment Plan 2022
Most of the time, it's hard to find a property that is both affordable and in a good location. Tower 21 is a great investment that offers high returns over the next 2.5 years.
The management of the project is offering an installment plan of 2.5 years to its investors.
Residents are also offered an additional 10% discount on the original price if they opt for a cash price instead of the installment plan.
The project is offering the following payment plan:
The prices vary from 22,122 to 25,168 per sq. ft floor to floor and according to the apartment sizes.
You have to pay 15% as a downpayment.
There are 10 quarterly installments of 7% each.
Then you have to pay 15% at the time of possession in 2024.
Below are the rates and payment plans of apartments on different floors. These prices are pre-launch. Prices will change anytime with a notice of a few hours.
Click To Whatsapp/923047320074
1st Floor to 4th Floor Prices and Installment Plan 2022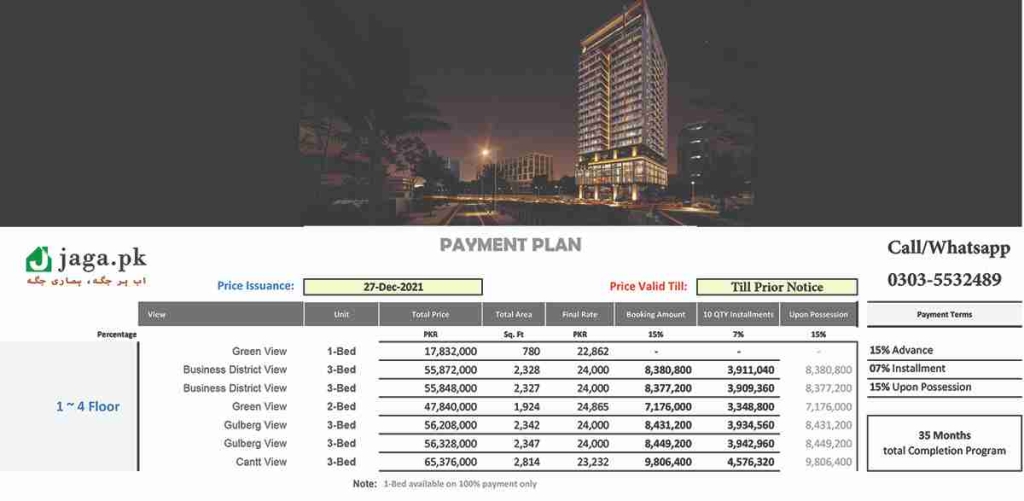 7th Floor to 9th Floor Prices and Payment Plan 2022

10th Floor to 19th Floor Prices and Installment Schedule 2022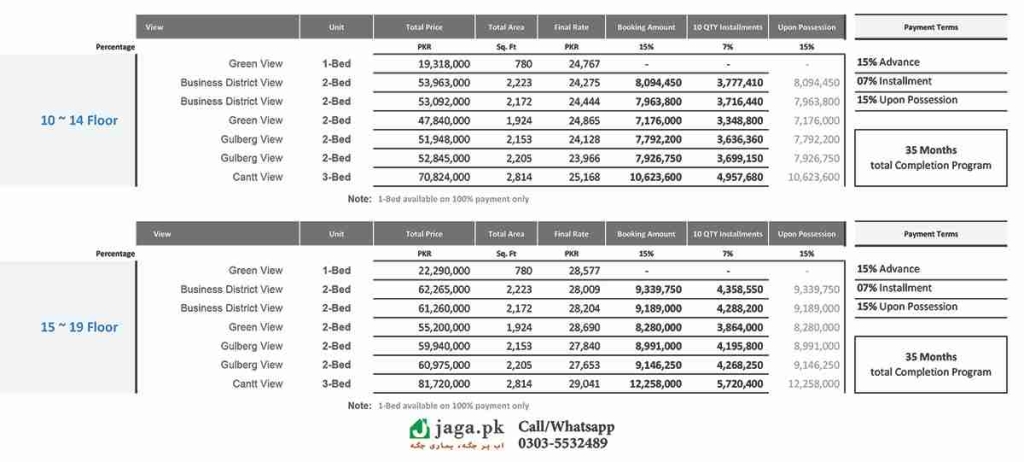 Click to WhatsApp 0092 304 7320074
Tower 21 Apartments Lahore Project Plan
CITI Housing brings you the best residential property on offer by providing luxury living spaces at reasonable prices that are easily affordable to middle-class families.
The tower is designed by Nasir Mahmud. Nasir Mahmud is a legend in the world of architecture, noted for his uncompromising approach to design. His designs are futuristic and daring but always artistic with an emphasis on sustainability which has made him one of those architects only a few have achieved this remarkable feat over time without fail.
Their design team has made sure to provide maximum space while keeping maintenance costs low in order to ensure your comfort throughout your stay in the building.
Tower 21 Lahore is an LDA and FBR-approved project located in Gulberg III, Lahore. It offers 1, 2 & 3 bedrooms apartments with ample 3 floors of car parking facilities. The project has been designed by a renowned architect and is one of the tallest residential buildings in Lahore.
This high-rise building has everything that you need within easy reach. Whether it's shopping at Mall Galleries or getting some work done at the office spaces, they've got what you want right there.
The project has all of your needs covered with luxury apartments, commercial offices, and a food court on the top floor.
Click To Whatsapp/923047320074
They offer 1, 2, and 3-bedroom apartments with great views of the city from every room. These spacious residences come semi-furnished with contemporary appliances so that you can move right in without having to worry about purchasing anything extra.
Below we describe the layout plans of apartments and floor plans of the building. All the units have been designed to give you enough room to move around and accommodate your family with comfort.
Ground Floor and Typical Floor Plans: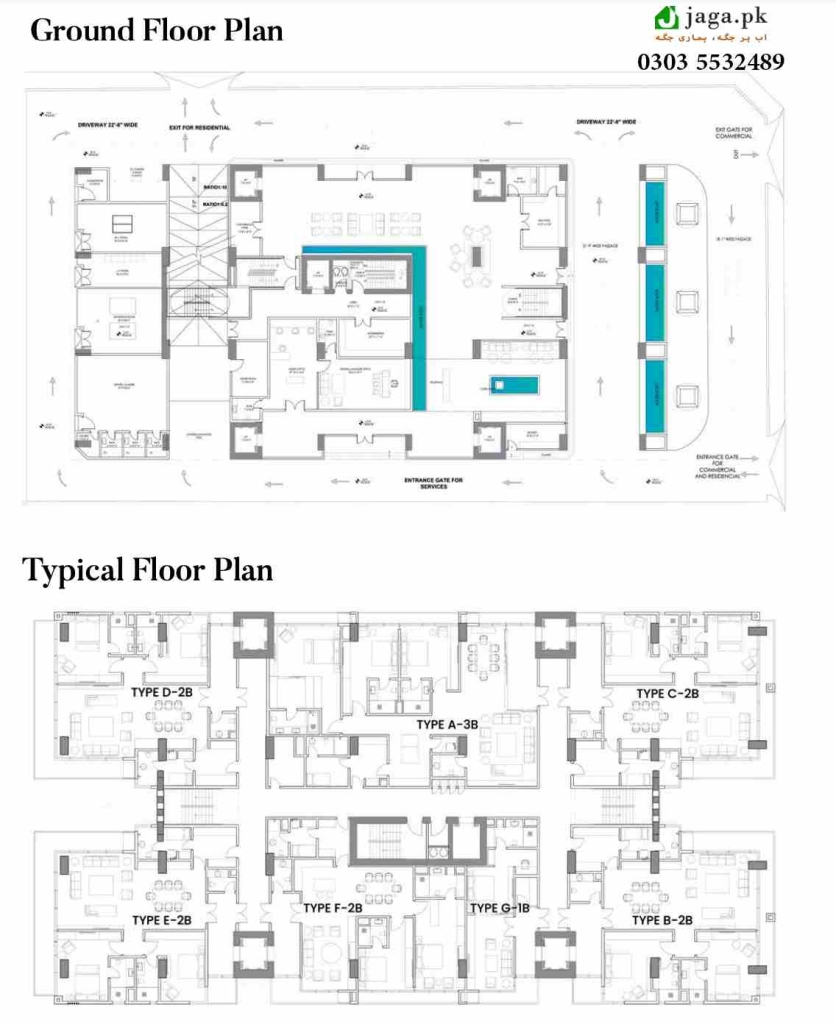 The following are their available unit types:
1 Bedroom Apartments Residence/Floor Plan
This smallest size unit provides you with the option of settling down in a smaller space for your convenience.
It has a 771 sq. ft area which consists of 1 bedroom, 1 bathroom, a lounge, a living room, a kitchenette, and a study room.
It will have concealed HVAC system, private elevator access, noise & weather insulated windows, and a corner balcony.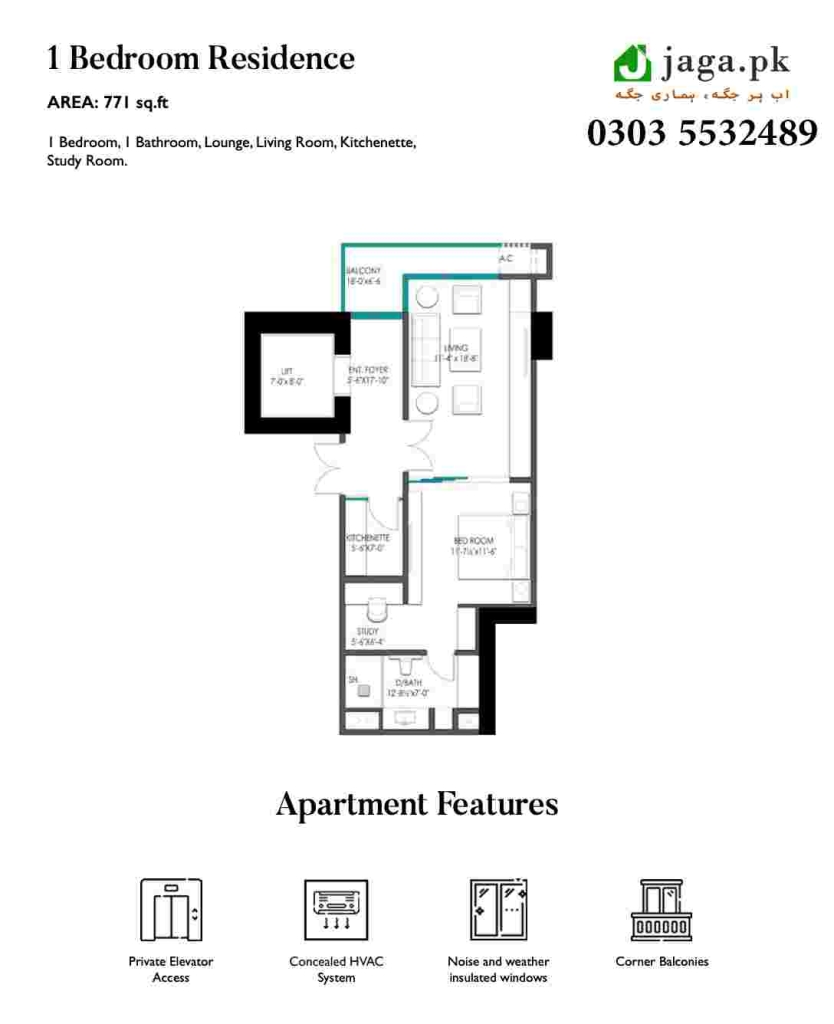 Tower 21 Lahore 2 Bedroom Apartments Residence/Floor Plan
This is the ideal choice for investors or families looking to expand their portfolios with extra investment. The size gives you enough room to move around and can easily accommodate 4 to 5 members family including children. This apartment will give you great returns in terms of cash flow.
It has a 2153 sq. ft area which consists of 2 bedrooms, 2 bathrooms, a lounge, dining, a maid room, a powder room, a laundry, the main kitchen, and a service kitchen.
It will have concealed HVAC system, private elevator access, noise & weather insulated windows, and a corner balcony.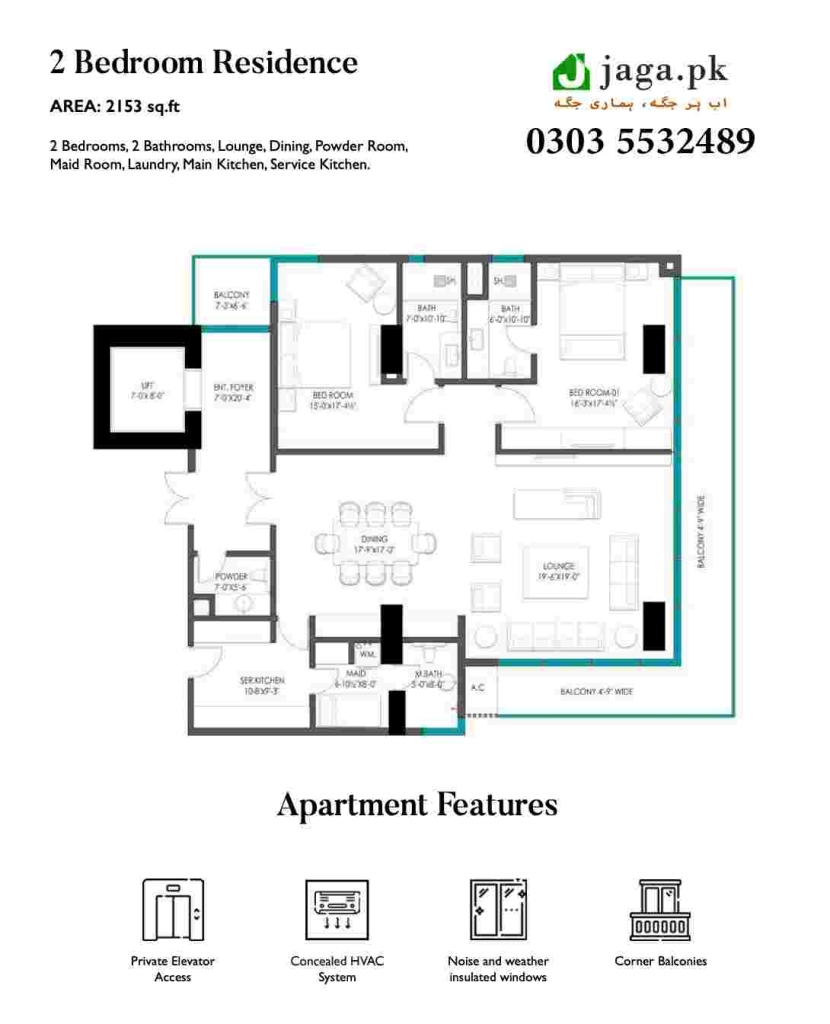 2-Bedroom Typical Floor Plan Type B&C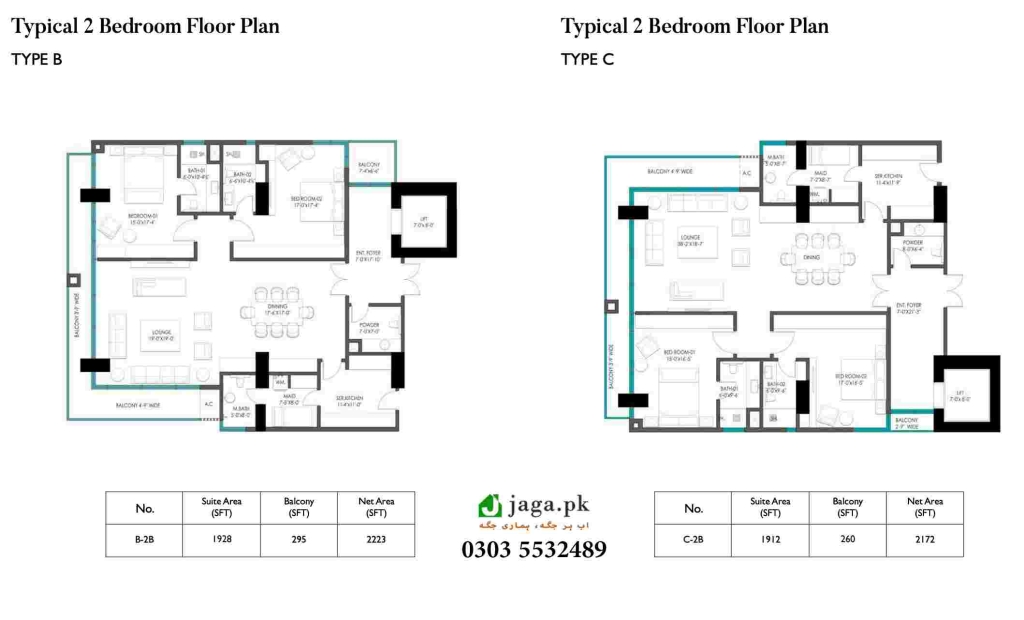 2-Bedroom Typical Floor Plan Type D&E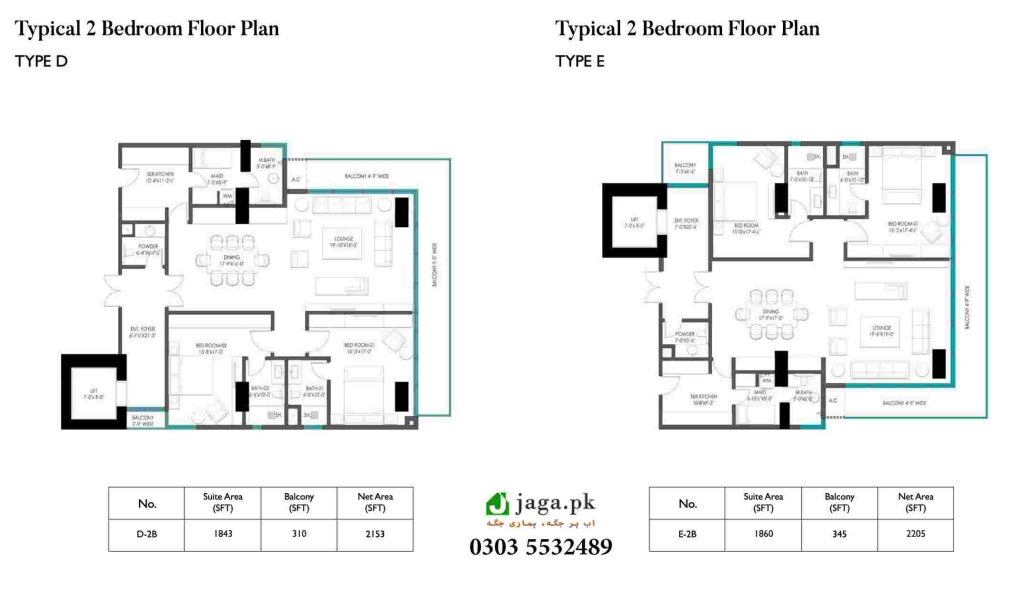 2-Bedroom Typical Floor Plan Type F
3 Bedroom Apartments Residence/Floor Plan
This is the best choice for investors and families looking to add a luxury property to their portfolio. The size gives you enough room to move around, entertain friends & family and has 3 bedrooms with 3 bathrooms so everyone can have their own privacy. These apartments will give you high returns on your investment.
It has a 2814 sq. ft area which consists of 3 bedrooms, 3 bathrooms, a lounge, dining, a maid room, a powder room, a laundry, the main kitchen, and a service kitchen.
It will have concealed HVAC system, private elevator access, noise & weather insulated windows, walk-in closets, and a separate laundry.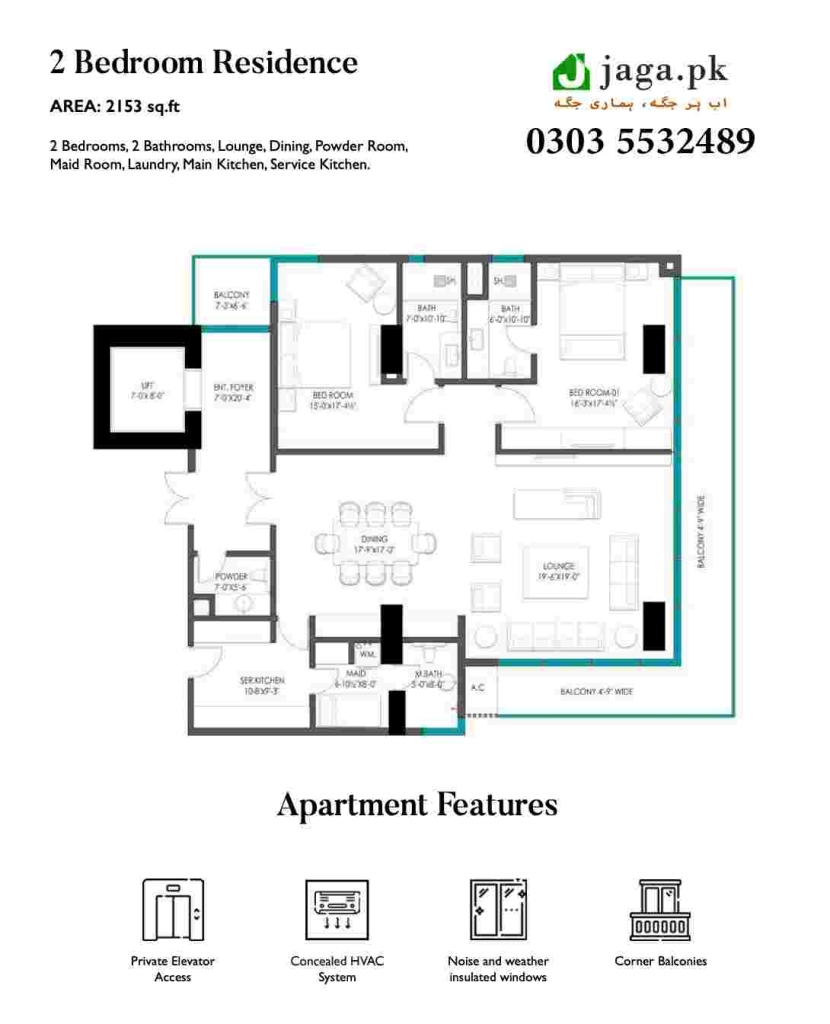 3-Bedroom Typical Floor Plan Type A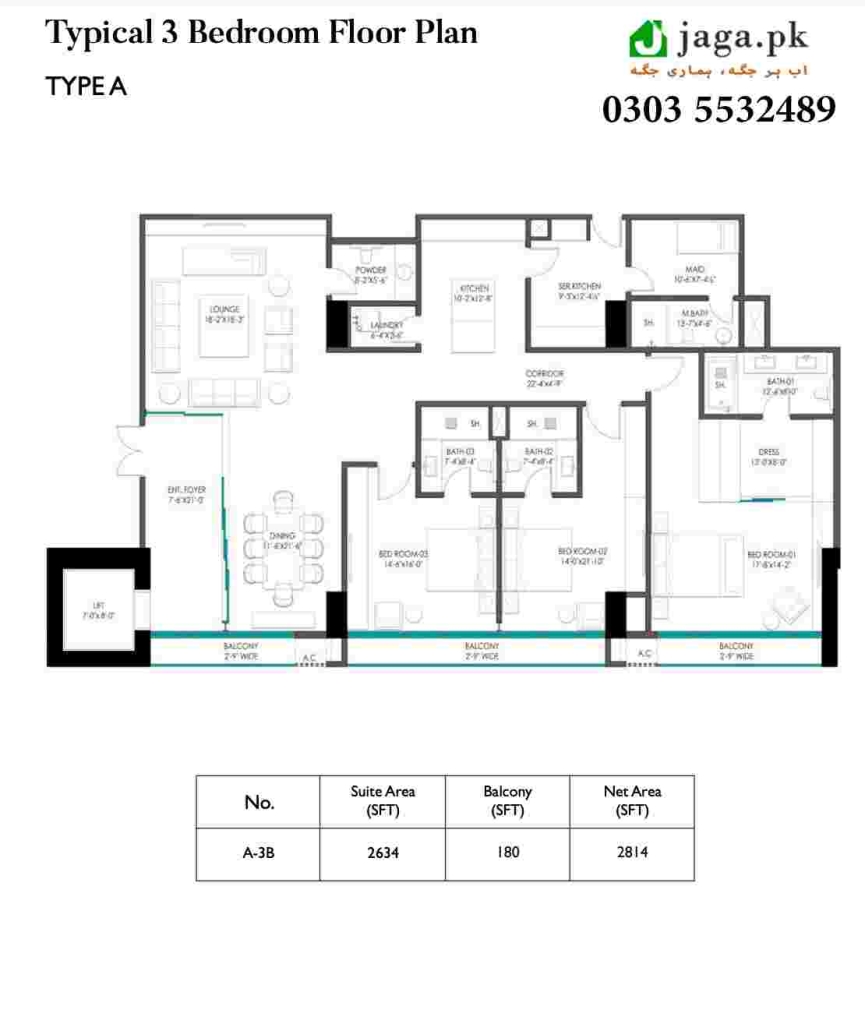 Developers of Tower 21 Lahore
It is a project of CITI Housing Developers, who are one of the leading real estate developers in Pakistan. Their projects are known for their quality, uniqueness, and affordability.
They have delivered more than 5 successful projects through their team of experts in different cities of Pakistan. The company works with the mission to make Pakistan a greener place and give people a luxurious lifestyle.
Some of their previous projects are CITI Housing Gujranwala, Faisalabad, Sialkot, Jhelum, and Multan.
They have been providing quality property for more than a decade now and are considered one of the top developers in Pakistan. They're well known for their best design standards and timely delivery of projects.
CITI Housing Group is a reputable name in real estate and has been constructing quality buildings for years now. They have a great reputation among the people as their projects are built with all the modern amenities, great designs, and an eye towards detail.
They maintain a large portfolio of completed residential & commercial properties to choose from, so whatever type of property or location you're looking for, they have the perfect option just for you.
Click To Whatsapp/923047320074
Features and Facilities Tower 21 Lahore Will Have
If you're looking for an affordable apartment that also happens to be close to various amenities like hospitals, schools, and shopping centers then Tower 21 might just be what you've been searching for.
24/7 Modern Security System: This apartment building is a safe haven for those who need to feel protected from the outside world. The high-security staff and advanced safety systems ensure that you'll be able to enjoy your time here knowing no one will bother or hurt you while you're living in peace.
Luxury Apartments: In a world where living space is at an all-time high, City Housing's Tower 21 offers luxurious and spacious apartments with elegant designs to make your day feel better. Whether you're looking for 2 bedrooms or 3 bedrooms in order to accommodate family members that come along on their own terms–they've got what it takes.
Recreational Club Floor: Tower 21's Health Floor offers a variety of treatments to soothe your senses, including hot baths and steam rooms. It also has an infinity pool with panoramic city views as well as fitness facilities that include cardiovascular machinery from Technogym for weight training enthusiasts or those who just want some exercise routine inspiration! There are dedicated yoga studios where you can stretch away any tension before it builds up too much – plus Pilates equipment available if this kind of workout isn't quite doing it anymore.
Vast Lobbies: The project is planned to have spacious and well-managed lobbies which give off the best impression.
Maintenance: The maintenances staff is always there to resolve particular issues which the residents may face. All complaints or problems will be tackled quickly without any delay so you can rest easy knowing your home's needs are being met.
Advanced Fire-Fighting System: With the state-of-the-art fire fighting system, they can quickly put out any fire with minimal impact on your business.
3 Floors of Parking: Spacious and advanced parking facilities are there for people. 3 floors of the building are specified as a place to park, but you'll never have any problems finding space here.
Modern Waste Disposal System: The advanced garbage disposal system and waste management will ensure that you're living in a clean environment.
Infinity Pool: The infinity pool is a great place to spend time with family and friends. It provides you the chance for some refreshing dips that will leave your mind free of stress in no time.
Business Centre: The multi-functional space is perfect for hosting any event or meeting, be it a corporate gathering with colleagues from the company or around the world.
Community Centre: The architecture of this building is not just beautiful and elegant, but also perfect for hosting your event. Whether you are looking to have an intimate dinner party or want something more public like a wedding ceremony- there's nothing better than using the Community Hall.
24/7 Electricity Backup: With the building's own electricity backup generator, you'll never have to worry about load shedding again.
High-Speed Elevators: High-speed and reliable elevators are made part of this project. In order to ensure that any bad incident can be avoided, the maintenance team checks these lifts or functionalities regularly.
Entertainment and Fun: The residents at this complex are living in a prime location, with many opportunities to enjoy themselves. There's the chess room and table tennis courts where adulterers can get some time away from their spouses or partners while kids will find it easy to make friends thanks to all of these kid-friendly activities.
Food Court: In the Skydeck of Tower 21 Gulberg Lahore, you'll find an exclusive restaurant that offers some amazing views. You can enjoy your meal while enjoying what seems like a never-ending stream or music from all around town.
Gymnasium: Spanning across 2 floors, covering 7,500 sq ft; the gym is well-resourced with cutting-edge Technogym equipment. Featuring a well-designed space, and floor-toceiling windows with an uninterrupted sky-scraper view of the city.
Stackable Mechanical Parking: Stackable mechanical parking is also available for long-term storage of cars which will be managed by the building, along with a chauffers lounge in the basement.
Here we describe other key features of the building:
Double height entrance lobby
24/7 concierge service
Private direct access elevators
Double height club floor
Members-only restaurant
Children's play area
Fully equipped Gymnasium
Spa
Health bar
Valet service
Dedicated cargo and service lift
Building management
Garbage chute/ Waste management system on every floor
BOH entrance in all residences
Electric car charging provisions in all parking spaces
Drivers Lounge
Dedicated car wash for residents
Finding a good place to live is hard. Your perfect home should have everything you need and nothing you don't. Tower 21 Lahore has been designed with this in mind so that every detail can be personalized to fit your lifestyle.
Do you think that Gulberg is too far from your place? Think again! The project has been strategically built in Ali Zaib Road Gulberg III, making it easy for you to commute from home to office without any hassle.
Phone us today to get more details about the project.
Click To Whatsapp/923047320074
Commonly Asked Questions
Below we have answered a few of the frequently asked questions.
Is the project approved by LDA and FBR?
Yes, it is approved by LDA and FBR.
Who is the owner of the project?
Malik Major Amir (Son-in-Law of Malik Riaz) is the owner.