Iqbal Garden Kala Shah Kaku | Lahore
A mega project in Kala Shah Kaku that highly aims to provide a quality life experience with standard and affordable processes to middle-class families. This housing venture is an ultra-modern and incredible project that will be offering classically architected houses in Kala Shah Kaku.
Location Map
Payment Plan
Features
Project Plan
Developers
---
This housing society will give you an area where you can spend the remaining of your life in luxury and comfort. Here the developers are presenting just a minimally calm and deluxe lifestyle.
The more highlighted fact of this project is that people highly recommended living here and the houses this venture provides are marvelous. Houses here are designed by employing a chic and crowd-pleasing interior and exterior while the architecture of the whole society is completely pre-planned.
The motorway where Iqbal Garden is based has 4 lanes with 3 industrial zones and a couple of universities would also be established together with the project. It's linked with M2 and N5 through Lahore link road near Kala Shah Kaku. The route is running parallel to GT road, passing east of Kamoki, Gujranwala, and Daska, and ending at Sambrial.
Here are a few details about the location, features, types of houses, and payment plan of the community along with other information that might help you decide why this would be a good option for you.
Iqbal Garden Location Map | KSK – Lahore
The Housing venture is a superlative project that is offering residential plots, commercial plots, and well-located areas. The most appealing features of this housing society that will attract clients are the location, rates, and installed facilities.
You can have a sustainable and remarkable way of living after residing in this housing society. Here you will have both commercial and residential plots of different sizes with very low rates. But these rates will get high in the coming days.
Location is one of the main concerns of anyone who is going to buy property or house in a newly built society, as far as the location is concerned it attracts more than one-third of its investors and buyers.
Iqbal Garden is located beside G.C University Kala shah Kaku Motorway Interchange Lahore. The whole area is surrounded by Lahore – Kala Shah Kaku Motorway, Lahore eastern ring road link, Lahore Sialkot Motorway interchange, and Smart City Lahore. And it is only 40 minutes drive from Lahore's central city area.
The other renowned housing ventures in the area include Sa Garden, Capital City, and Basit Town.
Allam Iqbal International Airport and DHA Lahore are just 30-minute drives away.
Thokar Niaz Baig is a 35-minute drive away.
Niazi Adda and Yateem Khana Chowk are just a 30-minute drive away.
Read All the details in the blog. For other details and updates of the project like Society Map (Master Plan), Facilities, Best Price Offers, etc. Whatsapp at (0304 7320074) or from mobile click it–> WhatsApp – 0092 304 7320074.
Iqbal Garden Kala Shah Kaku Lahore Payment Plan
When it comes to buying property people look for affordable prices and investment plans that the investors have to provide to their buyers. The housing scheme has a range of factors and qualities i.e. it's an ideal location, availability of all life conveniences, and economic rates. Yes, the rates of the plots are very low that you can easily afford while earning a moderate income.
The developers of this society offer two types of investment plans to its residents and the people who are going to buy property here. Plots of 3, 5, and 10 Marla are offered here and the price ranges are as below:
Residential Plots Rates & Payment Schedule 2022
| Plot Size | Total Price | Down Payment | 40 Monthly Installments | 8 Bi-Annual Payments | At Balloting | At Possession |
| --- | --- | --- | --- | --- | --- | --- |
| 3-Marla | 1,095,000 | 200,000 | 7,500 | 45,000 | 75,000 | 100,000 |
| 5-Marla | 1,750,000 | 300,000 | 11,000 | 75,000 | 150,000 | 175,000 |
| 10-Marla | 3,350,000 | 600,000 | 18,500 | 150,000 | 275,000 | 400,000 |
residential payment plan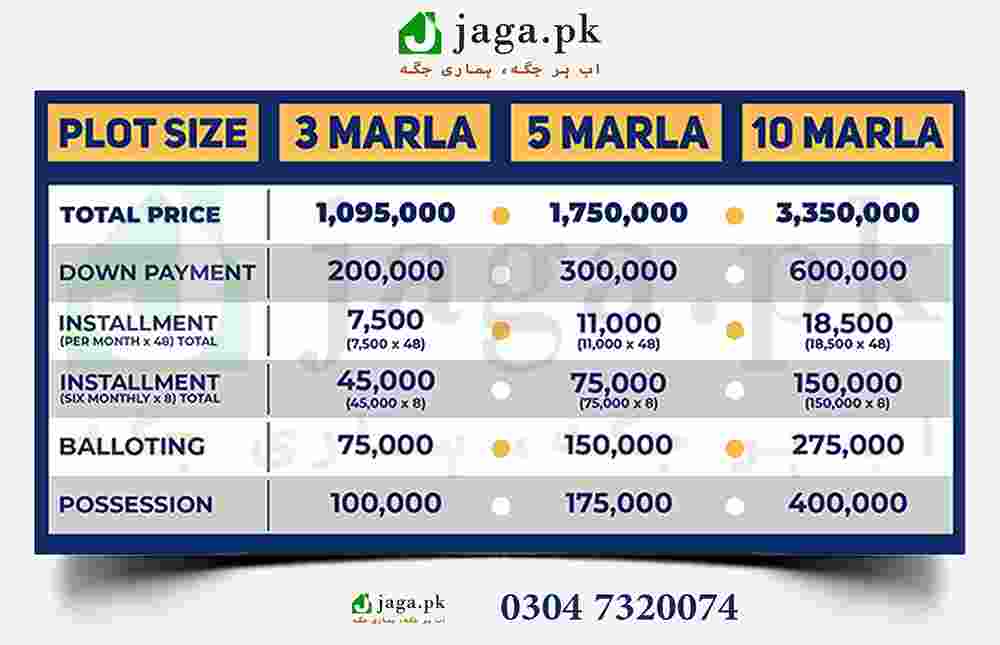 ---
On Ground Residential Plots Payment Plan 2022
| Plot Size | Total Price | Down Payment | 40 Monthly Installments | 8 Bi-Annual Payments | At Balloting | At Possession |
| --- | --- | --- | --- | --- | --- | --- |
| 3-Marla | 1,500,000 | 520,000 | 15,000 | 50,000 | 110,000 | 110,000 |
| 5-Marla | 2,500,000 | 800,000 | 20,000 | 100,000 | 210,000 | 210,000 |
3,5 marla on ground plots for sale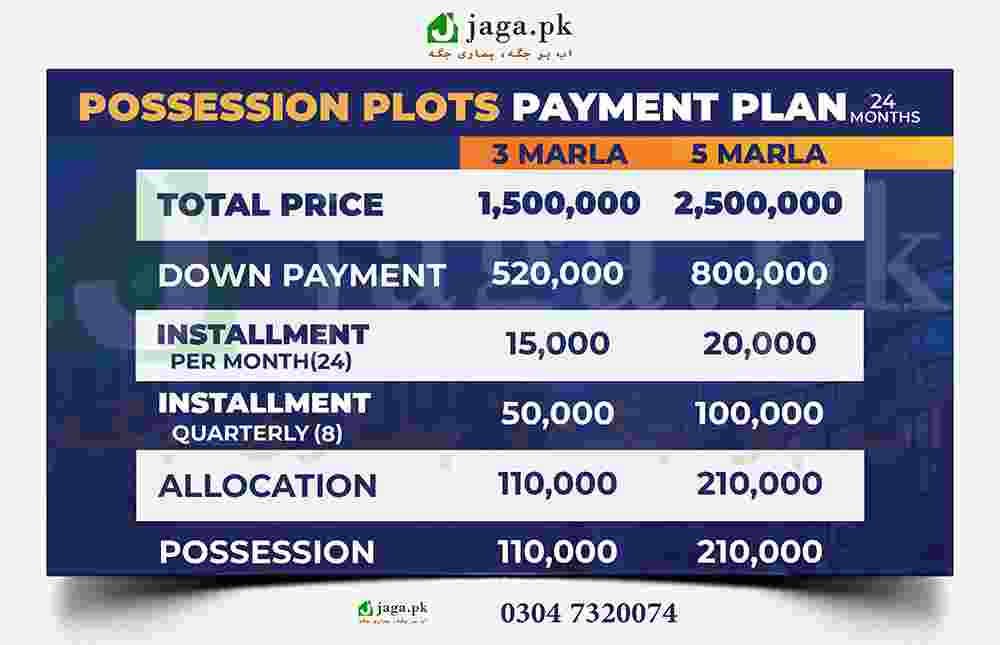 ---
Overseas Block Payment Plan 2022
| Plot Size | Total Price | Down Payment | 40 Monthly Installments | 8 Bi-Annual Payments | At Balloting |
| --- | --- | --- | --- | --- | --- |
| 3-Marla | 1,260,000 | 200,000 | 8,000 | 35,000 | 225,000 |
| 5-Marla | 1,750,000 | 300,000 | 11,000 | 49,000 | 300,000 |
| 10-Marla | 3,500,000 | 600,000 | 25,000 | 80,000 | 600,000 |
| 1-Kanal | 6,000,000 | 1,000,000 | 40,000 | 160,000 | 1,000,000 |
3,5,10,20 marla plots for sale in overseas block
---
Commercial Plots Installment Schedule 2022
| Plot Size | Total Price | Down Payment | 24 Monthly Installments | 4 Bi-Annual Payments | Allocation | At Possession |
| --- | --- | --- | --- | --- | --- | --- |
| 4-Marla | 7,500,000 | 1,875,000 | 140,625 | 300,000 | 300,000 | 750,000 |
4 marla main boulevard commercial plots for sale
---
Iqbal Garden Lahore Kala Shah Kaku Project Plan
The project is a masterly planned scheme that has been designed to the standards of modern construction methods to provide convenience to the residents. It is a beautiful project which is premeditated on vast land and installed with each and every necessity of life.
It offers an extensive array of residential and non-residential plots and every unit have a separate installation of facilities to give a comfy living to the residents.
One thing that was kept mainly in focus is that society has to provide opportunities to the middle-class families and small families that's why it offers plots of small sizes to large sizes i.e. 2,4 Marla commercial and 3 Marla, and 5 Marla, 10 Marla, and 1 Kanal residential and those too at the lowest possible prices.
All these plots are available in A, B, C, and Overseas blocks. Mian boulevard is 150 feet with streets of a minimum of 30 feet.
Apart from all this the residents of this small project don't have to leave the premises in search of any kind of basic facility because it provides all the facilities to its people and everything is available within its boundary walls.
A clean and wide road network, water and gas availability, community center, health care units, shopping malls, educational units, playland, and parks within a gated community is not a feast for investors.
---
Developers of Iqbal Garden Kala Shah Kaku Lahore
The developers of this housing venture are one of the leading organizations in the real estate sector of Pakistan. They have done many other projects as well and have always strived to provide the highest standards of workmanship, with modern project management techniques and the latest technology.
It diverse the experience of the real estate sector in their respective domains and believes that both expertise & qualification produces reliable dynamic organization.
Besides all the benefits and facilities that this society provides to its residents, there's a great opportunity for the investors too to invest here. Prices are affordable, investment plans are great and cheap, what else can you wish for when you have all the facilities in one place.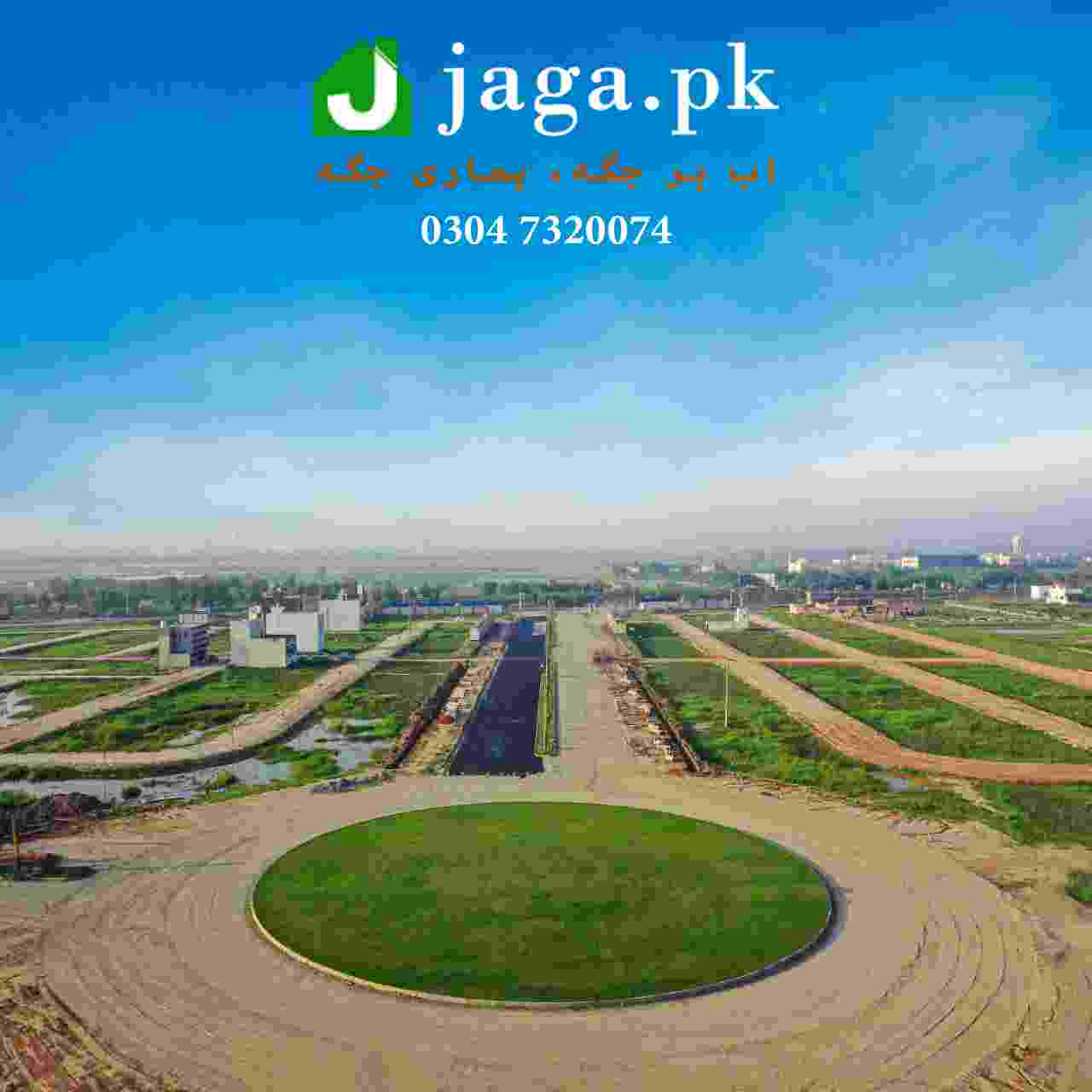 Features and Facilities Iqbal Garden Housing Scheme KSK will have
The project has some unique and prominent features as well as the basic modern facilities that it offers to its residents. It aims to provide its residents with all the facilities that a modern society can have. Below are briefly described features that the society offers:
150 ft. main Boulevard.
Street Lights.
The wide main entrance provides an eye-catching view.
Schools & Colleges are built to ensure that your children get standard education.
A network of Carpeted roads.
Parks for children.
Fully Functional Health Center with 24/7 facilities.
Branded Shopping shops.
Gym facilities.
Mosques.
Community Centre fulfilling all your needs.
Sports complex with different indoor and outdoor gaming.
Maintenance Staff to make sure everything is maintained and in working condition.
A well-built sewerage system.
24/7 security and camera surveillance.
Water Supply.
Shopping Malls with all the facilities and brands under one roof.
Restaurants provide you with quality food.
Community's Grand Mosque.
Water filtration plants.
Carpeted roads.
Community's Gymnasium.
---
Commonly Asked Questions
Below we have answered a few of the frequently asked questions.
Is Iqbal Garden Kala Shah Kaku TMA approved?
Yes, the project is approved by TMA (Town Municipal Authority).
When society is going to give possession?
The housing venture is offering both types of plots ready for possession and an under-developed area that will be ready for possession till the completion of payment.