Laban Garden Residencia Lahore
Finding a good place to live in Lahore is hard. Lahore is the most crowded city in Pakistan with an estimated population of 13 million people. There are over 6.2 million registered vehicles on Lahore roads causing massive traffic jams during peak hours.
As far as housing goes, prices have been sky high for years now which makes it difficult for middle-income families to find places to live within their price range. All this has caused the cost of housing to rise and it also raises concerns about why local authorities haven't done anything to manage the situation.
The Laban Garden Residencia offers you the perfect solution. This gated community will be equipped with all the amenities and necessities of life including electricity, sui-gas, telephone exchange, internet, wide roads, mosques, a park for every block, and much more.
---
Click To Whatsapp/923047320074
The society offers its residents shuttle bus services to the metro station and orange line. The housing society is designed by the top consultants of Pakistan (Archisense Atelier) and complies with the bylaws of LDA and relevant regulating bodies. This modern-day planned housing society located at Kala Khatai Road will be your dream home away from home.
Speaking at the site, Zeeshan Waheed Butt, CEO of Laban Group said: "We aim to provide a single and affordable housing solution for everyone. It's a well-planned and neatly executed project that will be completed in five years' time. Residents will enjoy high lifestyle standards."
The turnkey projects include 3,5,10 marla plots. Society is further divided into separate blocks.
Below we have discussed the installment plan, location, features the society will have, and the master plan of the housing venture.
Laban Garden Residencia Lahore Location Map
Location is one of the most prior factors of consideration when investing in any housing scheme. The society is located at Kala Khatai Road with easy access from Lahore Ring Road, Lahore-Sialkot Motorway, GT Road, Kala Shah Kaku Interchange it is located within close reach of many big cities.
It's an ideal spot for families as it's close to the major amenities including the metro station and all major hospitals.
Measured distance and driving period of Laban Garden Lahore from Major Points of the city
12 Km from Kala Khatai Interchage M-11.
30-35 minutes drive from Allama Iqbal International Airport and DHA Lahore.
25-30 minutes drive from Shahdra.
40-45 minutes drive from Lahore Cantt.
45 minutes drive from Lahore Zero Point.
25 minutes drive from Kala Shah Kaku and Motorway M-2.
25 minutes drive from Lahore Smart City, Basit Town, Sa Garden Lahore, and Iqbal Garden.
30-40 minutes drive from Muridke.
40 minutes drive from Narowal.
10 minutes drive from the upcoming River Ravi city also named ad urban Ravi front.
15-20 minutes from Lahore Ring Road.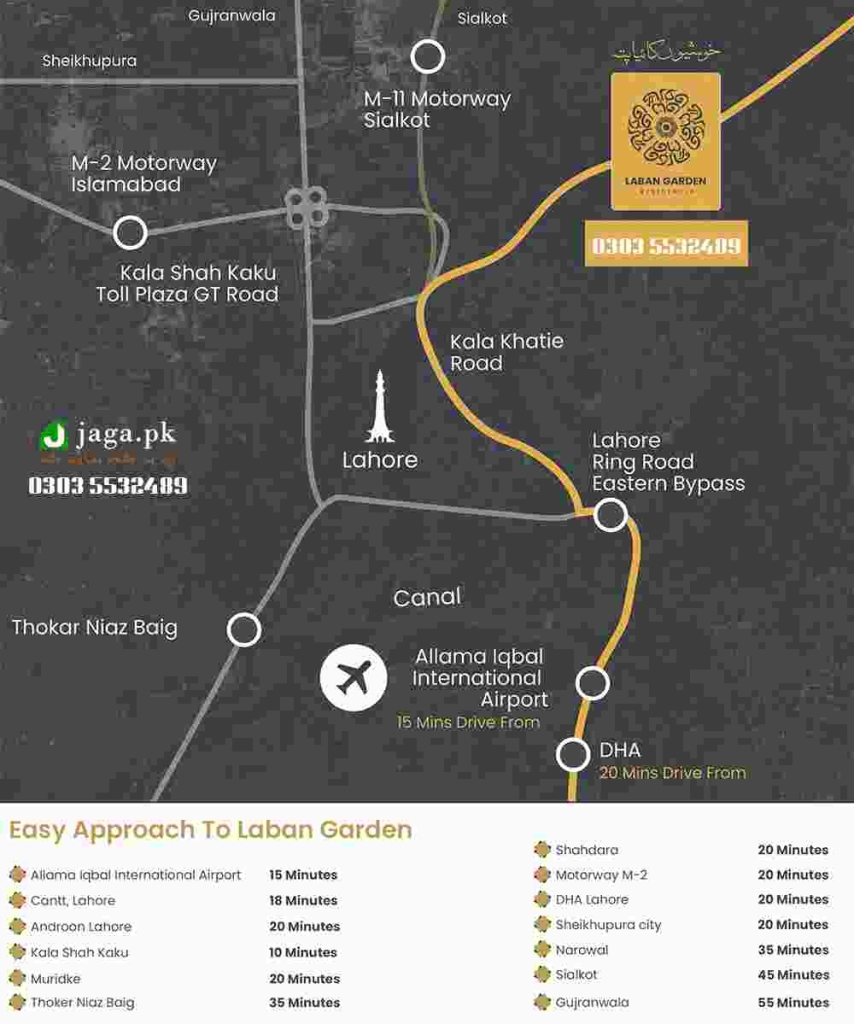 Laban Garden Residencia Lahore Payment Plan 2022
Finding a safe and secure place to live is incredibly important. Lahore has seen a lot of development over the last few years, but finding a home that is both affordable and within proximity to good schools and transportation can be challenging.
Laban Garden Residencia will offer spacious homes with modern amenities at an affordable price. Currently, plots of sizes 3,5,10 Marla are available for sale in phases 1 and 2.
Phase 1 Latest Plot Prices
In phase 1 of society, plots are available only in cash @ 3 lac per marla.
Laban Garden Lahore Phase 2 Updated Installment Plan Residential Plots
In phase 2 residential plots are available in easy installments for a period of 5 years.
| | | | |
| --- | --- | --- | --- |
| Plot Size | 3-Marla | 5-Marla | 10-Marla |
| Total Price | 899,700 | 1,499,500 | 2,999,000 |
| Booking | 179,940 | 299,900 | 599,800 |
| 60 Monthly Installments | 5,999 | 9,999 | 19,999 |
| 10 Bi-Annual Installments | 35,988 | 59,980 | 119,960 |
Installment Schedule 2022
Click To Whatsapp/923047320074
Laban Garden Residencia Kala Khatai Road Lahore Project Plan
Archisense Atelier(ASA) is a Pakistan-based design consultancy firm that has designed the master plan of this housing scheme.
There are plot sizes of 3,5, and 10 Marla in this housing scheme. To make it easy for you, the housing venture is divided into different blocks with multiple entrances and exit points for easy access. Each block has its own features including parks, a mosque, a telephone exchange, and wide roads.
Once completed this housing scheme will offer the best 2, 3, and 4 bedroom flats to its residents.
The housing society is designed by the top consultants of Pakistan and complies with the bylaws of LDA and relevant regulating bodies to ensure high-quality construction.
The project offers a peaceful environment to live in with best-in-class facilities.
Laban Garden Lahore has 2 phases. Both are at the same location but have entrances opposite each other.
Phase 1
It is located at the same location explained above and offers on-ground plots of 3,5, and 10 Marla residential plots and will soon offer commercial plots as well to promote commercial activities.
Phase 1 of the housing scheme is completely developed and under the process of approval from TMA (Town Municipal Authority). There is a total of 496 plots in phase 1.
Phase 2
Phase 2 of Laban Garden is located right opposite Phase 1 and offers 3,5, and 10 Marla residential plots on easy installments. The management of the housing venture has not yet revealed the master plan of phase 2.
There will also be 2 and 4 marla commercial plots in this phase of the town. According to our sources, the management has acquired 150 acres of land for phase2. The approval of this phase is also under process.
Booking Process
Following documents are required to proceed:
Registration / Transfer Form
NICOP / CNIC of self & Nominee
Payment Receipts / Pay Order / Draft
2 x photographs
Membership Performance
Signature & Thumb impression form
Steps to be followed:
Selection of Property Size
All personal information is filled correctly
Data entry of the nominee
Entry of Payments
Signature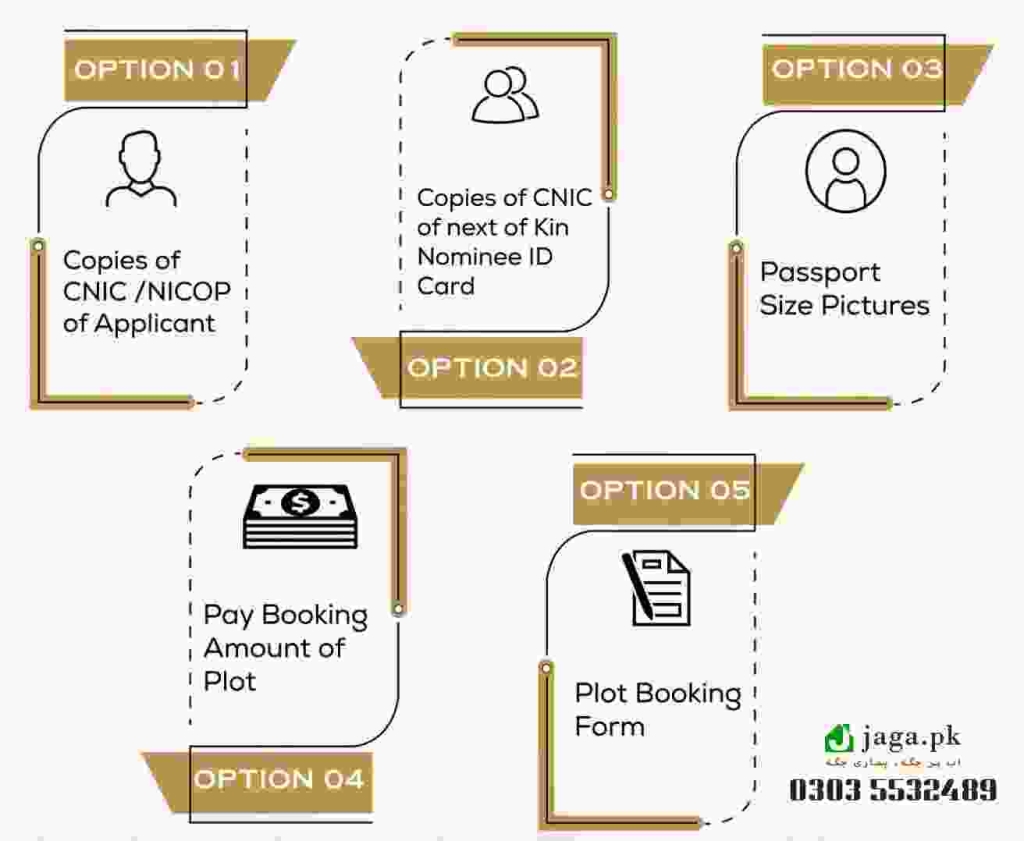 Laban Garden Property Verification Process
Following documents are required to proceed with the verification of a property:
Copy of Allocation / Membership letter / Allotment certificate / Allotment letter / Transfer letter
Copy of computerized National Identity Card
Copy of computerized National Identity Card of Authority holder (If authorized by the owner)
Originally paid slips of the verification fee
Copy of Property Dealer's Registration Card (if applied through Property dealer)
Follow the below steps to proceed with verification:
Submit verification application along with the above-mentioned documents at the Customer Support Centre
The owner / Authority holder will collect verified documents from the Customer Support Centre on the date provided
Open File Procedure
Following documents are required to proceed:
File Opening Application
Original documents i.e. MS letter / Allotment Certificate etc
Original Receipts
Seller's Affidavit
Photographs and CNIC / NICOP copy of the Right holder
CNIC / NICOP of witnesses
Transfer and R / P / MS fee (Pay order / Draft / Banker's Cheque)
"Statement of Dues" and "No Demand Certificate"
Procedure Steps to be followed :
Deposit "File Opening Fee" and collect "File Opening Application" duly filled
Obtain updated "Statement of Dues", deposit amount, and get the "No Demand Certificate"
Deposit documents and go through the File Opening procedure
Collect "File Opening Certificate" on the given date and time
Click To Whatsapp/923047320074
Developers of Laban Garden Residencia
It is a project of Abraj Developers. It is a professionally managed and diversified group that has been providing integrated services in the real estate sector for over 10 years. With head office in Lahore, it has regional offices in multiple cities. Laban was established in 2021 by the renowned businessmen Zeeshan Waheen Butt and Saith Imdad Khan. Before Laban, they were real estate dealers of multiple projects.
Abraj's strength lies in its dedicated team of professionals, who are not only recognized for their management skills but also for their knowledge and experience.
Developers provide an array of services including consultancy, project feasibility, land acquisition assistance, construction supervision, and marketing & sales facilitation; all undertaken by qualified architects and engineers. It is among the starter companies to enter into Real Estate Investment with a wide range of services in residential, commercial, and industrial sectors.
Abraj Developers is a diversified company that has been providing integrated business solutions in the real estate sector for over twelve years. It is the first project of developers and the company is going to present more projects soon.
The company has signed an MOU with Fitman Materials as a development partner to make the development speed faster. Fitman group is involved in the distribution and supply of interior, and exterior buildings, SRH Elevator & Escalators, Fire fighting & safety work in Lahore, and development solutions in Pakistan.
Facilities and Amenities Laban Garden Residencia Lahore will have
The residential scheme will consist of all the state-of-the-art amenities and features. The society will have a mosque, electricity, sui-gas, telephone exchange, internet, water filtration system, and wide roads in all blocks to provide access in and out of the society.
In addition to that, each block will have its own park within the premises where families can enjoy picnics or gatherings.
Below we list down some other features and amenities Laban Garden Residencia Kala Khatai Road is going to have.
Bus Stop at 2 minutes walking distance.
Nearby Police Station.
Nearby Hospital.
Nearby Petrol Pump.
Drainage and Sewerage System.
Water Filtration Plants.
Masjid Area.
24/7 Electricity.
Own Medical Centre.
Wide carpeted roads.
CCTV Surveillance.
24/7 Security.
Marriage Halls.
Graveyard.
Boundary Wall.
Gated Community.
Community Centre.
Football Ground.
Solid Waste Management System.
Gas.
Own Shuttle Bus System.
Hypermarket Cash and Carry.
Grocery Stores.
It is a good opportunity for low-income people to book a plot in this town.
If you want to book a plot then please contact us on the numbers given below.
Please note that only a few plots will be sold first come first serve basis.