Green Palms Lahore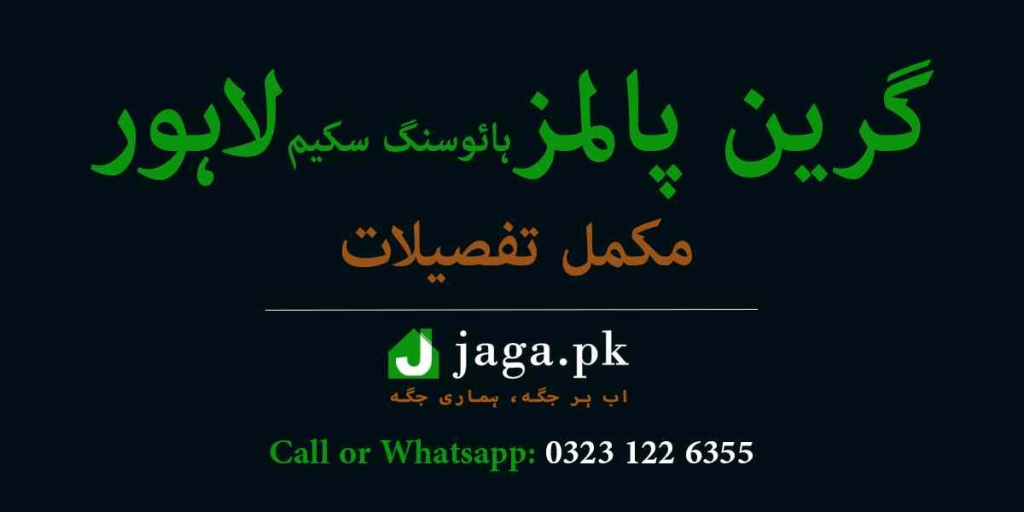 Lahore is the second largest city in Pakistan, and it is home to some of the best residential projects in the country. One such project is Green Palms Lahore, a unique development located on the main LDA City Road and close to several hospitals, educational institutes, malls, and more.
The project offers a selection of luxurious living spaces in various sizes and layouts.
---
---
---
It is designed to provide residents with the ultimate lifestyle experience and features a range of amenities including an open-air gym, jogging track, swimming pool, tennis court, cricket pitch, and clubhouse.
The homes are designed for contemporary living with modern interiors that feature spacious rooms and balconies. All apartments come equipped with high-end appliances and fixtures.
Residential and commercial plots are also available in the project, offering a great opportunity for real estate investments.
The project also offers 24/7 security, power backup, and round-the-clock maintenance services to ensure that residents have a safe and secure living experience.
It is designed to provide residents with all the modern amenities they need to live a comfortable and luxurious lifestyle.
Besides, it provides easy access to some of the most prominent landmarks in Lahore, like the Ferozepur Road, Sue Asal Road, Ring Road, and Kalma Chowk.
Green Palms Housing Scheme is one of the few residential projects of its kind in Lahore and has already attracted huge demand from investors as well as home buyers.
The project promises to offer a lifestyle experience like never before and is sure to be one of the top investment options in the near future.
With its unbeatable location, stunning views, and world-class amenities, It is sure to be the ideal place for anyone looking for a luxurious lifestyle.
So get in touch today to find out more about this amazing development.
Green Palms Lahore Location Map
When it comes to location developers do not compromise. The project is located at a prime site in Lahore on the Main LDA City Road which makes it easily accessible from all major points of Lahore and its surroundings.
It is near major universities, hospitals, recreational spots, and shopping centers. The tranquil atmosphere of the project will keep you at ease while enjoying its lush green landscapes.
The location map given below shows the exact location of the project with all nearby landmarks so that you can get a better view of your future home.
So make sure to check it out while planning your visit to the project and explore the location in detail.
You will be glad to know that the Green Palms Location Map also marks all major routes and nearby landmarks so you can plan a route before reaching there.
So keep it in mind while planning your visit and make the most out of it.
Nearby Landmarks:
Ring Road Interchange (5-minute).
LDA City (1 minute).
Central Business District CBD-5094 Kanal (1 minute).
33,868 Naya Pakistan Apartments (1 minute).
Ferozepur Road (5-minute).
Kalma Chowk and Model Town (20-minute).
DHA and Allam Iqbal International Airport (20 minutes).
Central Park Housing and Palm City Lahore (5-minute).
Safari Garden and Bahria EMC (5 minutes).
Etihad Town Phase 2 (5 minutes).
Green Palms Lahore Payment Plan
The payment plan is designed keeping in view the needs and affordability of homebuyers. It is divided into 36 easy installments and spreads over a period of 3 years.
The payment plan provides an opportunity for investors to pay off their dues in a convenient time slot while living in their dream homes. The details are as follows:
| Plot Size | Total Price | Booking | Confirmation | 33 Monthly Installments | 3 Annual Payment | Balloting |
| --- | --- | --- | --- | --- | --- | --- |
| 5-Marla | 3,500,000 | 350,000 | 350,000 | 45,000 | 275,000 | 350,000 |
| 10-Marla | 6,500,000 | 650,000 | 650,000 | 85,000 | 500,000 | 650,000 |
| 1-Kanal | 11,500,000 | 1,150,000 | 1,150,000 | 150,000 | 875,000 | 1,150,000 |
5,10 marla and 1 kanal pre-launch payment schedule
Terms and Conditions:
The prices mentioned above are excluded from development charges.
Confirmation amount to be paid after 90 days of booking.
5% discount on 50% payment and 10% discount on lump sum payment.
Non-Refundable Form Fee for residential plots: 500.
Non-Refundable Processing Fee for residential plots: 5000.
All plots come with IGI Insurance policy.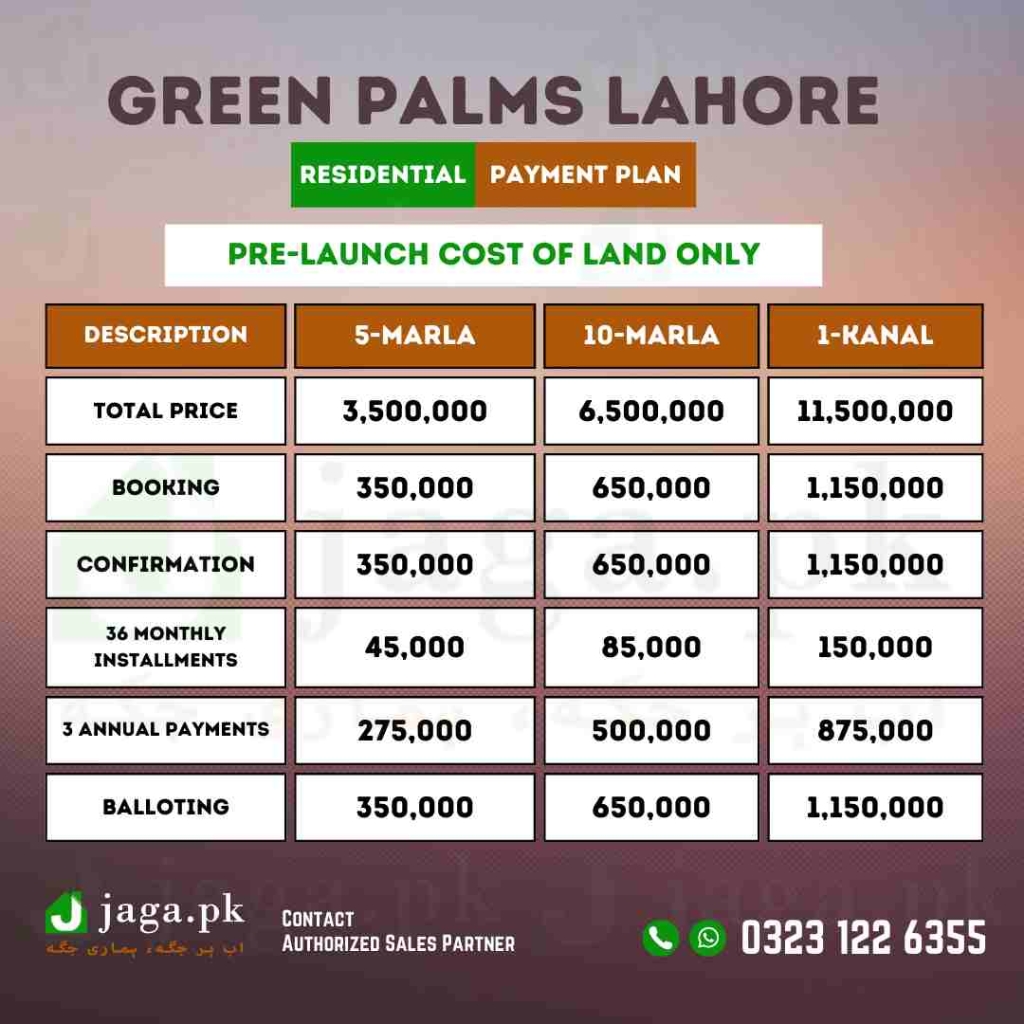 ---
---
Lahore Green Palms Project Plan / Master Plan
It is one of the housing projects in Lahore that are planned to be eco-friendly, with the usage of modern technology and advanced features.
The developers have used the best construction techniques to make this project a perfect combination of beautiful design and comfort.
It has world-class amenities like 24/7 electricity, water supply, gym, swimming pool, parks, and playgrounds for children. It also has ample solar parking space with 24/7 security.
This project consists of residential plots in various sizes ranging from 5 Marla, 10 Marla, 1 Kanal, and 1 Kanal.
Gree Palms Lahore takes a 3 tiered approach towards sustainability and eco-friendliness.
Social stability is achieved through an abundance of amenities and community outreach programs.
Environmental stability is maintained through passive and active design strategies.
Economic stability is facilitated by taking advantage of operational efficiencies and passing on the savings to the residents, in addition to the various offerings designed to give back to the community.
Eco-friendly and Sustainable Living will be achieved by the following.
Smart Energy Solutions: This includes maximizing energy efficiency and the use of renewable sources.
Sustainable Landscaping: To reduce lawn care maintenance, reduce air pollution, and maintain a healthy ecosystem for the surrounding areas.
Recycling and Waste Management programs: to reduce waste and promote sustainable living.
Green Building Materials: to make sure that construction materials used are environment-friendly and safe for its occupants.
Smart Water Management System: Water Conservation initiatives, with the goal of reducing water consumption through various means, such as rainwater harvesting and ensuring the availability of clean water for the residents.
Modern Security System: to ensure the safety and security of all its residents.
Linear Parks: to connect people with nature, providing an open space for recreational activities.
These initiatives will help ensure that the Green Palms Housing Scheme is a safe and sustainable living environment for its inhabitants.
With these features, the developers are sure to provide a unique and pleasant experience to their residents. So if you're looking for a green and sustainable lifestyle, this housing venture is the perfect residential project for you.
---
Developers of Green Palms Lahore
It is a project of the Rafi Group. They are pioneers in the real estate industry of Pakistan.
Rafi Group has delivered 100% of its projects on time is known for its innovation in modern real estate and is the most trusted brand in Pakistan.
They have a strong commitment to sustainability and strive to make all of their projects eco-friendly. They also believe in delivering quality service to their customers and take customer satisfaction as the highest priority.
Rafi Group has also been awarded several awards for its excellence in real estate.
Some of their projects include:
Defence Shopping Mall
Empire Centre
Green Acres
City Car Centre
Hall Road Centre
Landmark Plaza
Rafi and Zaitoon Plaza
Central Plaza
Empress Tower
---
Features and Facilities Lahore Green Palms Housing will have
The project will have all the basic and modern facilities like:
Secure Gated Community
Green School
Green Mosque
Green Medical Centre
Green Community Centre
Green Commercial Centre
Solar Parking Space with 24/7 Security
24/7 Electricity Supply
Smart Energy Solutions
Water Supply
Parks & Playgrounds for Kids
Sustainable Landscaping
Recycling & Waste Management Program
Smart Energy Solutions
Green Building Materials
Smart Water Management System
Linear Parks to Connect with Nature
It will also provide several on-site amenities such as:
Shopping Complexes
Restaurants & Cafes
Educational Institutes
Banks & ATMs
Hospitals & Health Care Centres
Green Palms Lahore will also provide an excellent opportunity for investors with its various payment plans. The project offers attractive discounts and other incentives such as mortgage loans and rental income to investors.
So if you're looking for a green and sustainable living environment, then this town is the perfect place for you to invest or live in.
With its various features and facilities, it guarantees an amazing residential experience.
So don't wait any longer, book your plot today.
---
---
Commonly Asked Questions
Below we have answered a few of the frequently asked questions.
Is Green Palms Lahore approved by LDA?
Yes, it is approved by LDA. The project has all the required approvals and certifications from the authority, including NOC (No Objection Certificate) and Environmental Clearance Certificate.
The developers are committed to meeting all of the necessary legal requirements in order to ensure the safety and security of their customers.
Thus, you can be assured that it is a secure and legal venture.
Who is the owner of Green Palms Housing Scheme Lahore?
It is a project of the Rafi Group. The group is one of the leading and most trusted names in the real estate industry of Pakistan.
They are known for their innovation, commitment to sustainability, and quality service. They have successfully delivered 100% of their projects on time and strive to meet all customer expectations.
The group also has several awards in its name, such as the Best Developer Award and Excellence in Real Estate award.
Thus, you can rest assured that this project will be of the highest quality.
The group is owned by Imtiaz Rafi Butt.
Is it safe to invest in Lahore Green Palms?
Yes, it is safe to invest in this housing scheme. The project has all the necessary approvals and certifications from relevant authorities, including NOC (No Objection Certificate) and Environmental Clearance Certificate.
The developers are also committed to meeting all of the legal requirements so that your investment is secure.
In addition, the developers have a proven track record of delivering high-quality projects and taking customer satisfaction as their highest priority. Thus, you can be assured that this project will be well-managed and successful.
So if you're looking for a secure and profitable investment opportunity, then this project is an excellent choice.
Don't wait any longer, book your plot today.