ARY Laguna Gujranwala
In Pakistan, we have many housing societies but there is no such society that has a lagoon on its premises.
ARY Group is the first to introduce an artificial lagoon in their housing project in Karachi. Now they launched ARY Laguna Gujranwala. It's located in DHA Gujranwala which itself is one of the most beautiful societies and it also has good educational institutions and hospitals nearby thus making it a perfect place for living.
---
This project will be completed by 2027 but you can book your villa or apartment now with an easy installments plan that ranges from 1.5 years to 5 years depending on what type of property you want to buy.
Prices vary according to the property you require but are quite affordable compared to other quality projects available today. You can choose between 3 types i-e Villas, apartments, and plots all having different sizes ranging from 4 Marla (100 square yards) up to 4 Kanal Island Mansion in villas category, 1-3 bedroom apartments, and 4,8 Marla commercial with 10,20 marla residential plots.
ARY Group is the only company in Pakistan that has successfully launched all its projects. They are known for giving quality services. That's why they have so many happy customers. You can also book your villa or apartment now so if you want to live in DHA then this project is a perfect choice.
Below we have discussed the installment plan and prices, location, amenities the project will have, and the master plan of the project.
ARY Laguna Gujranwala Location Map
Finding a good place to live in Gujranwala is hard. There are so many options but you don't know which one will be the best for you.
You want a place with lots of amenities and a great location, but also at an affordable price. It can be hard to find all that in one apartment complex or housing scheme, right?
ARY Laguna offers plots, luxury villas, and apartments with an array of amenities including an artificial lagoon, swimming pools, state-of-the-art gymnasiums, kids play area, 24/7 security services, and more.
It is located within DHA Gujranwala on the main GT Road (National Highway # 5).
It is only 5 km from Rahwali Cantonment.
Approximately 7 km from DC Colony.
Approximately 9 km from Pindi Bypass.
Gakhar, Rahwali, and Wazirabad are also nearby.
ARY Laguna Gujranwala Prices and Payment Plan 2022
People who wish to book their plot, villa, or apartment in this project can do that now with an easy installment plan that is flexible and suits your needs best.
The installment plan ranges from 1.5 years to 5 years depending on what suits you.
You can pay in easy installments whether monthly, bimonthly, or quarterly up until the completion of the project in 2027.
This is a great opportunity for those who want to live in DHA which is one of the most beautiful societies in Gujranwala.
So, book your villa or plot now and get a great deal.
The payment plan is announced and described below. If you are interested then you can contact us.
There will be a chance for Laguna form holders to buy these properties by adjusting their forms.
Villas Updated Prices and Installment Plan 2022
| Size | Total Price | 15% Down Payment | 48 Monthly Installments |
| --- | --- | --- | --- |
| 4-Marla (100 sq. Yards) | 14,900,000 | 2,235,000 | 263,854 |
| 8-Marla (200 sq. Yards) | 29,900,000 | 4,485,000 | 529,479 |
4,8 Marla Villas for Sale
Mansions Updated Payment Plan and Prices 2022
| Size | Total Price | 15% Down Payment | 48 Monthly Installments |
| --- | --- | --- | --- |
| 1-Kanal (500 sq. Yards) | 125,000,000 | 18,750,000 | 2,213,541 |
| 2-Kanal (1000 sq. Yards) | 299,900,000 | 44,985,000 | 5,310,729 |
1,2 Kanal Beach Mansions for Sale
ARY Laguna Gujranwala Residential Plots Prices and Installment Schedule 2022
| Size | Total Price | 25% Down Payment | 18 Monthly Installments |
| --- | --- | --- | --- |
| 10-Marla (250 sq. Yards) | 9,900,000 | 2,475,000 | 412,500 |
| 1-Kanal (500 sq. Yards) | 16,500,000 | 4,125,000 | 687,500 |
10 Marla, 1 Kanal Residential Plots for Sale
---
Commercial Plots Updated Payment Schedule 2022
| Size | Total Price | 10-25% Down Payment | 18-56 Monthly Installments |
| --- | --- | --- | --- |
| 4-Marla (100 sq. Yards) | 45,000,000 | 11,250,000 | 1,875,000 per month for 18 months |
| 8-Kanal (200 sq. Yards) | 159,900,000 | 15,990,000 | 2,569,821 per month for 56 months |
4,8 Marla Commercial Plots for Sale
ARY Laguna Gujranwala Serviced Apartments Installment Plan and Prices 2022
| Size | Total Price | 10% Down Payment | 60 Monthly Installments |
| --- | --- | --- | --- |
| 1-Bed (550 sq. Foot) | 5,750,000 | 575,000 | 86,250 |
| 2-Bed Type A (850 sq. Foot) | 8,500,000 | 850,000 | 127,500 |
| 2-Bed Type B (1025 sq. Foot) | 9,800,000 | 980,000 | 147,000 |
| 3-Bed (1450 sq. Foot) | 14,500,000 | 1,450,000 | 217,500 |
1,2,3 Bed serviced apartments for Sale
---
ARY Laguna Gujranwala Project Plan
It is a new residential project of ARY Group. The location is in the heart of Gujranwala, where it has easy access to all major facilities like schools, colleges, and hospitals. It will have an artificial lagoon on its boundary which can be used for boating and other water sports activities.
There are 4, 8 Marla, and 2,4 Kanal Villas and Island mansions available at affordable rates with installment facilities up to 4 years. The total land of the project is 400 acres with 60 acres of the artificial lagoon.
The ARY Laguna has everything you need. The project also offers 1, 2, 3 BHK apartments with semi-furnished units.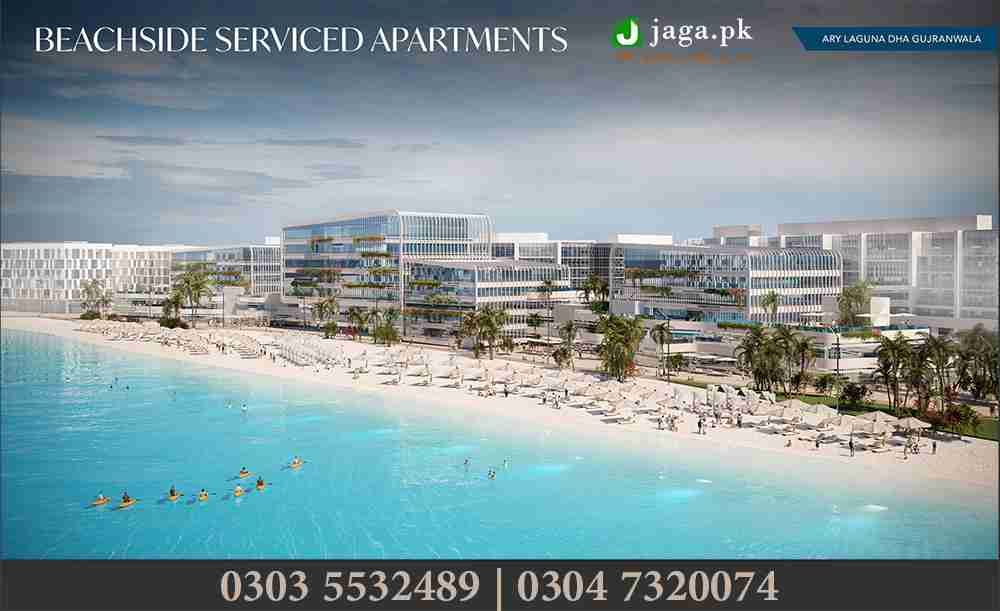 All apartments come with attached balconies and bathrooms, walk-in closets, kitchen cabinets, modular kitchen tops & marble flooring as well as pre-installed electrical fittings/switches/sockets, etc., along with other basic necessities such as water heater system/geysers, etc., making it easier for our residents to move into their new home without any hassle.
We all know that finding a suitable property is hard. Finding a home in Gujranwala can be difficult and frustrating, especially if you are looking for one with modern amenities and facilities.
This project has amenities like a swimming pool, children's play area, jogging track, gymnasium, etc.
There is also a convenience store, ATMs, banks, and schools inside the society for the residents' comfort.
Being one of the largest societies in Gujranwala it has easy access to all major locations of the city. So what are you waiting for? Book your unit or villa now; you can even ask your family and friends to book their apartments with you.
It also has a healthy investment opportunity for those who want to invest in something that will rise in the future.
60 acres of Artificial Lagoon:
The ARY Laguna Gujranwala will have a resort-style artificial lagoon with boating and other water sports facilities.
It is a great place for the residents to spend their free time here. This lagoon is the highlight of the project.
Restaurants:
ARY Group always cares about its customers so there are also some restaurants in the project where they can eat and relax after a day of hard work.
The restaurant will be serving delicious food and beverages 24/7.
Beach Front Hotels:
There are also luxury hotels with exclusive services for the residents. The guests will be able to spend their time here in the lap of luxury. Society is going to offer serviced apartments for the investors as well.
Beach Front Villas:
There are beachfront villas in Laguna DHA Gujranwala which are basically mansions on the waterfront. The view of this property will be incomparable.
Banks and ATMs:
The project also has all the major banks like HBL, UBL, MCB, and other convenient stores.
Convenience for All:
ARY Laguna will provide smooth transportation to its residents with three access points in the society and linkages with all major roads in Gujranwala.
Medical Stores:
It also has medical stores inside the society for all your health care needs. These stores will be open 24/7 so that our residents never have to worry about anything when it comes to their health.
Sports Facilities:
There are many sports facilities in the society like gymnasium, squash court, jogging tracks, and more.
Business Center:
There is a business center in the society where you can use their conference room or meeting hall for free of cost if needed.
Shopping Mall:
A modern shopping mall is coming up which will make all the residents' lives much easier by providing them with all the necessary facilities under one roof. This mall is coming up with all kinds of shopping and dining options.
There will also be a supermarket inside the mall for the convenience of the residents.
---
Developers of ARY Laguna Gujranwala
It is a project of the ARY Group of Developers and Builders. ARY is a world-known brand name known for its excellence in real estate and high standard of living.
Always committed to providing an economical yet luxurious lifestyle with all the necessities which are needed by every individual these days. For those who don't know ARY Group, now you can take a look into their history as well as projects they have previously launched and the massive success that they got in return.
Previously they have introduced ARY Villas in Bahria Town Karachi and ARY Laguna in DHA City Karachi which were appreciated by everyone.
All their projects are different from each other so all their customers can get the best based on their own needs.
The developers are popular for launching all their projects successfully which is why they have so many happy customers.
Whenever they launch a project many people book their villa or apartment because it's hard to find such luxury apartments at this low price. They provide you with great amenities at that price, what else you want.
Features and Facilities ARY Laguna DHA Gujranwala will have
ARY group is known for its luxurious housing projects but this time they are offering what no other society has ever offered before which is full of life, scenery, and many recreational activities that will make your every single penny worthy.
The project will have the following amenities and facilities.
Artificial Lagoon
Cinema
Jogging Track
Sports Complex
Swimming Pool with separate kids pool and water slides
ARY villas are known for their comfort and luxury so you can expect the same from this project as well.
The project will have a huge shopping mall where you can buy all essentials life needs from groceries to electronics from one place. It will also have a movie theater club where you can take your family for a movie.
There will be 2-3 fine dining restaurants as well as cafes and bars where you can dine with your friends and family.
It also has separate kids' play areas where they enjoy playing different games.
It is an ideal place for living as well as an investment because the demand for such luxurious apartments is increasing day by day.
The project also has many other facilities that are being offered by the no housing society in Pakistan, take a look at the following list.
ARY lagoon is a water body having full of life which includes fish, birds, and trees.
ARY resort will have restaurants inside it where you can eat food with your family while enjoying the lagoon view which is not available in any other housing society.
There will be a park inside the lagoon where you can enjoy the beauty of nature. The following list contains some of the recreational activities that are being offered by ARY resort.
Boat riding here is one of the best experiences ever, it's no less than an adventure in the sea.
You can relax in a luxurious spa and Sauna center which will calm your mind and body.
There is an amphitheater where concerts, circus shows, etc will be held.
There will be a clubhouse inside ARY Laguna Gujranwala where you can enjoy a swimming pool, party hall, and gym.
The lagoon side hotel is magnificent just like a five-star hotel with 100+ rooms equipped with state-of-the-art facilities.
Guest Houses are also available for those who want to stay alone at ARY resort.
The project will have state-of-the-art 24/7 security systems.
Public Beach.
Sandy Beaches.
Beach Cabanas.
Boat Ride.
Kayaks.
Water Games.
Outdoor Cinema.
Promenade.
Central Park.
Comunity Parks.
Kids Play Areas.
Cycling Tracks.
BBQ Areas.
Picnic Areas.
Event Hall.
Beach Club.
Retail Hub.
F&B.
Health Centre.
Mosques.
It is a project of ARY Group because this company has been in the real estate business since its inception and they know what people want. If you are looking to book a villa or apartment then wait no more because this project has everything you need.
---
Commonly Asked Questions
Below are some frequently asked questions.
Who is the owner of the project?
Salman Iqbal is the owner who also owns ARY Group and Karachi Kings.
How much land is acquired for ARY Laguna Gujranwala?
400 acres of land has been acquired for this project in DHA Gujranwala.
What products are available for sale within the society?
Residential and commercial plots, villas, and apartments are available for sale.
What is an Artificial Lagoon/Beach?
When the seas are too cold for natural beaches, people build artificial ones to let out their stress and anger.
A "beach/lagoon" is an area where one can escape from life's worries by swimming or laying on dry land with sand between your toes, but what happens when there isn't enough naturally occurring shoreline around?
That would be why we have this thing called "artificial" beaches which range anywhere between 100 yards up onto high piled rock platforms – perfect spots as they do not require much maintenance at all.
What are the prices?
Prices are discussed thoroughly above in the payment plan section.
Who are the platinum agents?
The main authorized dealers of the project are platinum agents. You can contact us for their details or visit the official website of ARY Laguna.
When housing venture is going to give possession?
Possession for residential and commercial plots will be available after 1.5 years, for villas and mansions it will be after 4 years and in the case of apartments it will take up to 5 years.
---