Al-Noor Orchard Lahore | West Marina & Marina Sports City
After the tremendous accomplishment of Al-Jalil Garden, Al-Jalil Developers once again is moving on the road to a new residential project named Al Noor Orchard Lahore. Al- Jalil Gardens was their first thriving development and now following that victory they decided to bring a new venture in the same area with better and superior possibilities for the natives.
Sited at one of the most astonishing locations of the city, the housing society is designed to provide an urbanized and developed living style with the installation of up-to-the-minute amenities. The project is a masterly planned gated community, offering a communal lifestyle in a healthier and safe environment with a foolproof security system.
Location Map
Payment Plan
Features
Project Plan
Marina Sports City
West Marina Cottages and Villas Lahore
Developers
Whatsapp—>0300 0735713.
Al-Noor Orchard Lahore is proposing safe investment options and nowadays has become limelight among investors as the developers have acquired approval from LDA, also the payment plan and layout design have been finalized by the developing authorities. So, it can be said that this housing scheme is providing your gateway to a more promising and secure future by proposing a means to invest in the right property at the right time.
This housing society is mapped in the middle of the newly emerging societies of Lahore on Main Bazar Sharqpur Shareef Road opposite to Al-Raziq Garden, main Sharaqpur / Jaranwala Road, Lahore. Moreover, the vicinity is full of rich and lush greenery providing you with a peaceful and fresh environment.
Al-Noor Orchard Housing Venture is spread over 1800 acres of land and offers both commercial and residential plots. The developing authorities of the society are offering plots for sale at very affordable rates with a flexible installment plan. Per Marla residential plot price is 55,000 and the commercial plot is for 12,500 per square foot.
Now, talking further about the availabilities of this upcoming, word of mouth scheme I will say that this housing society is going to be an innovative and different style project where the dwellers will find an urbanized living with splendid state of the art surroundings.
Here the investors will be served with the contemporary and attractive amenities required for a comfortable living that any costly society provides while the rates of the land in this project are very affordable which any middle-class individual can easily afford.
Al Noor Orchard & West Marina Lahore Location Map
The housing venture is positioned at the most strategic location on the map at the distance of 3 km from Faizpur Interchange, opposite to Al-Raziq Garden with a mere distance of 3 km from Al-Jalil Garden.
The location map of the society will reveal to you that it is exactly situated at Main Bazar Sharaqpur Sharif Road linking Lahore to Jaranwala Road. Positioned right in the middle of Karachi-Lahore Motorway and Faizpur interchange, the society has closed access to Babu Sabu Interchange while Ravi Tool Plaza is 1.5 km away from the site.
Al-Noor Orchard Lahore is a kind of residential project in Punjab province that has the most strategic location as it has the proximity of almost 25 minutes' drive from the airport and 30 minutes drive from DHA and Gulberg Lahore.
All main junctions and key markers of Lahore City i.e. Lahore District Court, Thokar Niaz Baig, G.T Road Multan Road are found at 8 minutes drive from this housing scheme. The most amazing factor about this location is that soon a national theme Park Lahore and an international airport will be developed close to the society.
Read All the details in the blog. For other details and updates of the project like Society Map (Master Plan), Facilities, Best Price Offers, etc. Whatsapp at (0303 5532489) or from mobile click it–>

wa.me/923035532489

.
Al Noor Orchard & West Marina Lahore Payment Plan 2022
Let us discuss the plots' availability and the West Marina Lahore payment plan 2022, the developers have planned to offer both the public and private units to the locals. Residential plots of 5 Marla, 8 Marla, 10 Marla, and 1 Kanal are available for sale while for commercial opportunities plots in size of 4 Marla are available.
Moreover, for the convenience of the investors, the developers have also designed build in a home in the size of 3.51 Marla and 5 Marla with a convenient and affordable payment plan of 4 years.
Most of the clients are always worried about the payment plan and thus miss many golden investment opportunities but here you don't need to worry about the payment plan as the developers have designed a very flexible installment plan for a period spanning 3.6 years. So any job holder and middle-class client can easily pay their monthly installments.
West Marina Sports City Installment Plan 2022
| | | | | | | | |
| --- | --- | --- | --- | --- | --- | --- | --- |
| Plot Size | Booking | Confirmation within 6 Months | 50 Monthly Installments | 6 Half Yearly Installments | Balloting within 18 Months | At Possession | Total Price (COL) |
| 3-Marla | 150,000 | 150,000 | 9,500 | 37,500 | 300,000 | 150,000 | 1,450,000 |
| 5-Marla | 200,000 | 200,000 | 13,000 | 75,000 | 400,000 | 200,000 | 2,100,000 |
| 10.11-Marla | 400,000 | 400,000 | 21,000 | 125,000 | 800,000 | 400,000 | 3,800,000 |
| 1-Kanal | 650,000 | 650,000 | 38,000 | 225,000 | 1,300,000 | 650,000 | 6,500,000 |
Marina Sports City Plots for Sale
West Marina Cottages and Villas Payment Plan 2022
Below is the pre-launch installment plan of recently launched west marina cottages and villas by Al Jalil developers. The complete payment will be given in 5 years while possession will be given within 4 years.
| | | | | | | | |
| --- | --- | --- | --- | --- | --- | --- | --- |
| Category | Total Price | Booking Amount | Balloting with 1.5 Years | 1 Year Before Possession | Possession within 4 Years | 6 Ballon Payments | 50 Monthly Installments |
| Ground Floor | 4,900,000 | 750,000 | 720,000 | 490,000 | 490,000 | 150,000 | 31,000 |
| First Floor | 4,400,000 | 650,000 | 670,000 | 440,000 | 440,000 | 125,000 | 29,000 |
| Second Floor | 3,900,000 | 550,000 | 620,000 | 390,000 | 390,000 | 100,000 | 27,000 |
| 5-M Villa | 9,000,000 | 1,350,000 | 1,350,000 | 900,000 | 900,000 | 250,000 | 60,000 |
cottages and villas pre-launch installment schedule
Whatsapp—>0300 0735713.
Sector D Al-Noor Orchard Plots Old Rates and Payment Plan 2022
For registration of 5 Marla Plot, the buyer will have to pay Rs. 250,000 as booking amount.
After that, you will be asked to choose a payment plan of 40 monthly or 6 half-yearly installments.
Balloting of plots is expected to be commenced within 4-6 months where the investor will make an additional payment of Rs.250,000
An amount of Rs. 500,000 will be payable at the time of possession of the plot.
| Plot Size | Registration | 40 Monthly Installments | Bi-Annual Installment | On Balloting in 6 Months | On Possession in 18 Months | Total Price |
| --- | --- | --- | --- | --- | --- | --- |
| 5 Marla | 250,000 | 20,000 | 100,000 | 250,000 | 500,000 | 2,500,000 |
| 10 Marla | 450,000 | 36,000 | 180,000 | 450,000 | 900,000 | 4,500,000 |
| 1 Kanal | 800,000 | 58,750 | 350,000 | 800,000 | 1,600,000 | 8,000,000 |
For more details regarding the payment plan, you can visit our official website or Facebook page or can call at given contact numbers.
Whatsapp—>0300 0735713.
Whatsapp—>0300 0735713.
West Marina Block Lahore Installment Plan and Prices 2022
| Plot Size | Booking Amount | 50 Monthly Installments | 10 Bi-Annual Installment | On Balloting in 12 Months | On Possession in 24 Months | Total Price |
| --- | --- | --- | --- | --- | --- | --- |
| 3 Marla | 200,000 | 12,000 | 60,000 | 200,000 | 210,000 | 1,750,000 |
| 5 Marla | 300,000 | 17,000 | 100,000 | 300,000 | 300,000 | 2,650,000 |
| 10 Marla | 500,000 | 30,000 | 150,000 | 500,000 | 650,000 | 4,500,000 |
| 1 Kanal | 800,000 | 45,000 | 285,000 | 800,000 | 880,000 | 7,500,000 |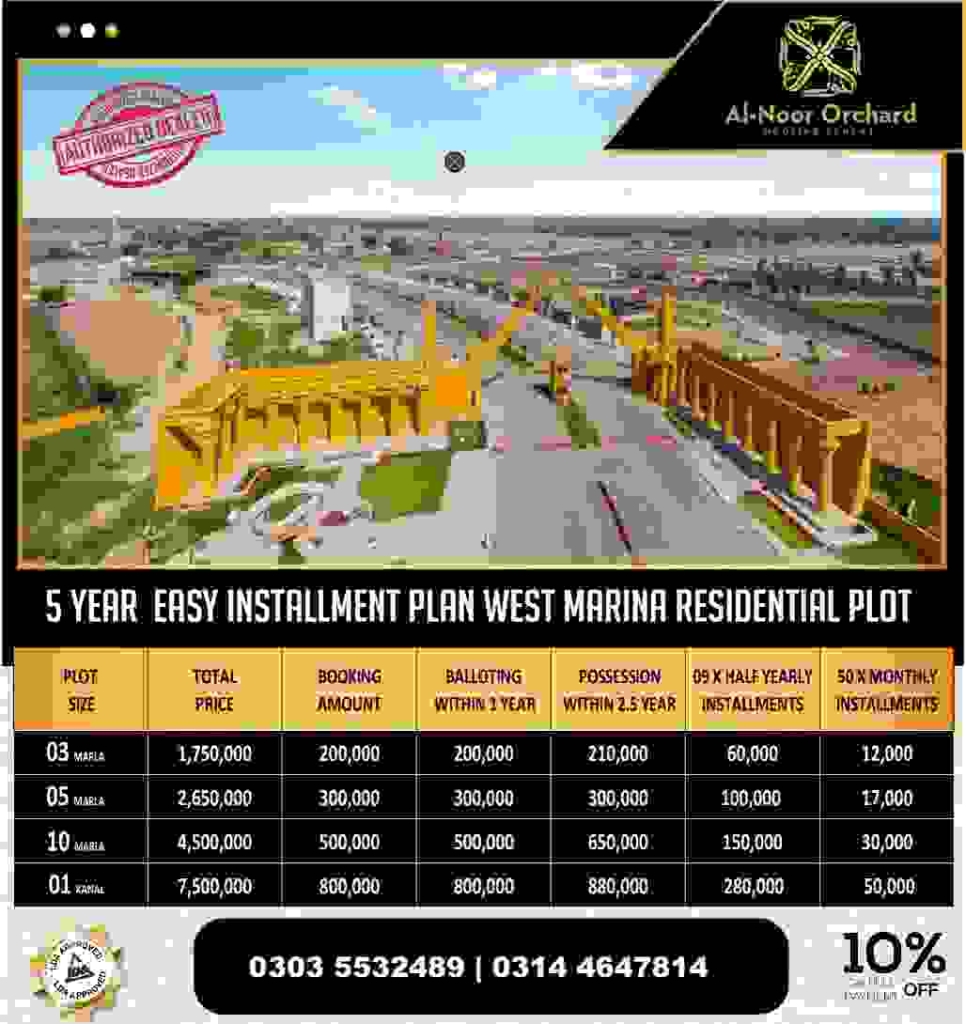 West Marina Commercial Plots Installment Plan 2022
Commercial Plots are in the west marina block are available in 3 years payment schedule.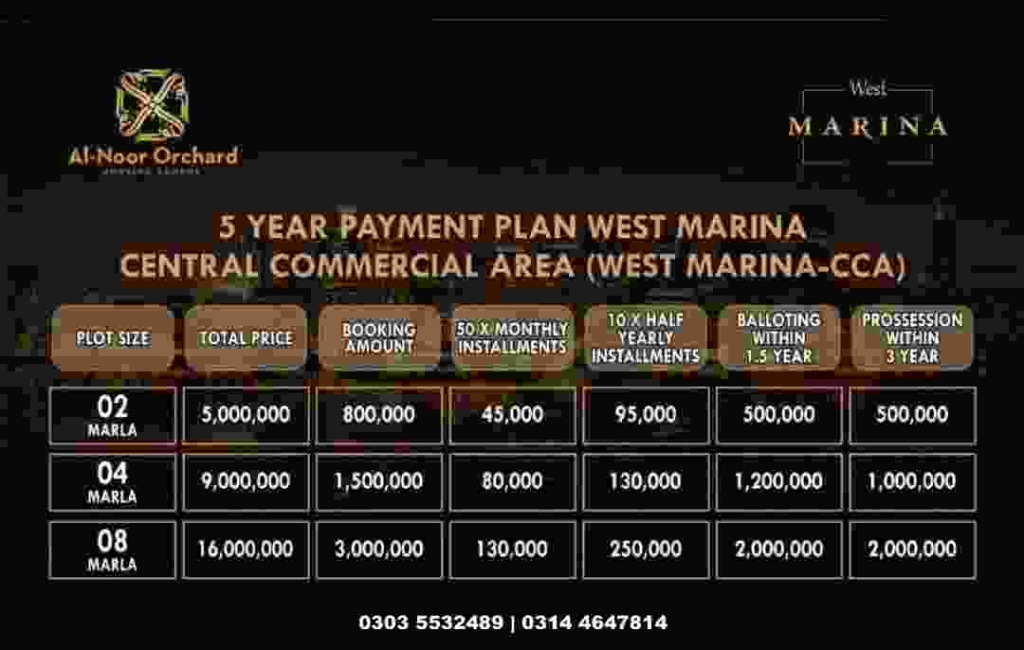 Al Noor Orchard Sharaqpur Road Lahore Project Plan
With a heritage of over two decades, Al Jalil developers have presented this housing scheme as one of the prudent residential communities where a unique life at peace and tranquillity awaits you. The entire project consisted of a land area of almost 1200 acres and was divided into different blocks A, B, C, D, and West Marina.
Every block is planned to offer residential plots of 5 Marla, 8 Marla, 10 Marla, 1 Kanal; commercial plots of 4 Marla, and a beautifully architected residential home of 3.51 and 5 Marlas. Al-Noor Orchard's and West Marina's masterly planned commercial spaces will be equipped with separate utilities to accommodate your business with the best.
A theme park will be built in 140 Kanal of land and there will be a state-of-the-art Masjid, premium brand schools, emergency healthcare facilities, Egyptian-style health care centers, and lush green parks for the residents.
West Marina Cottages and Villas Lahore
Al Noor Orchard recently launched cottages and villas in West Marina block.
The West Marina Cottages and Villas Lahore are designed by the renowned architect Mazher Hussain who designed them according to the latest international standards. The design is wonderful and completely comfortable and full of luxury for the residents.
The 5 Marla cottages offer 2 bedroom accommodation with 2 attached bathrooms, a living room, a terrace, and a kitchen on each of 3 floors, ground, 1st floor, and second floor. Each Apartment house will have a dedicated car parking space.
While 5 Marla villas will have 3-4 bedrooms with attached bathrooms, 1-2 kitchens, 1-2 living rooms, and a drawing-room.
West Marina Villas Lahore will have 2 designs classic and modern. Each design has 3 options for users to choose from according to their needs. Prices will remain the same for each of the 3 options.
In option 1, the residents will have 3 bedrooms.
In option 2, the residents will have 2 average bedrooms and a master bedroom on the first floor.
In option 3, the residents will have 4 bedrooms, 1 on the ground floor and 3 on the first floor.
All of the West Marina cottages and villas are available for booking at pre-launch rates. It is the best opportunity for investors to book villas or cottages to get short-term profit. At the launch, the prices and payment plan will be revised. So book your favorite unit before it's sold out. Give us a call on the given numbers below for other details and booking. For the complete installment plan see the above payment plan section.
Marina Sports City
Marina Sports City is an activity-oriented complex of buildings and arenas, perfect for hosting international events. You will find that it has a well-thought-out master plan with healthy living options to suit your needs as well.
There will be a cricket academy of Lahore Qalandars in this block of Al-Noor Orchard.
The management of this society offers you real estate housing plots of 3, 5, and 10 Marla along with 1 Kanal.
This society has the capability to house families of individual sizes; it also can accommodate any demographic group in its population.
On top of that, the developers are providing a payment plan where each installment will be easy to pay as well at an exceptionally affordable price – guaranteed not to mention long-lasting.
Developers of Al-Noor Orchard Lahore and West Marina
A very well reputed and successful corporation named Al-Jalil Developers has presented this iconic and native residential cum commercial scheme. Al-Jalil Developers came into the world of real estate in 2002 in their very first attempt they have introduced new standards of urbanized and modern living in the real estate market.
After experiencing their huge and tremendous success in Al-Jalil Gardens they have presented Al Noor Orchard Lahore, Al-Bari Residencia in Sheikhupura, and Al Aziz Residencia in Sadhoke by applying far better expertise and skills. Al-Jalil Developers are said to be the top-notch developers in Lahore who ensure to meet all of their development targets according to their customers' needs.
The company is a protruding follower of metropolitan infrastructure development and thus in their new project, they are proposing present-day living and a communal lifestyle combined with their professional expertise.
This project is a kind of housing scheme in the city of Lahore promising the best facilities & conveniences for tranquil and cozy living. The developers have a team of highly experienced and skilled professionals and engineers who prioritize providing value-based construction by providing value to the investment of their clients.
Facilities & Amenities Going to be Available in Al Noor Orchard Lahore and West Marina
The project is loaded with all the comforts and conveniences for living an urbanized and high standard living in the screen environment and a perfectly ideal location. This outstanding project will be installed with all the life utilities. The development work regarding utility connections of water and for Sui gas and underground electrical wiring is in progress.
One of the prominent features of West Marina Al Noor Orchard Lahore is that it is a gated community with boundary walls to offer its dwellers a safe and secure life with the installation of a foolproof security system.
Furthermore, the developers have also provided the following amenities to its locals:
The entire scheme has been designed with wide carpeted roads decorated using LED streetlights.
Both the plot is and homes will have beautifully landscaped and lush green parks giving fresh air and a feel of freshness to the residents.
The developers have proposed to build high standard schools and colleges with the digital education system in the society so that the kids of the dwellers can have better and standard education to secure their future.
A beautiful Mosque in every block of the society is designed where people will offer prayer and get a religious education to fulfill their religious obligations.
Society's own Hospital will be built where 24-hour emergency facilities.
For entertainment and amusement of the inhabitants of the society a cinema, marriage hall, and a family club will be there.
For fitness purposes, a sports complex and separate gymnasiums will be opened for both males and females.
A theme park spanning 140 Kanal.
The entire scheme is secured with 24/7 foolproof security with CCTV surveillance and patrolling security system.
A vast parking area and beautiful walkways have been designed for the commercial sector.
A cricket academy and stadium.
State of the art Sports Complex.
UFC Gym
NOTE:
The housing scheme is proving a safe investment for your future so if you want to buy a home or business place for your future make a call at mentioned numbers and book your plot now before it gets late.
Whatsapp—>0300 0735713.
Is this society including West Marina and Marina Sports City Approved by LDA?
The A, B, and C blocks are approved by LDA, D Block, West Marina, and Marina Sports City are under process of approval.
When the possession will be given to customers?
In some blocks after 80% payment while in others at the completion of payment(Cost of Land and Development Charges).
What attractive features Al Noor Orchard is going to have?
An Artificial canal, UFC gym, Theme park, Cricket stadium, and Qalandars academy.
Are houses available in installments in this housing society?
Yes, houses and apartments are also available on easy installments.