Al-Jalil Garden Lahore
Whether you are hunting for a piece of land where you can construct a home according to your own choice or want built-in houses, Al-Jalil Garden Lahore will be the most affordable choice in both manners.
I know all of you are well aware of this name as it is one of the prestigious residential schemes that was officially launched in the year 2015. The project has been brought by Al-Jalil Developers a very well-known group of professional real estate leaders serving the nation for more than 2 decades.
Location Map
Payment Plan
Features
Project Plan
Developers
Click to Whatsapp /0303 5532489.
This housing scheme is a solution for the people who are seeking a serene and subjective site where they can make their homes a paradise on the planet. If this paradise is accessible at a moderate cost and receptive area then this is an extremely astonishing one and will simply be no less than a blessing for anyone. And if you get your living in the safe and standard lodging venture it will be really a dream turning to reality.

Al-Jalil Garden Housing Scheme Lahore is a mammoth residential scheme in a highly prestigious area of the city where each and every necessity and dreams of yours meet their goal. The project is extremely engaging and appropriate to live a rich and sumptuous life in the surroundings of lush greenery and a peaceful atmosphere.
I am damn sure that after visiting the site you people won't leave without praising this venture just due to world-class luxuries, affordable costs, and eminent area and above all that the infrastructure which is highly developed.
The objective of developing this housing venture is to present a new horizon of living through its hoisted style, striking infrastructure, and contemporary solaces.
Keep moving towards other aspects of the project I will first tell you about the payment plan and location map of the housing society which we will talk over below in detail.
The project holds the best and most strategic location of the city and is found on main Sharaqpur Road also Known as Lahore-Jaranwala Road in the nearness to Faizpur Interchange of M2. The project furnishes residential plots of 3 Marla, 5 Marla, 8 Marla, 10 marlas, and 3 & 5 Marla constructed homes and a varied range of 3 Marla commercial plots in its proposed master plan.
The master plan of the town consists of 2 phases. There are 4 developed blocks in Phase 1 named Rose, Jasmine, Tulip, and A. Phase 2 is categorized into Block B, C, D, E, F, G, H, and J which are at the final stage of development, and L, M, N, P, Q, R, S block at the initial stage of development.
Al Jalil Garden Lahore Location Map
Before telling you about the location map of the project I will tell you that the location chosen for this earth-shattering housing venture is highly peaceful and tranquil and also the most developed area.
The location is although away from the main Lahore city yet it is connected to the city and found on main Sharaqpur Road also known as Lahore-Jaranwala Road at the opposite of Motorway M-2 Faizpur Interchange.
The key localities of Lahore including Shahdra, Mall Road, GCU, District Court, Katchery, High Court, GPO, Anarkali, and Thokar Niaz Baig can be approached with a drive of 10 to 20 minutes.
The Ravi Toll Plaza is just 1.5 km away from the housing scheme. Multan Motorway M3 is just a 3-4 minutes drive away from society. Al-Rehman Garden is 4 minutes away; Subhan Garden is just 2 minutes away while Shadman Enclave Housing Scheme is just 2-3 minutes away from society.
This location is highly prestigious and surrounded by many commercial, residential, and recreational undertakings making your life more convenient and comfy.
Read All the details in the blog. For other details and updates of the project like Society Map (Master Plan), Facilities, Best Price Offers, etc. Whatsapp at (0303 5532489) or from mobile click it–>

wa.me/923035532489

.
Al Jalil Garden Lahore Payment Plan 2022
The payment plan given by the developers is actually good news for all of you. You people will get happy after knowing that the installment plan 2022 has been designed according to the needs of the clients.
At the Al-Jalil Gardens housing scheme the prices of the plots are very low and you will happily get ready to buy land. The property rates are low while the location and facilities offered by the project are relatively prestigious.
Any size plot can be booked by paying 20% against the total cost of the scheme while the possession will be handed over to the investors after 36 months. The installment tenure for plots is 3 years. 5, 8, 10 and 20 marla plots are available on the new installment plan 2022.
| | | | | | | | |
| --- | --- | --- | --- | --- | --- | --- | --- |
| Sr No | Size | Booking 20% | Balloting 10%n | Possession 10% | Half Yearly | Monthly Installments | Total Amount |
| 1 | 5-Marla | 560,000 | 280,000 | 280,000 | 140,000 | 28,000 | 2,800,000 |
| 2 | 8-Marla | 760,000 | 380,000 | 380,000 | 190,666 | 38,000 | 3,800,000 |
| 3 | 10 Marla | 1,000,000 | 500,000 | 500,000 | 250,313 | 50,000 | 5,000,000 |
| 3 | 20 Marla | 1,800,000 | 900,000 | 900,000 | 450,000 | 90,000 | 9,000,000 |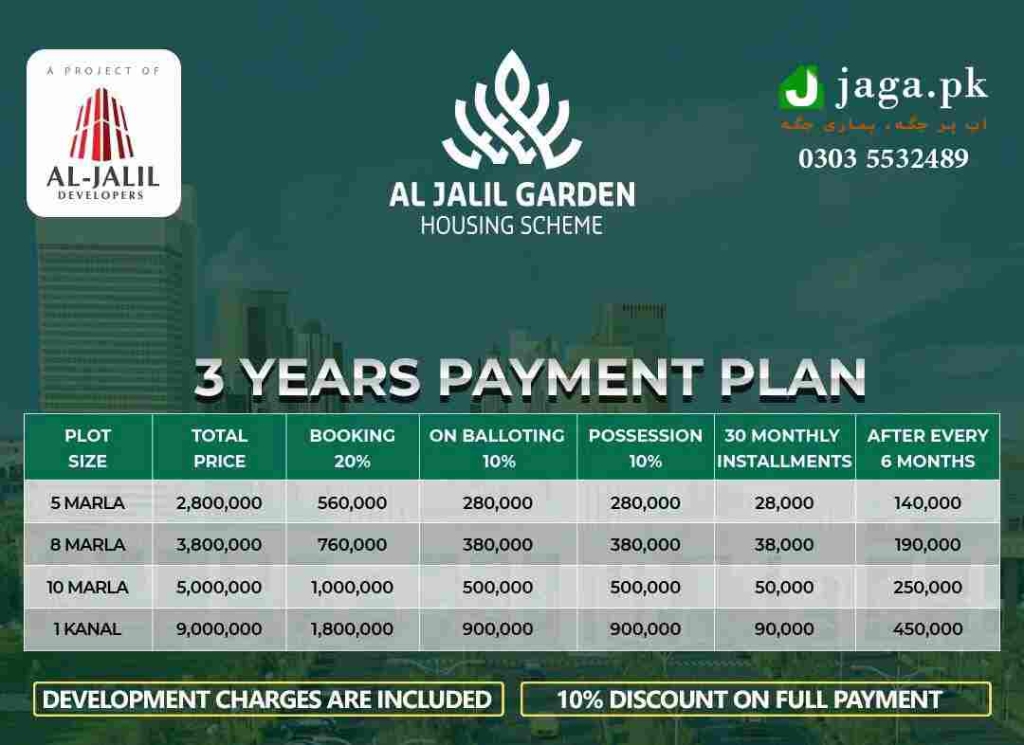 Click to Whatsapp /0303 5532489.
Al Jalil Developers Adjustment Forms
Society is also offering adjustment forms for a price of 150,000 which will be adjusted in any of the projects of developers across Pakistan between 2 lac to 5 lac. The investor can also sell the adjustment form before adjustment at the current market rate of that time.
Click to Whatsapp /0303 5532489.
Al Jalil Garden Project Plan
The project is a gigantic housing venture which has been designed on a massive land area. It has been designed with the help of internationally recognized architects and engineers who have paid special attention to each and every detail of the project. It has been categorized into 3 major blocks named Jasmine, Rose, and Tulip, and all three blocks are developed and ready for possession.
The project is further categorized into Block A, B, C, D, E, F, G, H, J which are at the final stage of development, and L, M, N, P, Q, R, and S blocks at the initial stage of development. The project furnishes residential plots of 3 Marla, 5 Marla, 8 Marla, 10 marlas, and 3 & 5 Marla constructed homes and a varied range of 3 Marla commercial plots in all blocks with separate installations.
Al-Jalil Faizpur Interchange is truly a blessing where you will find highly modern and contemporary living with the availability of all living conveniences.
The project is also divided into 2 phases both interlinked with main gates for each of them.
Phase 1
Phase 1 of society consists of Jasmine, Rose, Tulip, and A blocks. This phase of the housing scheme is completely developed and there are more than 900 houses constructed. There is also a commercial area developed having commercial activity 24/7. Jade Pan Shop, Gloria Jeans, Apna Bank, Multiple grocery stores, and bakeries are available in phase 1.
There are 5, 8, 10, 20 Marla plots in residential category and 4,8 marla commercial plots in this phase.
Phase 2
Phase 2 of Al Jalil Garden is interlinked with phase 1 but it has a separate entrance gate. This phase of the housing venture has B, C, D blocks developed and E, F, G, H, J, Usman, Abubakar, L, M, N, P, Q, R, and S blocks under development. There is a commercial area that currently has only property dealers office. Soon after the development it will have a lot of commercial activities.
The main boulevard of the phase 2 is 320 feet wide having commercial on both sides. There are 3, 5, 8, 10, and 20 Marla plots in residential category and 2,4,8 marla plots in commercial catgeory in this phase. A lot of houses are already constructed in the developed blocks of phase2.
There will be a gride station and theme park of 140 kanals is also in this phase according to the society map/master plan.
Picture Gallery
Below are the images of town. You can see the development standard in these pictures.
Al Jalil Garden Housing Scheme Lahore Developers
Al-Jalil Developers is an exceptional all-around presumed and named developing organization that has exhibited this notable and local private scheme. The Developers appeared on the scene of land in 2002 with some remarkable housing schemes where they have presented new guidelines of an urbanized and current living for the people of Lahore.
In the wake of encountering their gigantic and colossal achievement in Al-Rehman Garden Phase-I and II and Subhan Gardens, they have introduced Al-Jalil Gardens Housing Society Lahore and after that Al-Noor Orchard, Al Aziz Residencia Sadhoke, and Al-Bari Residencia Sheikhupura by applying obviously better mastery and aptitudes.
Al-Jalil Developers are said to be the first-rate designers in Lahore who guarantee to meet the majority of their advancement focuses as indicated by their clients' needs.

The organization is a distending supporter of metropolitan framework improvement and along these lines in their new venture; they are proposing present-day living and a collective way of life joined with their expert ability.
The designers have a group of very experienced and gifted experts and architects who organize to offer some incentive-based development by offering some benefit to the speculation of their customers.
Al Jalil Garden Features and Facilities
You always find which facilities and amenities are available in a housing society before buying a property. This housing venture has all state-of-the-art amenities that include education and hospitals; it also has the required amenities like water storage tanks, water treatment plants, electricity backup with huge generators, and much more.
This society is an ideal place to live in. The best part of this housing venture is that it has a special garden area. This garden fulfills all your desires for a perfect home away from home.
Society also allows you to choose your home plan from a wide range of options to accommodate your budget and needs like:
Security system with high-end security equipment including never fails to amaze the residents and people visiting them, with its beauty and splendor.
The greatest feature of the housing venture is a highly developed road network where main roads are 150-320 feet wide.
There will be the greatest theme park in the city.
A central mosque with a large capacity of large worshipers.
Theme park of 140 Kanals.
Apna Bank.
Own Grid Station.
Underground water, electricity, and gas supply.
There will be a commercial mart in each sector.
Carpeted Roads with LED street lights.
Hospital with 24-hours emergency facility.
Amna Medical College within the town.
Commercial malls.
Efficient maintenance service.
24 Hours Power Backup.
Filtration Plants.
Educational Institutes.
LED Street Lights.
Jaide Pan Shop.
Gloria Jeans.
Doce Bakers.
Pizza Hut.
24/7 Security.