The Opus Lahore | Apartments & Luxury Residences
An ongoing apartment / residential project in Gulberg Lahore by Empire Holdings. This mega project is offering 2 & 3 Bedroom Luxury Apartments and 1, 2, & 3 Bedroom Luxury Penthouses that are available at very affordable prices. This housing project is one of the highest housing developments of Lahore Gulberg and thanks to state of the art planning, top location, and provision of all general amenities. Being a top-notch residential project with all the basic and luxurious life facilities this project is right for living and land investment.
Location Map
Payment Plan
Features
Project Plan
Developers
Whatsapp—>wa.me/923035532489.
The project is still under construction but most of it has been done already. The project is focused on fast-paced development to make it a ready-to-live place for plot holders and the society will be completely on the ground soon.
Located at an ideal location Opus Lahore Luxury Residencies is a high-end luxury project that is enriched with modern life facilities and follows international standards when it comes to living and its architecture. It's like a dream community to live, which has all the basic and luxurious facilities for its residents, and if you are looking for an investment then you are looking in the right place for sure.
Here are a few details about the location, features, types of apartments, and payment plan along with other information that might help you decide if this is a good investment option for you.
Location Map
When it comes to buying a property everyone prefers a location that is ideal enough to spend a peaceful and happy life. A location where all the life essentials are available and are safe in terms of security is prioritized by everyone. Locations are one of the main things as well that adds to the importance of property and this project is a whole package that gives you an ideal location with all the necessary life facilities in its surroundings.
The Opus is exactly located in the center of Lahore and sits on prime location between Gulberg & Defence Housing Society, which are two major upscale residential localities of Lahore. it's readily accessible from Ferozpur Road, Walton Road, and Gulberg Main Boulevard, which are the most common and pretty use-able roads of Lahore.
2 Metro Stops are less than 5 minutes walking distance from the site. 2 Major Roads of Lahore, Namely Gulberg Main Boulevard & Ferozpur Road are 500 meters from the site. The Site falls Inside the parameters of the Proposed Central Business District (CBD) announced by the Government of Pakistan.
This project is located at
Located in Gulberg-3, Near Gaddafi Stadium, Liberty Market.
A 1-minute drive from Main Boulevard, Gulberg.
A 2-minute drive from Kalma Chowk Underpass.
A 10-minute drive from DHA Lahore.
A 25-minute drive from Allama Iqbal International Airport.
Payment Plan
While buying any property payment is one of the biggest challenges that everyone faces. Everyone looks for affordable prices and investment plans that the investors have to provide to their buyers. The Opus Apartments Lahore has a range of factors and qualities i.e. its ideal location, availability of all life conveniences, and economical rates. Yes, the rates of the apartments are very low that you can easily afford while earning a moderate income.
This project offers apartments of the following categories:
1-bed apartments have a size of 422 Sq. Ft. – 726 Sq. Ft. and comes for PKR 73.85 Lakh – 1.27 Crore. These apartments have 1 bathroom and offer an easy installment plan as well.
2-bed apartments have a size of 975 Sq. Ft. – 1,274 Sq. Ft. and comes for PKR 1.66 Crore – 2.17 Crore. These apartments have 2 bathrooms and offer an easy installment plan as well.
3-bed apartments have a size of 1,479 Sq. Ft. – 1,597 Sq. Ft. and comes for PKR 2.44 Crore – 2.64 Crore. These apartments have 3 bathrooms and offer an easy installment plan as well.
Here is some additional information that might be useful to the buyers too:
Prime location charges include 5% Corner, 5% Front Facing, 10% Ground Floor.
Final possession of the project is expected by June 2022 and the duration of the payment will be adjusted accordingly.
The actual measurement of all apartments will be done after the completion and prices will be adjusted accordingly.
One car parking is allocated with each apartment and its price is included in the apartment price.
Prices are subjected to change without prior notice.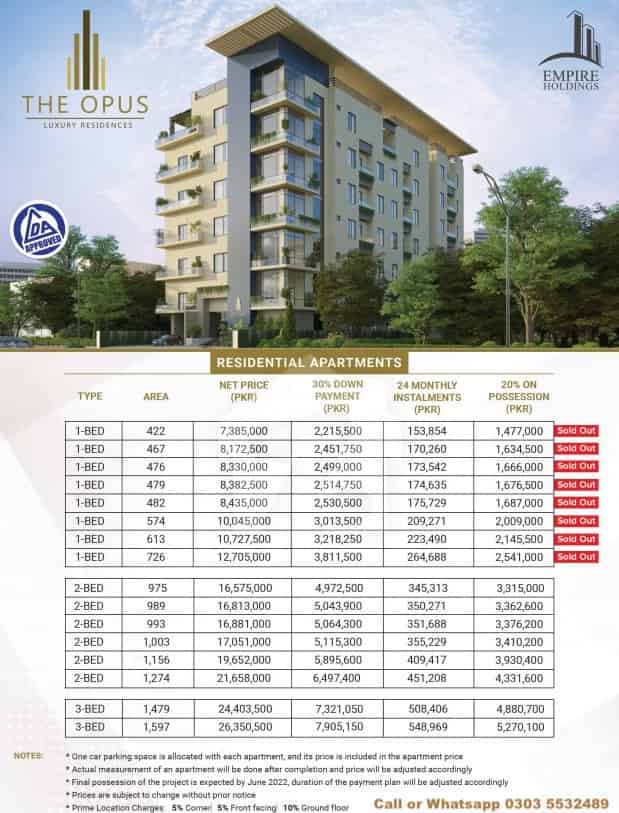 Whatsapp—>wa.me/923035532489.
Project Plan
Being a masterpiece of architecture and providing modern life amenities the opus apartments Lahore will provide an environment where people can live a modern lifestyle with all the security needed. The residents of this megaproject don't have to leave the premises in search of any kind of basic facility because it provides almost all the facilities to its people and everything is available within its boundary walls.
Plus Home Philosophy has been introduced in a residential project in the city for the very first time and it follows as below:
P: Perfect Ventilation
L: Lively Light
U: Utmost Privacy
S: Smart Space
Developers
This is a project of Empire Holdings – a name that is driven by architectural marvels and extreme attention to detail. Empire Holdings envisions to determine an icon of excellence in the vertical living concepts that might equip all the world-class amenities and facilities thus rendering its clients an ideal residential blend by redefining the art of architecture and creating cherished living conditions.
The developers present you The Opus Luxury Residences Lahore which is getting ready to ravish the contemporary living conditions and uphold the dreamy notions of its clients.
Features & Facilities
The Opus Lahore Apartments and Luxury Residences has to offer some of the unique and prominent features as well as the basic modern facilities that it offers to its residents. It aims to provide its residents with all the facilities that a modern society can have. Below are briefly described features that the society offers:
Private Terrace Gardens.
Private dipping pool (only in one penthouse).
Lavish interiors and decors.
Ultra-luxurious fittings.
Private reception & waiting area designated for The Opus Premium.
Private receptionist designated for The Opus Premium.
Extra tall, heat controlled, double glazed, sliding windows and patio doors finished in the powder-coated aluminum opening to private terraces.
Veneered solid doors throughout, skirting and architraves in veneered finish or painted finish.
Wall finishes in Almond white finish capable of being wallpapered.
Ceiling finish in brilliant white.
High end imported porcelain tiles to kitchen areas and living areas.
High end imported laminate flooring to bedrooms.
Built-in modern wardrobe, with veneer sliding doors, internal hanging rail, and shelving.
Full height tiling in imported porcelain to the bathrooms.
High end, low water consumption imported ECO fittings in all bathrooms.
Hand-Picked, long-lasting Stove, Oven, microwave, Refrigerators in all kitchens.
Fully functional and modern kitchens with wood veneer and lacquer coated cabinetry.
Granite/Quartz Countertops included in all kitchens.
All apartments (except ground floor) have balconies with sliding door access.
Maids room and maid's toilet in each 2 and 3-bedroom apartment.
Stylish and modern, low power consumption LED lights—scene-setting with dimmer controls.
Chrome finish power points and light switches.
All Wiring is pre-installed.
TV and Telephone points in living room and bedrooms; Cat 5 cabling into the living room for broadband internet access.
Whatsapp—>wa.me/923035532489.