Super City Sahiwal
Once again, we are here to serve you with a solution to your problem of finding a perfect place for living. If you are searching for a home, why are you meandering to a great extent? An extremely enormous and ideal way of life is hanging tight for you in the City. Yes, this city is going to bring stirring and impressive land opportunities for you at Super City Sahiwal.
Location Map
Payment Plan
Features
Project Plan
Developers
Click to Call 0304 7320074
Click to Call 0303 5532489
Sahiwal wasn't a grown city but from the last few years, the real estate firms and consultants put great effort to make this city an attractive place to live and work by making upscaling developments. Having a home at this housing scheme will be an extremely advantageous decision you ever made. The other value-adding thing about this project is that it is developed by the renowned Super Asia Group and it's their 3rd project.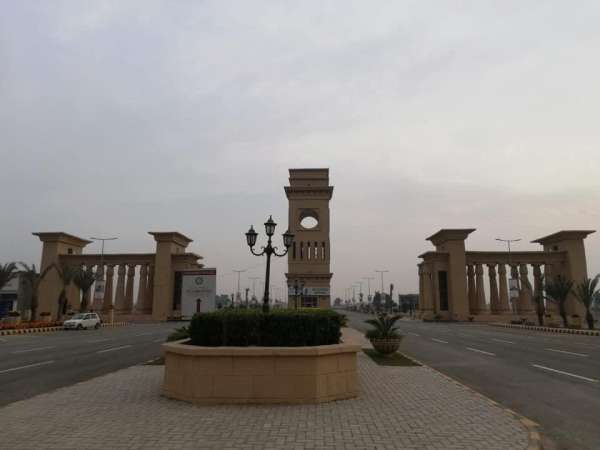 The highly convenient location along with a flexible price plan and contemporary luxuries are the undeniable features of this housing society that proffers a superior quality place with durable worth. You can get a variety of 3 Marla, 5 Marla, 10 Marla and 1 & 2 Kanal residential plots and 3, 5, 6, and 8 Marla commercial plots in Super City Sahiwal.
It offers a great incentive for cash with an installment plan that has 11 simple quarterly portions, making it an offer that one can't help it. The plots are completely furnished with every one of the fundamentals which are prepared to give you a home of your ideal or settled vision. This housing scheme has every basic to contemporary luxury that makes for a rich way of life. Regardless of whether it is a superb film and exercise center for excitement and wellness or lavish green parks and zoo for some respite and unwinding in the wake of a monotonous day Super Citi tries to give each extravagance.
Let's have a detailed conversation on the location map, payment plan, project plan, and features.
Location Map
You will find this outstanding residential society at the key site of the city. Super City Sahiwal will be standing at a perfect and the most advanced region of Sahiwal at 1 km, Main Multan Road, Sahiwal. Definitely depicting the task is situated on National Highway at the separation of a couple of minutes from Bypass Roundabout Sahiwal and Canal Road. The most Famous Usmania Restaurant, Aziz Colony, and Toyota Sahiwal are observed to be arranged adjacent to the housing society. Every single life civility will be found nearby this residential cum commercial tycoon.

Payment Plan
The investors of the city will find the residential plots of 3 Marla, 5 Marla, 10 Marla, 1, and 2 Kanal at simple installment terms with reasonable rates. The commercial plots will also be available at installments.  The booking of all sizes plots can be made with a modest quantity of up-front installment of 15% and the equalization sum will be payable in 12 equivalent quarterly portions and 20% will be payable on possession.
There is a great deal for the investors of this society. People who will start constructing homes in the current year, the developers of Super City will provide complete sanitary fittings for free.
| | | | | | | | |
| --- | --- | --- | --- | --- | --- | --- | --- |
| Status | Plot Size | Booking | Confirmation after 2 months | 36 Monthly Installments | 6 BiAnnual Installments | On Possession | Total Price |
| Available | 3-Marla | 250,000 | 200,000 | 10,000 | 90,000 | 350,000 | 1,699,000 |
| Available | 5-Marla | 375,000 | 250,000 | 20,000 | 110,000 | 495,000 | 2,499,000 |
| Available | 10-Marla | 480,000 | 480,000 | 33,000 | 290,000 | 912,000 | 4,799,000 |
| Available | 1 Kanal | 1,320,000 | 880,000 | 141,666 | 0 | 1,500,000 | 8,799,000 |
| Available | 2 Kanal | 2,400,000 | 1,600,000 | 277,666 | 0 | 2,000,000 | 15,999,000 |
5% discount on lump sum payment.
10% extra charges for the main road, corner, and facing park plots.
All amounts except the total price are rounded. The amount beyond or below the total price will be adjusted in the last payment.
Note: The marla is 272 sq.ft.
Click to Call 0304 7320074
Click to Call 0303 5532489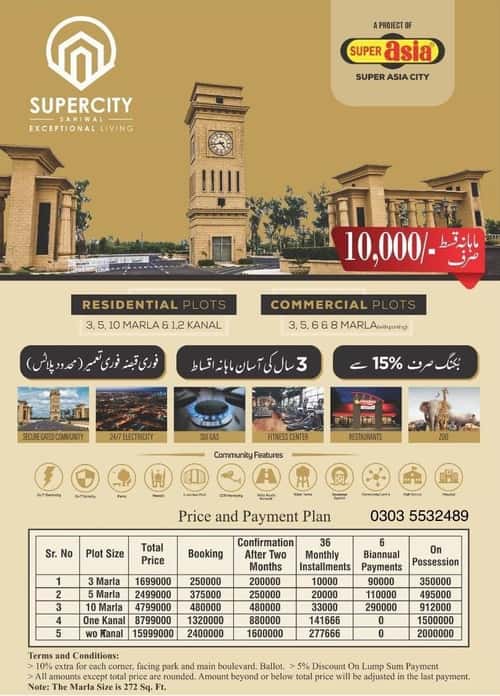 Project Plan
Super City Sahiwal is a standard housing venture consists of two blocks A & B. A block is completely developed and all sizes plots are ready for possession while in B block the development work is continuing and plots will be ready for possession after 1 year. The region is as of now created with all fundamental street foundation set up. An underground power framework guarantees that unattractive electrical wires and posts don't deface the appearance of this quality private venture. Many lovely homes in the region are as of now complete. A watchful security staff, helped by consistent CCTV reconnaissance, ensures the general public.
Developers 
This undertaking is created by Pakistan's largest and well-acknowledged Super Asia Group whose point is to give an extraordinary and dominant life to the population of Pakistan. Their first residential project was in Lahore with the name Supercity Lahore than in Gujranwala and now they turned towards Sahiwal city.  This organization has set its models as per the global level improvement. The engineers begin with key spot improvement, through to structure and development. They advance a one of a kind thought of habitation with the brilliance and unwavering quality where demonstrable skill appears in each and everything. The enthusiasm is working in the structure, engineering, and undertaking the board segments, conveying the best and feasible lodging society.
Features and Facilities
In Super City, the developers have offered the best-structured highlights and comforts for the individuals who need to value urbanization in the most ideal manner. This venture is stuffed with all that could possibly be needed for a cozy and advantageous life. Let's have a look at the facilities the project is providing to the people.
Power Supply 
The arrangement of essential necessities is guaranteed to individuals in the most ideal way.  The underground wiring system and power generation system will proffer a comfortable life here.
Clean Water 
Super City has installed its own water treatment plant to provide safe and healthy water to its residents.
Modern infrastructure
The foundation of this undertaking is no uncertainty created in the best and the most present-day way. You would love strolling and driving on these wide, smooth, and wonderful streets. The green belts around the streets elevate the enchanting and wonderful impact on the inhabitants. Strolling, running and driving tracks are diverse which is an exceptionally gainful part of this endeavor.
Kids play area, Zoo, and Parks
Much place where this project is planned is distributed to green parks which are loaded up with stylish magnificence and peaceful air. A different and huge play area is additionally settled to give the cozy playing circumstantial society residents.  Moreover, a mini Zoo is developed to educate children about animal life.
Central Mosque 
A grand Jamia Masjid is available for demonstrating the solidarity and the success of the people. Because of the support and design, every one of the occupants feels the atmosphere is especially invigorating and consecrated.
Modern Schools System 
In Super City Sahiwal both, the blocks will have separate schools and institutes where the kids will get the necessary education to create a bright and successful future.
Rescue Vehicle Service 
If there should arise an occurrence of a crisis emergency vehicle administration is accessible for individuals. You simply need to approach a particular helpline number and the emergency vehicles will be there at your entryway in minutes.