Royal Oaks Residencia Sheikhupura
Royal Oaks is a name that is aimed to stand out in all the real estate schemes in Pakistan. As we all know that there are thousands of housing schemes that are in competition but this one with its mind-blowing facilities and magnificent development plans stands out in them. It enjoys a prime location and assembled by the premium amenities and facilities for living a luxurious life. By providing all absolute comforts and a beholding architectural design it is determined to establish a reputation to be the most outstanding and preeminent place to call home.
Location Map
Payment Plan
Features
Project Plan
Developers
Click to Call 0303 5532489
Click to Call 0314 4647814
Royal Oaks Residencia Sheikhupura is all strengthened to provide the residents of the city with a captivating and peaceful living environment, where people can spend their lives complacently with harmony. This housing venture will open new doors of magnificent and remarkable opportunities to the businesses and investors offering them dainty plots in the heart of this housing society and earn generous profits. Living in this society will free you from the rummage of finding a place for living a high life with the best living standards. We are intent to grant you with all the bounties and luxuries with mind-blowing designs and exquisite infrastructure. Our developers know what your choices and preferences are and keenly focusing on them our developers are constrained to bestow you with profound facilities and astounding amenities to boost up your living standard.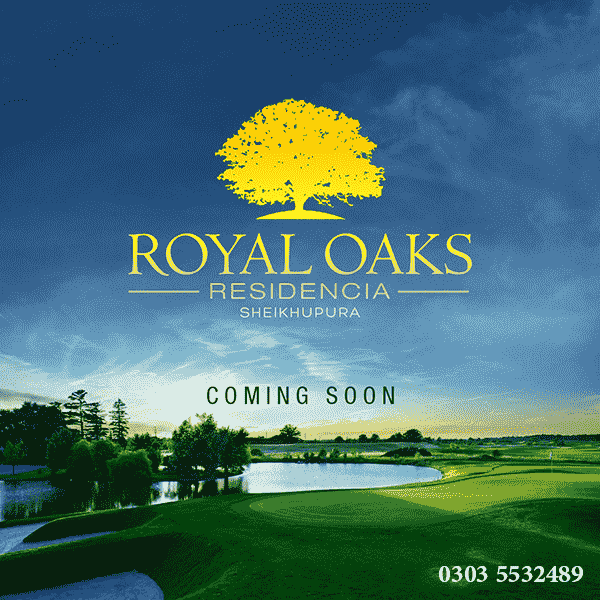 Location Map
Royal Oaks Sheikhupura is a comfortable and deliberate housing scheme that enjoys a top position among all the residential schemes in the city. The prime location this housing venture enjoys is Jandiala-Sheikhupura Road near Hiran Minar and Motorway Interchange. The area encompassing this vicinity is fascinating furnished with desirable facilities and amenities that an impeccable residential plan beholds.
This scheme is gravitating many business investors to invest in this venture because of the attractive location on the map and finely developed residential area. The address, contact number of the head office are mentioned on the official website and Facebook page & other social platforms.  The business ventures can prosper and flourish while earning generous amounts in profit and a competitive edge on their competitors.
This residential vicinity provides all kinds of international and national brands and entertainment points like joy parks, cinemas, and shopping malls all close to their homes so they do not have to go out of this luxurious society to seek them. Distinguished educational institutions, alluring shopping centers, and refreshing greenery around the vicinity soothe inside out. The scheme has established elegant styles in constructing this scheme that will be able to provide all privileges that a buyer wants while being considerate about their priorities and preferences.
Payment Plan
Royal Oaks Residencia has developed payment plans for its commercial and residential buyers with convenient timelines and affordable prices. Buyers can get a dream of their house with a booking of just 1 Lac followed by an easy installment of PKR 6000. The payment structure follows a painless 5-year installment that every buyer who is willing to have a splendid and secure societal home in a most prime location can easily opt. With this payment schedule, buyers can easily go for staying within the budget and can get full possession of their homes just after 3 months.
Thinking mind of Royal Oaks has laid out reliable and solid payment procedures that everyone who is seeking for a futuristic living standard and home can go for.
The demand for housing schemes like this particularly in Sheikhupura is snowballing among buyers and business investors because of its incomparable location and accommodation. We all know that making a house at right time staying within budget is need for an hour in Pakistan especially for people having a family and want to have a futuristic and world-class lifestyle. So it's better to grab your hand on the most gracious and opulent housing scheme before the opportunity runs out.
The society is eager to allocate its customers with exquisite and lucrative choices. With their versatile range of residential and commercial plots, they are able to render your needs and wants with utter satisfaction.
With the astounding and attractive whereabouts, the buyers and businesses have outstanding opportunities in this vicinity to make their investment grow. Different sizes of dainty plots are offered here staying within your budget. Some of the plot sizes on the list are the Price of a plot per Marla is PKR 300,000 to 416,666.
| | | | | | | | |
| --- | --- | --- | --- | --- | --- | --- | --- |
| Sr No | Plot Size | Booking Amount | Confirmation | 55 Monthly Installments | 4 Annual Payments | Possession Charges | Total Amount |
| 1 | 3-Marla | 100,000 | 150,000 | 6,000 | 100,000 | 270,000 | 1,250,000 |
| 2 | 5-Marla | 100,000 | 250,000 | 10,000 | 150,000 | 350,000 | 1,850,000 |
| 3 | 10-Marla | 199,000 | 350,000 | 20,000 | 300,000 | 551,000 | 3,400,000 |
| 4 | 1-Kanal | 399,000 | 700,000 | 37,000 | 600,000 | 966,000 | 6,500,000 |
| 5 | 2-Kanal | 699,000 | 1,400,000 | 73,000 | 1,100,000 | 1,486,000 | 12,000,000 |
Click to Call 0303 5532489
Click to Call 0314 4647814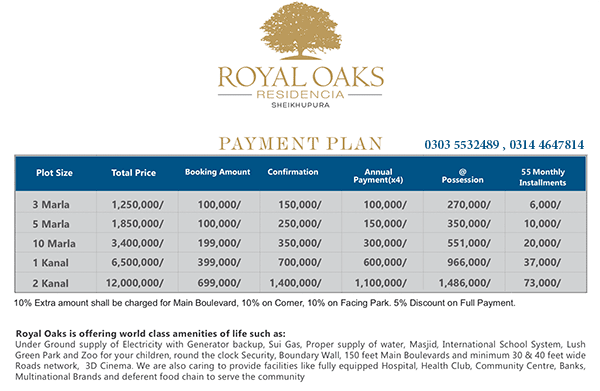 Click to Call 0303 5532489
Click to Call 0314 4647814
Developers
Royal Oaks Residencia is a peaceful and appealing location for residents and businesses because the developers here are keen to match the latest requirements and technological advancements in facilities. They are working towards the goal of making their buyer appalled and satisfied.
The experienced and proficient Pak Arab developers were considerate about all the needs of their buyers in planning and formulating this opulent housing venture. Pak Arab's savvy and developers have mapped out their plans to decorate this vicinity with stylish accommodations and lavish facilities to make it win among all the other residential plans in Sheikhupura.
There have been a lot of residential plans in construction around, but this one will be an immense success in that location. The professional and proficient team of developers has developed this grand plan to serve its buyers of Sheikhupura city with a paramount residential scheme exalting in all manners.
The beholding features and extravagant architecture of this classic community will make shine among all other competitors. The exquisite and magnificent features will make it a more preferable residential society when it comes to purchasing one.
Project plan
Royal Oaks is a commodious and dainty housing society that gives the exquisite living and presents attractive investment opportunities for businesses. This project is smoothly chalked out to accommodate all the luxuries and amnesties that a world-class living can encompass. This residential scheme is a dream come true and an effort towards a lifestyle with an unparalleled architecture immersed with the fine efforts of its developers.
Constructed with state-of-art technology in infrastructure and modern infrastructure the housing venture has successfully accomplished its goals with the sweat and work of one of the top class and competent architectures. Being a part of this housing society, residents can enjoy phenomenal facilities, peace of mind of their own home. The latest and ingenious uses of technology in every nook of this vicinity are just one of the small features to put in words.
Royal Oaks Residencia Sheikhupura was built with a vision to have a tactical location holding a wide web of roads and motorway interchange so the distance of hours will be wrapped in just a few minutes.  This vicinity is in the hub of lush green surroundings away from the pollution and contamination of industrial smoke and waste, which makes it an epitome of an excellent community to live with your family.
Another exemplary feature of this scheme is that businesses can establish their unique and creative ventures and can make profits from this new market full of opportunities. This housing society enjoys a foolproof security system and the striking security checks are up to date with the latest technological advancements and extremely strict so your families and businesses are safe from any unexpected intrusions. Peace of mind and comfort comes as part of this housing plan, the location has the best health care facility, mosque, education, and entertainment centers so you don't have to go out of your corner of delight to enjoy them.
The town planners have planned 3, 5, 10 marlas, and 1 & 2 Kanal plots with a master plan according to the requirements of LDA. Also, there are parks, schools, public buildings, commercial markets, and graveyards in the master plan of this housing venture.
Features and Facilities
Royal Oaks Residencia is an exceptional residential scheme offering peace and harmony to all its buyers by providing them a house of their dreams where they can spend a lustrous life with their families enjoying all the auspicious facilities and amnesties.
Luxurious and Gated Community
The society represents a mutual living community having all the luxuries and conveniences of life. The wholesomeness that it offers makes it a place worth living your life in. This scheme is built on the framework of a gated community where residents can live in mutual harmony and can experience the warmth of living together.
Greenery
This housing scheme is surrounded by lush green gardens and trees making it soothing for the eyes and soul in look and feel. The greenery purifies the environment from pollution and gives clean air to breathe in.
Safety and Security
It is vicinity having a foolproof security system to secure your valued properties by keeping away intruders and outsiders. CCTV cameras are planted in every nook of this housing society without forgetting the commercial area to ensure a safe and secure environment and lifestyle.
Best Health Care and Medical Facilities
Health care facilities like advanced hospitals and private clinics are a central part of this housing scheme. The professional team of doctors and medical staff is 24/7 available to serve all the health care needs of the residents.
Sewerage System
The sewerage system is built on international standards to fight the water scarcity and waste systems problems in all weathers. With proficiency, society has tried not to leave any loopholes to bestow you with the best in everything.
Water Purification Plant
The town planners have developed a brilliant system that will provide an uninterrupted supply of water to use and purified filtered water through a huge water purifying system.
Schools and College
It encompasses the best educational institutions on their map aiming for the world-class educational environment for your children. This place has schools and colleges to cater to all the educational needs of your children close to your residence.
Sports and Fitness Centers
For the sake of health and fitness the housing scheme has come up with sports complex and gymnasium for catering the fitness needs gym enthusiasts and everyone who wants to lead a healthy lifestyle.
Shopping Malls and Entertainment Facilities
While living in this splendid society you don't have to go outside to find your favorite brand and grocery stores, this place has a high-end shopping mall that has world-class and top brands in it that you can easily shop from. Huge grocery stores all filled with commodities that are essential for living a fuller life.
Web of Wide Roads
This reservation has a wide web of roads surrounding it which connects you outside this housing scheme to the other areas. Royal Oaks Residencia is at the prime point of Sheikhupura,  where the nearby residential and commercial areas can be reached.
Electricity Facility
It has an uninterrupted supply of electricity. The quality wiring will prove to be the best in supplying a continuous flow of electricity all over the residential scheme.
Sui Gas Facility
The pipelines for the Sui gas supply are finely undergrounded throughout the society so that the residents can enjoy a steady supply of gas for household and commercial use. Gas will be available to residents after 1 year.