Omega Residencia Lahore
Hey Lahories! Today I am going to reveal an offer for you because we know what you want. Every one of us desires to reside in a place that is accessible and convenient yet peaceful & clean and offers all the tastes of standard living.
Omega Residencia Lahore is an answer to all your and our above requirements. It is a well-managed residential cum commercial plan that not just meets all the nuts and bolts of a present-day life but ironically offers you superfluous conveniences to make life more affluent.
Here you will be served everything that matters to you.
Location Map
Payment Plan
Features
Project Plan
Developers
---
This project is an ideal place for living in the speculation of Lahore city and is designed according to the international standards of construction.
The Omega Residencia is a housing gem that offers cuttings of different sizes of plots and beautifully architected Homes with outstanding interiors and designs.
The most remarkable feature of the project is that it is situated in one of the amicable areas of Lahore city at main Sharaqpur Road Lahore near Thokar Niaz Baig and Faizpur Interchange.
The location is really a blessing for us as we don't need to travel hours to reach commercial areas because it has a distance of 15 to 20 minutes from the key commercial areas of Lahore city while different education centers and well-recognized housing schemes are located nearby it, whilst the society is founded in the midst of noise-free and tranquil area giving the residents a peace of mind.
The housing society deems in standing out at the forefront of all other projects in Lahore, and these approaches replicate in every creep of the project that is facilitated with outré amenities.
Omega City Housing Scheme Lahore is offering their valued clients residential plots of 4 Marla, 5 Marla, 6 Marla, 8 Marla, and 10 Marla while the options of commercial plots are also available if you are willing to set up your own business near your residence.
Here are different varieties of plots in commercial areas available including 2 and 4 Marla. It is an eye-catching housing scheme with an enormous amount of advanced spaces and integrated homes which are all ready to live in to be and enjoy a luxurious lifestyle.
The developers' Omega Villas has offered an economical payment plan with flexible installment schedules.
The project is an opportunity that is knocking at your door and you shouldn't miss this chance. As it is a complete package of goodwill, luxury living, and security so you shouldn't miss the chance to turn your dream into reality, visit today at the head office of the project or contact us to book a plot in the best housing scheme ever.
Click here for the details of the Faisalabad project.
Click here for the details of the Jhang project.
Omega Residencia Lahore Location Map
The developers have selected a very beautiful and ideal location on the map of Lahore.
The project is located on Main Sharaqpur Road opposite Motorway Faizpur Interchange Lahore. The location is one of the peaceful areas of the city surrounded by a lush green environment.
Moreover, it has easy access to 15 to 20 minutes from the main commercial areas. Let's talk about a few of the connected areas of the surroundings
Lahore-Karachi Motorway can be approached within a few minutes drive from Omega Homes.
The location can be accessed within a 10 minutes drive from Thokar Niaz Baig and District Court.
Easy access to all corners of Lahore city through Ring Road Lahore.
Grand Trunk Road, Mall Road, and Saggian Road can be accessed easily within a few minutes from the society.
Omega Residencia Lahore Payment Plan
Payment is the factor for which the investor is always worried because some societies offer higher rates, that a middle-class individual cannot afford.
But when we talk about this housing scheme you don't need to worry because the developer has arranged the installment plan with affordability and convenience.
The investors will have various cuttings of plots for all sizes from 4 Marla to 10 marlas and each plot will have the same structure and wide front which will be directly connected to the park.
Vaha Istanbul Block Residential Plots Revised Installment Plan 2022
| Plot Size | Total Price | Booking 20% | 60 Monthly Installments | 10 Bi-Annual Payments | Final Land Payment 10% |
| --- | --- | --- | --- | --- | --- |
| 3-Marla | 1,050,000 | 262,500 | 6,500 | 29,250 | 105,000 |
| 5-Marla | 1,750,000 | 437,500 | 10,000 | 53,750 | 175,000 |
3,5 Marla Plots For Sale
Vaha Istanbul Block Commercial Plots Price Plan 2022
| Plot Size | Total Price | Booking 20% | 48 Monthly Installments | 8 Bi-Annual Payments | Final Land Payment 15% |
| --- | --- | --- | --- | --- | --- |
| 2-Marla | 4,000,000 | 800,000 | 40,000 | 85,000 | 600,000 |
2 Marla Commercial Plots For Sale
10% extra charges for the corner.
10% extra charges for park facing villa and 10% extra for facing park plot.
10% extra charges for the main boulevard.
15% extra charges for the main boulevard + corner.
10% discount on full payment.
5% discount on half payment.
---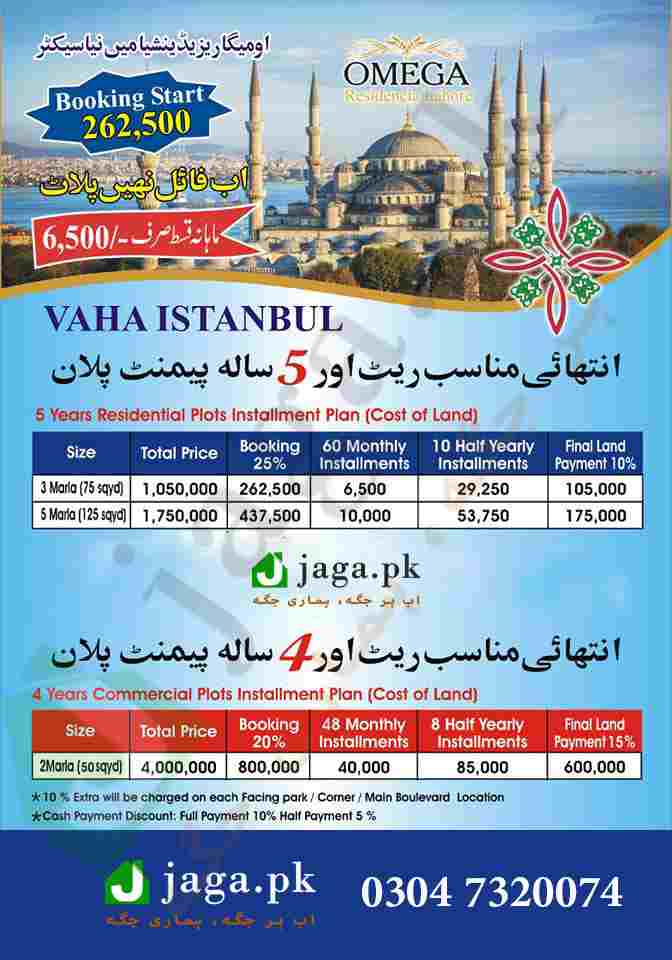 Omega Residencia Lahore Project Plan
It is a grand housing and commercial project which has been spread over a large area of land that emerged to provide luxurious living with state-of-the-art accommodations.
The master plan of the project includes a wide range of Plots sizing 4 Marla, 5 Marla, 6 Marla, 8 Marla, and 10 Marla residential and 2 & 4 Marla commercial.
The entire project has been designed to give a modern living coupled with international standard facilities and a peaceful environment.
The development work at Omega Residential Housing Scheme is going speedily and almost 80% of the work has been completed.
The entire project is equipped with high and advanced today's living standards conveniences and comforts including the supply of all basic utilities, schools, parks, hospitals, gym, clubs, wide carpeted roads, the underground supply of electricity, and water filtration plants, etc.
So it is the best option for investing right now so take your phone and make us call to get booking information and other details.
Developers of Omega Residencia
The Omega Villas Pvt. LTD is the developer of this project. They started their operations 7 years back in 2011 and till today they have delivered many successful residential schemes, homes, commercial plazas, farmhouses, and other real estate projects in-country.
They have always worked with the aim to provide small sizes of homes for the people who can't afford to buy in this era of dearness.
The Omega Villas Pvt. LTD is a universal association of experts who works with integrity, quality, and devotion and fulfills their commitment by delivering every project on time.
They always implement innovative solutions and develop the world's most complex challenges by keeping in view the pocket sizes of the people.
And they always fulfill their commitment to cost-effective and speedy yet quality work in stipulated time with complete client satisfaction.
Features and Facilities Omega Residencia Lahore Has and Will Have
Here people will be served with the following facilities and amenities.
CCTV Cameras
24 Hours Security Guard
Gated Community
Solar Power Plants
Underground Electricity
Parks
Hospitals
Grand Mosque
Water filtration plants
Carpeted roads
Gymnasium
Schools
Grocery Stores and Hypermarkets
---
Commonly Asked Questions
Below we have answered a few of the frequently asked questions.
Is the project approved by LDA or TMA?
Yes, it is approved by TMA (Town Municipal Authority).
When the project is going to give possession?
The possession will be given after complete payment including development charges.
Who is the owner of this housing venture?
Ch Sarwar is the owner of Omega Residencia.
---