Imperial City Muridke
In Pakistan, the real estate business is revolutionizing the ways people used to build and buy homes. Today hundreds of housing schemes are emerging on the map to cater to all the buyers, who dream to have a house that comes up to their expectations and on international standards. Now the surroundings, locality, exterior design, and interior design all matters a lot.
Location Map
Payment Plan
Features
Project Plan
Developers
Click to Call 0303 5532489
Click to Call 0314 4647814
People wait for decades for these schemes to show up in their beloved areas so they can have an exuberant lifestyle without moving away from their ancestral towns. Muridke is one of the cities in Pakistan that has much historical importance to it; the people who live here are affluent so the demand for an impressive yet serene lifestyle was on the rage of increasing each day. Imperial City Muridke is setting new standards for a magnificent and lavish lifestyle. With its utter amenity and beholding architectural design, this housing scheme is on its way to establishing the most outstanding hearth in the city.
Imperial City Housing Society with its exquisite infrastructure and well-planned development has accomplished a level of elegance. Here you have a chance to experience eminent facilities and exceptional comfort of your lavish home. This community has exceptional plots in various sizes to offer to its buyers having all the world-class amenities in them that you can appreciate with your family with a lifestyle full of peace and harmony. The commercial plots are well planned with state of the art infrastructure that opens the doors of opportunities for investors who prefer to leverage from this untapped market. This society is dedicated to providing modernism and exquisiteness to its residential and commercial buyers.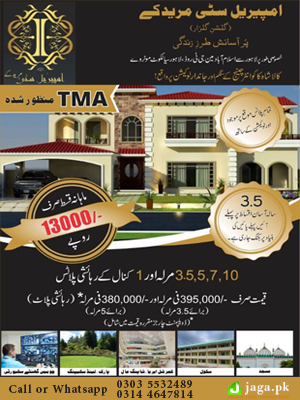 Location Map
Imperial City enjoys a prime location that is modern and extravagant at the same time. In Muridke located on Railway Lines Road adjacent to Bhutta Stadium near the Tehsil Headquarters Hospital main GT road, this vicinity is itself a piece of the art equipped with eminent facilities and luxurious amenities to ensure a fancy and peaceful way of living. The premium location of this housing scheme is so prominent that it's easy to find on Google's navigation map. The ease and prominence of its location are what make it the most appealing and attractive.
The perfection with which its outstanding and grand infrastructure stands is enough to give a tough competition to all the big housing society names. The plots are of various sizes located and placed in such a way that the housing community can enjoy convenience and peace of home and neighborhood with their families. For investors, it presents an excellent opportunity to start new ventures from which their businesses can flourish and thrive at a fast pace.
Embellished with remarkable amenities, this housing venture offers you a well-established market from where the residents can shop everything from local to international brands while staying close to their homes.
Payment Plan
The project with its mind-blowing environment and splendid infrastructure enables everyone to buy a house of their dreams here. Imperial City Muridke has mapped out easy and convenient payment plans for every buyer. They can easily go for these plans to have an astounding lifestyle that reaches up to their expectations. The society offers payment plans of 3.5 years for residential and commercial plots.
The plots for residential and commercial purposes are in a variety of sizes catering to every customer without going out of their budget. Here you can easily find a plot with a house you have always dreamt of having in addition to fine facilities to make your life calm and enjoyable. The budgetary constraint was the basic element that this town developer kept in their minds while designing payment plans. Some of the plot sizes that scheme offers are listed in the following table.
| | | | | | | |
| --- | --- | --- | --- | --- | --- | --- |
| Sr No | Rate Per Marla | Plot Size | Booking 25% | 42 Monthly Installments | 10 Installments Each After 10 Months | Total Amount |
| 1 | 295,000 | 3.55-Marla | 350,000 | 13,000 | 127,111 | 1,404,444 |
| 2 | 380,000 | 5-Marla | 475,000 | 17,000 | 177,750 | 1,900,000 |
| 3 | 380,000 | 7-Marla | 665,000 | 24,000 | 246,750 | 2,660,000 |
| 4 | 360,000 | 10-Marla | 900,000 | 32,000 | 339,000 | 3,600,000 |
| 5 | 480,000 | 20-Marla | 2,400,000 | 96,000 | 792,000 | 9,600,000 |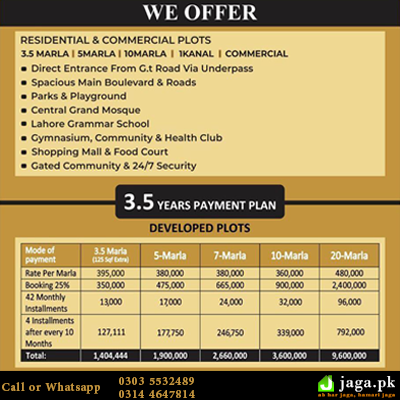 Click to Call 0303 5532489
Click to Call 0314 4647814
Project Plan
Imperial citi is a big and exquisite housing society with lofty facilities and amenities that makes it stand out from others. The project has been developed by world-class architectures that have given it a modern look and feel covering all the necessities and luxuries in one compact order. The residents can enjoy every treasure of life while experiencing all stunning lifestyle and home.
This housing society is surrounded by the web of wide roads that covers the entire city and connects them to the places out of Emperial City Gulshan-e Gulzar Muridke. The roads are well constructed and wide that can handle heavy traffic easily in no time and make it easier for the residents to travel outside the scheme in seconds.
Lush greenery is another top-class feature of the town covering every house playground, parks, and commercial area making it a clean and soothing environment to live away from all the noise and dust pollution which leads to an unhealthy lifestyle. The project was planned to be the project having all the gems at one place close to the residents and a community where they can enjoy all the leisures of life.
Business investors can blindly invest in this market for their new ventures to gain maximum profit from this market where there are thousands of residents present to spend money on a lavish and complacent way of living. The ease of everything just a few steps away and brings comforts to life. Another striking feature of this housing society is that it offers a fully advanced security system to its residents and safety to the families living in this vicinity ensuring their safety by avoiding any unexpected intrusions from any outsider.
This location gives its residents the best health care, household, meditation, education, and entertainment facilities so you don't have to go out of this vicinity to enjoy comfort and peace of mind. There are 3,5,7,10, and 20 marla residential plots available in this housing ventures.
Developers
Imperial City is a magnificent and amicable site proposed by AJS developers to buy a house or to start a business because the developers were utterly considerate about the customers' requirement of comfortable and a lavish society. The savvy and proficient team of AJS developers has brought something different from all the housing schemes to distinct and gives an edge to its buyers and Muridke citi.
The state of the art and modern development along with luxuries and profound surroundings has made it an emblem of perfection among all the housing schemes. They have keenly paid attention to all the details of this housing society while mapping the great plan to establish an advance and splendid community for its owners. The developers have set the commercial and residential plots in such an arrangement on the map that both complement each other. Near the housing authorities, there are parks and playgrounds where one can enjoy with their families. While the commercial area encompasses all facilities to give it a more lavish look to work and shop around.
Features and Facilities
Spacious Main Boulevard and Roads
The town is surrounded by a spacious main Boulevard and a wide network of roads that connect this vicinity to the other nearby areas. Through these clean and well-maintained roads residents can cover the distance of hours in minutes saving them time yet joining them to other GT road areas in no time.
Parks and Playground
The developers have catered all the requirements of its residents, they knew most of the residents will be living with their families and spending quality time in their home and outside. To make their time higher in quality and memorable Imperial city came with lush green parks and playgrounds for all ages that like outdoor sport and want to enjoy with their families.
Central Grand Mosque
For meditation and praying purposes, this housing venture has built a grand central mosque that can facilitate thousand of Nimazis, making it a place to pray and preach. The central mosque has state of the art architecture bestowing you with meditation and peace of mind.
Education Facilities
One of the best school systems LGS in the whole country has opened their wing in this housing society making it easier for your children to get modern and international level education and allowing you to be satisfied without sending your kids far from the community.
Gymnasium, Community and Health Club
The people who prefer a healthy lifestyle and are fitness enthusiasts can enjoy full fledge equipped gymnasium here. With world-class and modern machinery to keep our body toned.
For the health care services, the private hospital having brilliant medical professionals and paramedical staff is on the service 24/7 and eager to help in any emergency that may arise.
Shopping Mall and Food Court
For entertainment purposes, this vicinity holds all the places where you can enjoy with your family or alone. Modern cinema, attractive shopping malls, and assorted food court have all the restaurants under one roof have created an entertaining environment.
24/7 Security
The foolproof security system and CCTV cameras in every nook have made it a place where one can spend a secure and safe life enjoying all the facilities and amnesties thoroughly, avoiding any untold interruptions and invasions in the community making it a safe and secure society to live in.
All Utilities
All basic Utilities like sui gas pipelines, water purification plant, electricity plant, and water sewerage and drainage system are an essential part of the society, with the best services and equipment to maintain all these utilities.
Clean Environment
With lush green surroundings all around the housing scheme, people here can breathe in fresh and clean air. This greenery filters the air for dust and contaminants thus making it purified to breathe in and giving Imperial City Muridke a clean environment.