HL Jinnah Residencia Karachi
An excellent project based in Bahria Town Karachi. The project has massive potential for investors and businessmen alike. With an unbeatable location and unmatchable value, the HL Jinnah Residencia is the next big project in the town.
It is situated at Main Jinnah Avenue and very near to the Main Bahria Entrance. This multistory skyscraper is a perfect residential and commercial masterpiece. It's a very beautiful and luxurious as well as serene and secure place to live.
The 18-storied high-rise building is in the center of Jinnah Commercial Avenue. It is the hub of elite corporate and business enterprises.
Location Map
Payment Plan
Features
Project Plan
Developers
---
HL Jinnah Residencia has the perfect space in the ideal location for you, whatever your commercial requirements are. The project is tailor-made for trading activities with front–door shops on the ground floor nearer to Jinnah Avenue.
These shops are specially arranged to have a basement and mezzanine inside. Therefore it can be used both as offices or display outlets.  It makes the apartments project a worthy venue for corporate businesses.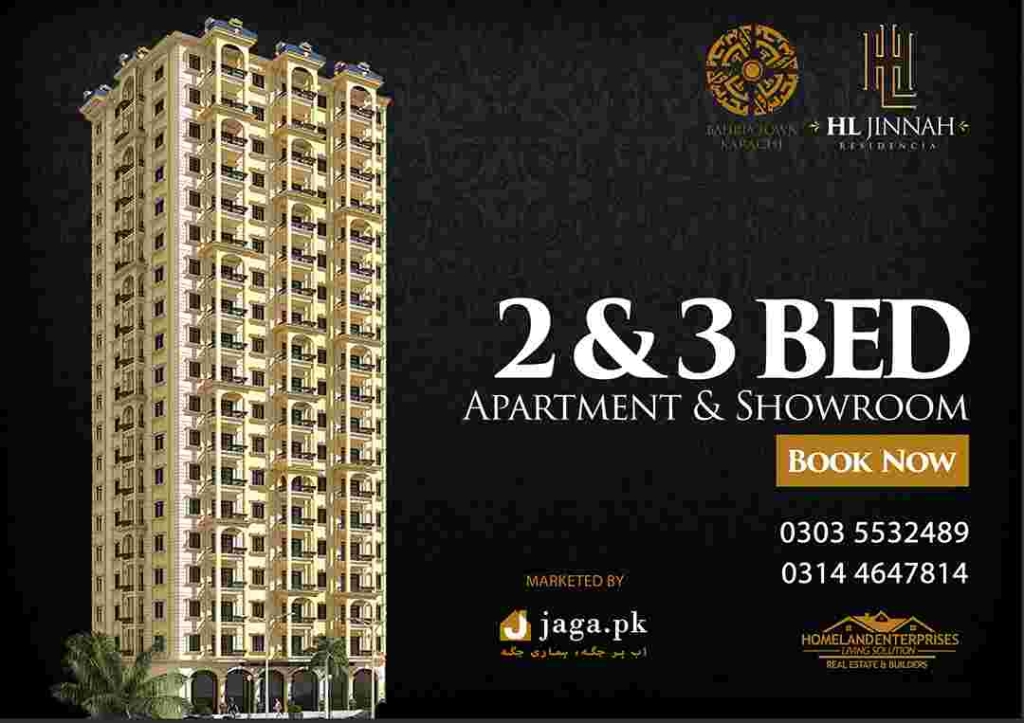 Here are a few glimpses of its location, features, payment plan, and project plan which make it easy for you to decide why it will be a good option: 
HL Jinnah Residencia Karachi Location Map
It is present in the center of Jinnah Commercial Avenue and very nearer to Main Jinnah Avenue. It is a few kilometers away from the main gate. All the basic spots of Bahria Town Karachi like international schools, parks, zoos, shopping malls, and hospitals are a few kilometers away.
The location of HL Jinnah Residencia contains almost all types of amenities in the vicinity. You do not need to go to some other place because the apartment and showroom building contains all that it needs for an ideal locality.
The whole area is a commercial center and it is saturated with numerous shopping malls of almost the same quality.
The holy family hospital, Anklesaria Hospital, The central mall and plaza, Jubilee Centre, Hassan Ali Hothi Market, Rainbow Centre, Nishtar Park, Karachi Zoo Park, and Shahnawaz Garden are a few kilometers away. The locality also contains commercial areas, parks, a central mosque, and other amenities.
The structural design consists of 2 bedrooms, a sitting room, a kitchen, and 1 bathroom. The installment plan is also decided by you. It also assures you to protect your investment. This project is a complete package in itself as it contains shops of almost all brands, cooperate offices, and residential apartments as well.
Hl Jinnah Residencia Bahria Town Karachi Payment Plan
It is a 2-3 Bedroom, Apartment, and Showroom building, which is located on the prime location of Main Jinnah Avenue commercial. 100% merging is available here. It is containing various floors from the ground floor to the 18th floor. It's the best place for investors to invest.
They offer 3 years installment plan. The payment plan is very much flexible and reasonable for anyone who wishes to construct his/her dream house in that locality.
The developers present a very reasonable payment and flexible installment plan. It is very smooth and eye-catchy in order to satisfy the customer.
HL Jinnah Residencia Karachi has a vast range of factors and qualities i.e. ideal location, economic rates, and availability of all life conveniences
For Ground Floor Showroom, the total price is PKR 49,275,000. 15% is the down payment and 12 Installments (After 3 Months each) which have to be paid is PKR 2,874,275. The Booking fee is PKR 7,391,250. 
From the 1st Floor to the 5th Floor, the total price is PKR 12,920,000. 15% is the down payment and 12 Installments (After 3 Months each) which have to be paid is PKR 753,666. The Booking fee is PKR 1,938,000. 
For the 6th to 10th Floor, the total price is PKR 12,240,000. 15% is the down payment and 12 Installments (After 3 Months each) which have to be paid is PKR 714,000. The Booking fee is PKR 1,836,000. 
For the 11th to 18th Floor, the total price is PKR 11,560,000. 15% is the down payment and 12 Installments (After 3 Months each) which have to be paid is PKR 674,333. The Booking fee is PKR 1,734,000.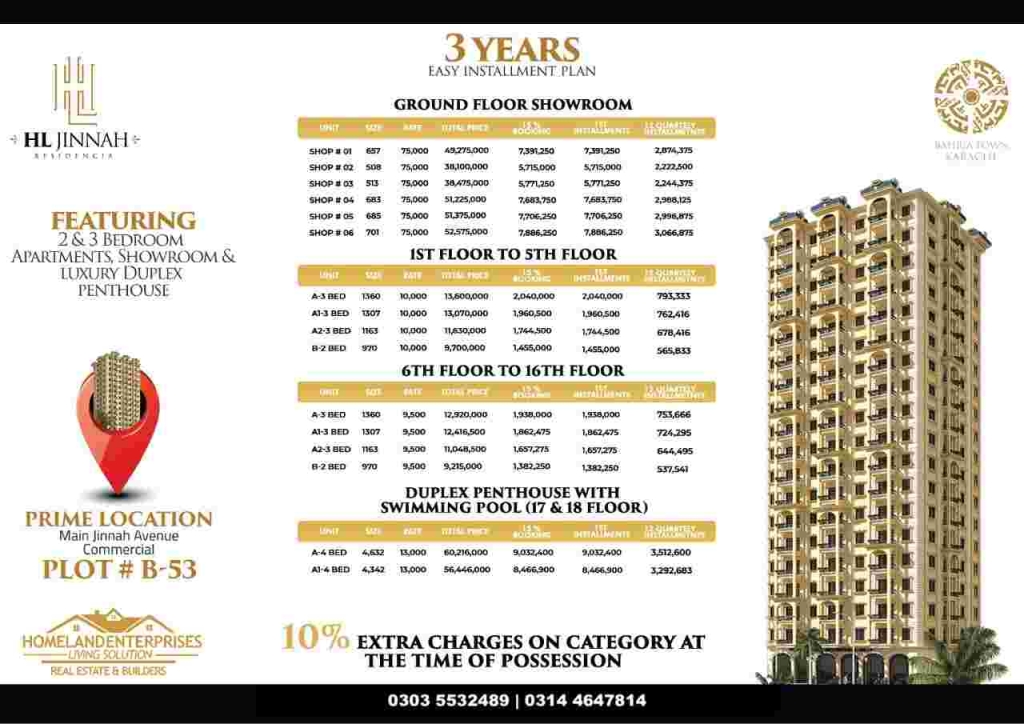 ---
Home Land Jinnah Residencia Bahria Karachi Project Plan
The project consists of magnificent 2-Bed apartments, to buy it can surely be the smartest decision of your life. It is growing stately above the Bahria Town Karachi skyline. The project provides the best inspiring sight around the locality from the commodious terrace of the residency.
HL Residencia is in the center of Jinnah Commercial Avenue and is located near Main Jinnah Avenue. It is a few kilometers away from the Main Gate. All the leading spots in the town are just walk-aways like Theme Park, Carnival, hospitals, and supermarkets.
The 2-Bed apartment in HL Residencia contains 2 bedrooms with attached bathrooms, a lounge, and a kitchen, which is spread over 970 square feet.
The project has plenty of facilities inside which makes it incompatible with other projects. It features High-speed elevators, Multi-level car parking, a State-of-the-art reception lobby with a visitors' gallery, an Amusement area, a firefighting system on each floor, and a Backup power supply. 
Developers of HL Jinnah Residencia
This project is built by Homeland Enterprises – a trustworthy name in the field of real estate. It was founded in 2012, and it has transformed real estate dealings into a productive business relationship, where investors can beneficially trade in profits with belief and trust.
It is a marketplace for getting the right solutions for residential, commercial, and other kinds of properties. They have a profound database of real estate properties where a consumer can buy, sell, or rent properties with peace and serenity. The Developer' good work in their first works won the public interest.
The developers are the most well-known developers which have offered many multi-faceted including both the trading and uptown projects.
They are the explorer in developing and constructing trading projects in residentiary areas to provide people ease for their business requirements.
All these facilities within the same location; captivate the public and everyone would like to be a part of such a magnificent place. They have complete knowledge of legal and official standards.
Features and Facilities HL Jinnah Residencia Karachi is Providing
It contains all the amenities of life. The residents of this place will experience an above-standard living style. It is going to become a great public attraction. Because it contains much-needed recreational and enjoyment opportunities.
Below, we will list down salient amenities the community living here will have:
Gated Community
24/7 Security
Registry on Completion
Mosque
Parks
KDA Approved 
Underground Electrification
Mini Golf course
Mini Desert
Theme Parks
Commercial Arena
Free Wi-Fi zone
Advance  infrastructure
Eco-friendly city
Luxurious farmhouses
Security and surveillance with 360-degree drones
Educational institutes
Modern banks
Shopping complex
CCTV security
Spacious lobby
Wide stairs and corridor
Sound Structure
Near to all modern amenities
ATM machine
Prime locations
Easy accessibility
Emergency exits
3 years installment plan
Brand visibility
Centrally Air Conditioning
Reserve Car Parking
Telephone Exchanges Gated Community
Security and surveillance system for 24/7
Uninterrupted electricity power supply
Well established hospital
Shopping malls, cinemas, and gym
Entertainment areas such as parks and community centers
---
Commonly Asked Questions
Below we have answered a few of the frequently asked questions.
Is the project approved?
Yes, it is approved by all concerned departments.
When the possession will be given?
Possession will be given after complete payment.
---