City Star Shopping Center Lahore
A new commercial and residential project in Lahore. City Star Shopping Mall includes aesthetically pleasing and contemporarily styled shopping outlets and residential apartments, which come fully equipped with all the modern amenities required to create a truly unique experience.
Location Map
Payment Plan
Features
Project Plan
Developers
---
The whole project is approved by the Lahore Development Authority (LDA) and is a multipurpose building having commercial as well as residential properties.
Basically, it is a 9-story building that offers exclusive parking spaces for the residents, and separate spaces for visitors and shoppers. All shops, offices, and residential flats are designed for a wholesome appeal.
It is the first of its kind state-of-the-art modern-day commercial store situated within the Heart of Lahore, at Peco Road that's adjacent to Link Road, a section that boasts a number of the leading shopping and entertainment hubs of Lahore.
Not only this, but it's also home to a number of the largest businesses within the city, a crowded and famous shopping area of Lahore, but the City Star shopping precinct also features an all-star cast of national & international recognized brands.
Here are a few details about the location, features, types of shops, types of apartments, and payment plan of this project along with other information that might help you decide if this is a good investment option for you.
City Star Shopping Centre Lahore Location Map
Every time someone buys any property they prefer a location that is ideal enough to spend a peaceful and happy life.
A location where all the life essentials are available and are safe in terms of security is prioritized by everyone. The location also adds up to the importance of property and this housing project is a whole package that gives you an ideal location with all the necessary life facilities in its surroundings.
The project is based on the most ideal location in Lahore, just in the center and surrounded by all the facilities, shopping centers, hospitals, community clubs, restaurants, government sectors, and whatnot.
Moreover, it provides an ideal location for getting a good business if you are looking to buy shops here or are thinking to set up your corporate office as well.
This project is located on the Main Model Town Link Road and Peco Road Intersection in Lahore, which is an ideal real estate locale in the busy metropolitan. This places the CSSC in close proximity to some of the best educational, recreational, and healthcare facilities in the heart of the city. Some salient project features include:
Walking distance from The City School Model Town Link Road Campus.
Adjacent to Link Road, Model Town.
Easy access to Amanah Mall, McDonald's, and Metro Cash & Carry.
2 minutes from the model town park.
4 minutes from Jinnah Hospital.
5 minutes from Canal Road.
30 minutes from Allama Iqbal International Airport.
City Star Shopping Mall Lahore Payment Plan
This project has to offer some of the best and most affordable payment plans, either you want to buy an apartment, a shop or an office for yourself all come at affordable prices and reasonable installment plans.
The project has to offer three types of properties which are as under:
Dedicated parking is available for the residents and for the shop owners. The lower ground floor, ground floor, and mezzanine floors are dedicated to shops. The fifth and sixth floors are dedicated to offices and the seventh, eighth, and ninth floors are dedicated to apartments.
The shops on the lower ground floor have an estimated area of 98 sq. Ft. – 168 Sq. Ft. and come at a price of PKR 34.3 Lakh – 53.58 Lakh and offer a 24-month installment plan.
The shops on the ground floor have an estimated area of 130 Sq. Ft. – 393 Sq. Ft. and comes at a price of PKR 69.06 Lakh – 3.66 Crore and offers a 24-month installment plan.
The shops on the mezzanine floor have an estimated area of 65 Sq. Ft. – 122 Sq. Ft. and comes at a price of PKR 19.5 Lakh – 42.53 Lakh and offers a 24-month installment plan.
The offices on the Fifth and sixth floors have an area of 324 sq. Ft. – 607 Sq. Ft. and come at a price of PKR 38.56 Lakh – 91.06 Lakh and offer a 24-month installment plan.
The apartments on the seventh, eighth, and ninth floors have an area of 324 sq. Ft. – 607 Sq. Ft. and come at a price of PKR 38.56 Lakh – 91.06 Lakh and offer a 24-month installment plan.
Shops Installment Plan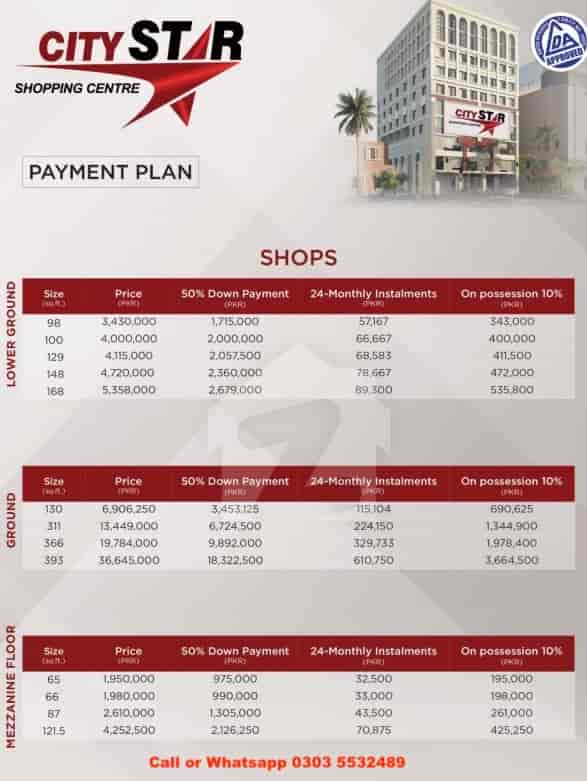 Offices and Apartments/Flats Payment Schedule and Pricing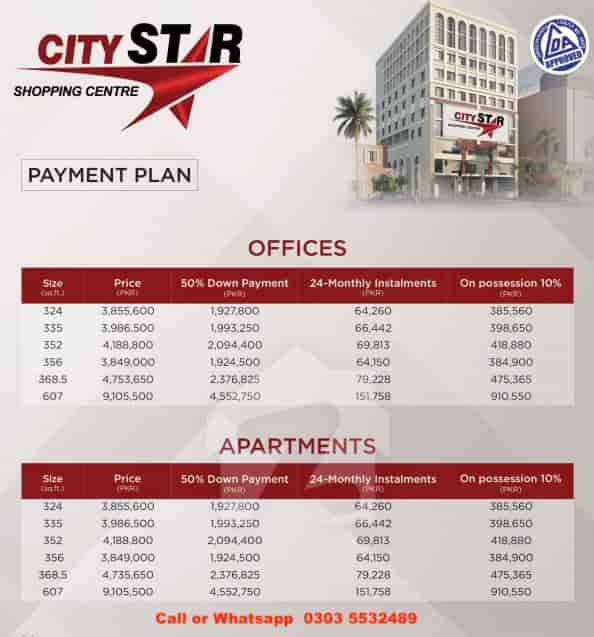 City Star Shopping Center Project Plan
The main aim of the developers was to provide an environment where people can live a contemporary lifestyle with all the safety needed, can also enjoy quality shopping, and do business as well.
The residents of this megaproject shouldn't leave the premises in search of any reasonably basic facility because it provides the majority of the facilities to its people and everything is accessible within the building. It is a sophisticated and highly architected project that's offering compound apartments of assorted sizes.
The project has a 9-story building that offers luxurious apartments on the top floors, corporate offices on the middle floors, and shops on the lower floors. In short, it is a complete package that offers residence, business, and entertainment under one roof.
City Star Shopping Center Lahore Developers
It is a venture of one of the most renowned real names in the real estate market – Baig Construction Company (BCC) which is an expert team of engineers, contractors, and designers capable of creating glamorous projects that don't skimp on comfort and convenience. It is known for its achievements in both the residential and commercial building sectors.
BCC's commitment to quality and trustworthiness means that it attracts a prestigious clientele, and has an impressive portfolio of top-notch projects under its belt. In addition, it uses the best equipment in the market and is one of the most popular choices for investors when looking for reliable and high-quality projects.
City Star Mall Lahore Features and Facilities
This project is offering some great amenities to all interested parties.
It is designed to provide all the comforts of a contemporary commercial and residential hub, for streamlined retail, corporate, and residential lifestyle. Some of its features include:
Reserved parking for residents.
Speedy spacious lifts from parking to apartment floor.
24/7 secured through CCTV and Professional security personnel.
Equipped with a modern firefighting system.
Power backup through generators.
E-tag parking.
24/7 CCTV surveillance.
Emergency exits.
Fire safety.
High-tech elevators and escalators.
Power backup.
Gym, pool, coffee lounges, eateries.
Electricity, gas, & water Supply.
Mosque.
Power backup.
It is approved by the Lahore Development Authority (LDA).
It is a safe, gated community with 24/7 security.
It has easy access to almost every major area of Lahore.
Prime real estate location with easy access.
9-story tall, superior construction.
Close proximity to comforts of the city.
24-month installment plan.
Highest quality construction standards.