City Star Residencia Lahore
An upcoming housing project that is untouched by the hustle-bustle of the town sets the stage for an up-to-date lifestyle for its residents. Every Home has magnificent bedrooms, modern bathrooms, a kitchen, and a lounge that's perfect for unwinding after long tiring days.
An unhindered view from most apartments. Premium specifications are available like Modular kitchen, master bath, Premium Floorings, etc. Balconies with most living spaces and a utility balcony with Kitchen. Premium quality combination paint on walls and ceiling. In a nutshell, the best place to measure in with the best luxury and luxury environment.
Location Map
Payment Plan
Features
Project Plan
Developers
---
City Star Residencia Lahore offers luxury apartments and is located at a primary location, it offers all the essential and modern life facilities to its residents and is aimed to be one among the highest notch housing apartments within the city.
This project offers a chance to indicate your dreamy notions of up to now living into reality by dwelling in its state-of-the-art apartments.
It's also one of the advanced and developed towns that have educational, health, business, trade, and better living standard, so people are vastly migrating toward Lahore. The overpopulation creates the requirement for accommodation, so SAREMCO has fulfilled this need by introducing this flats project.
It is a compound apartment project that may provide you with a way of life quite a sort of a home. The project will provide a vigorous luxury lifestyle to you and your family where you'll enjoy all happiness within a peaceful environment.
Here are a few details about the location, features, types of apartments, and payment plan of flat buildings along with other information that might help you decide if this is a good investment option for you.
City Star Residencia Lahore Location Map
Location is one of the main concerns when buying any property, a residential property that is located in an ideal place is considered to be the best one.
Everyone prefers a location that is ideal enough to spend a peaceful and happy life. A location where all the life essentials are available and are safe in terms of security is prioritized by everyone.
The location also adds up to the importance of property and this housing project is a whole package that gives you an ideal location with all the necessary life facilities in its surroundings.
The project is situated within the peaceful area of Lahore on Half Canal Road Lahore near NESPAK society and Izmir Town. It also includes a road link with Multan Road and Mohlanwal Road; the project is also in proximity to Thokar Niaz Baig Interchange. it's a perfect location and can give significant benefits when circumferential passes through this area.
This project is located at
Walking distance from Qarshi University.
Adjacent to Izmir town.
3 minutes from DHA EME & Roots International School.
10 minutes from Lahore – Islamabad Motorway.
10 minutes from Bahria Town.
12 minutes from Farooq Hospital.
12 minutes from Thokar Niaz Baig.
City Star Residencia Lahore Payment Plan
This housing development has many features and qualities that are worth paying for i.e. it's an ideal location, availability of all life conveniences, and economical rates. The prices of the apartments are very affordable you simply can easily afford them while earning a moderate income.
This project offers apartments of the following categories:
1-bed apartments
2-bed apartments
Booking starts from 30%
Possession at 20%
24 Monthly Installments
The Booking of the apartments in the project can be made with a 20% booking, and the confirmation amount will be charged 10% of the total amount after 30 days of booking.
The residual amount will be payable in 24 monthly installments or 8 quarterly payment plans.
1-bed apartments have two different sizes i.e. 433 Sq. Ft. – 448 Sq. Ft and 499 Sq. Ft. – 695 Sq. Ft. and comes at a price of PKR 32.48 Lakh – 33.6 Lakh and PKR 32.44 Lakh – 45.18 Lakh respectively. These apartments have 1 bathroom and offer an easy installment plan of 24 months.
2-bed apartments have two different sizes i.e. 570 Sq. Ft. – 726 Sq. Ft. and 570 Sq. Ft. – 726 Sq. Ft. and comes at a price of PKR 42.75 Lakh – 54.45 Lakh and PKR 37.05 Lakh – 47.19 Lakh respectively. These apartments have 2 bathrooms and offer an easy installment plan of 24 months.
Ground and First Floor Flats Prices and Installment Plan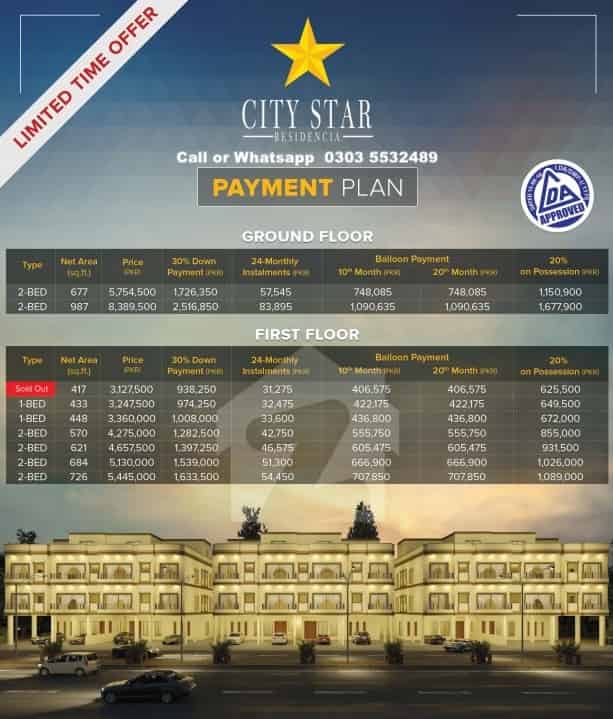 2nd and 3rd Floor Flats Prices and Payment Schedule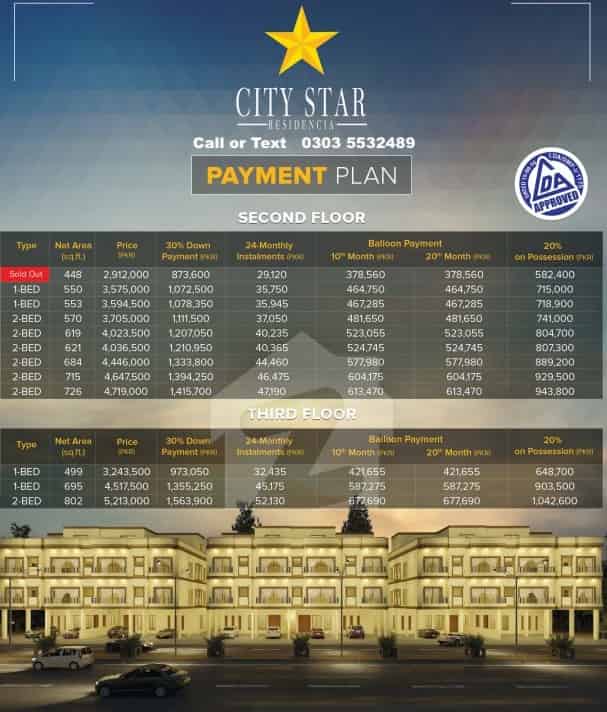 City Star Residencia Lahore Project Plan
This project provides an environment where people can live a modern lifestyle with all the security needed.
The residents of this megaproject don't have to leave the premises in search of any kind of basic facility because it provides almost all the facilities to its people and everything is available within its boundary walls.
It is a complicated and highly architected project that's offering compound apartments of various sizes. The project contains 12 buildings where each building has 4 floors, one for parking and three levels for studio floors. The offerings of the project include a studio and 1 bed, 2-bed dynamically designed flats.
The project is meant with proper safety measures, separate entry and exit ways are provided, and security and identity checks are placed to confirm there's no trespassing and violation of apartment residents' secrecy.
Developers of City Star Residencia
It is a project of Baig Construction Company (BCC) a licensed hub of engineers, builders, and contractors – a well-known name in the real estate market.
BCC is aimed to provide world-class projects and services to the people and has succeeded to build many successful projects in the past as well.
Established in 2004, the company is well-known in the country's real estate sector for its development of high-rise commercial, industrial and residential constructions; which include the Ramada Hotel, Ali Trade Center, Ashiana Shopping Center, Sheranwala Heights, Al-Fateh (Thokar Niaz Baig), Lucky 7, and Medina Heights multi-city projects.
City Star Residencia Lahore Features and Facilities
The project has to offer world-class amenities and some of the unique features that make it a top-notch area to reside in.
It has some of the most prominent features as well as the basic modern facilities that it offers to its residents. It aims to provide its residents with all the facilities that a modern society can have. Below are briefly described features that the society offers:
Speedy spacious lifts from parking to apartment floor.
24/7 secured through CCTV and Professional security personnel.
Equipped with a modern firefighting system.
Power backup through generators.
Private balconies and loggias.
Trash chute on each floor.
Maintenance service staff.
Drivers' rooms on sharing basis.
Reserved parking for residents.
Grocery store.
Beauty salon.
Medical facility.
ATM Machine.
Dedicated residential parking.
Gated entrance.
Fully equipped gymnasium.
Swimming pool.
Community Centre.
Electricity, gas, & water Supply.
Mosque.
Power backup.
It is approved by the Lahore Development Authority (LDA).
The grey structure of Block B is fully ready, and that of Block A is partially ready.
It is a safe, gated community with 24/7 security.
It has easy access to almost every major area of Lahore.