Al-Hayat Residencia Lahore
A newly launched project in the prime location of Lahore which offers luxury apartments of 1-bed, 2-beds, and 3-beds.
It is a sparkling residential complex that's geared towards providing the proper lifestyle to its residents. It gives them an area to experience the thrill of living, an inventive glimpse of ultimate residence where the residents can spend optimum time together with their family.
Location Map
Payment Plan
Features
Project Plan
Developers
---
Being located at a prime location, Al Hayat Residencia Lahore offers all the basic and modern life facilities to its residents and is aimed to be one of the top-notch housing apartments in the city.
This project offers an opportunity to show your dreamy notions of up-to-date living into reality by dwelling in its state-of-the-art apartments.
The whole project is Approved by Metropolitan Corporation Lahore and all other relevant authorities and is equipped with world-class facilities and amenities.
The housing project offers close proximity to many educational institutes and many other major landmarks of the city. Also, this apartment project is experiencing high returns on investments and is expected to grow at an accelerated rate in upcoming years.
Here are a few details about the location, features, types of apartments, and payment plan of Al-Hayat Residency along with other information that might help you decide if this is a good investment option for you.
Al Hayat Residencia Lahore Location Map
When buying a property everyone prefers a location that is ideal enough to spend a peaceful and happy life.
A location where all the life essentials are available and are safe in terms of security is prioritized by everyone. Locations are one of the main things as well that adds to the importance of property and this project is a whole package that gives you an ideal location with all the necessary life facilities in its surroundings.
This project is within the perfect location for a serene lifestyle with convenient access to all or any of the fashionable amenities required for a comfortable lifestyle. It is located on the wildlife park road, off Raiwind Road.
This area has been booming when it involves new projects, with ever-increasing demand and costs on the expansion side.
This project is no different when it involves the high returns which will be expected. it's also becoming increasingly populated thanks to the constant influx of individuals moving to Lahore for their careers and education because it lies within the junction of universities like Comsats, University of Lahore, Beaconhouse National University, and the University of Central Punjab.
This project is located at
Close proximity to Lahore Safari Zoo.
2 minutes from Lahore Ring Road.
3 minutes from the University of Lahore.
8 minutes from Shaukat Khanum Cancer Memorial Hospital.
25 minutes from Allama Iqbal International Airport.
Al Hayat Residencia Lahore Payment Plan
Payment is one of the biggest challenges that everyone faces when buying any property.
Everyone looks for affordable prices and investment plans that the investors have to provide to their buyers.
This housing project has a range of factors and qualities i.e. it's an ideal location, availability of all life conveniences, and economical rates. Yes, the rates of the apartments are very low but you can easily afford them while earning a moderate income.
This project offers apartments of the following categories:
1-bed apartments have two different sizes i.e. 343 Sq. Ft. – 370 Sq. Ft. and 337 Sq. Ft. – 443 Sq. Ft. and comes at a price of PKR 28.3 Lakh – 30.53 Lakh and PKR 27.8 Lakh – 35.72 Lakh respectively. These apartments have 1 bathroom and offer an easy installment plan of 48 months.
2-bed apartments have two different sizes i.e. 673 Sq. Ft. – 682 Sq. Ft 663 Sq. Ft. – 773 Sq. Ft. and comes at a price of PKR 55.52 Lakh – 56.27 Lakh and PKR 54.7 Lakh – 63.77 Lakh respectively. These apartments have 2 bathrooms and offer an easy installment plan of 48 months.
3-bed apartments have two different sizes i.e. 1,098 Sq. Ft. – 1,153 Sq. Ft. and 1,100 Sq. Ft. – 1,125 Sq. Ft. and come at a price of PKR 96.08 Lakh – 1.01 Crore and PKR 85.25 Lakh – 87.19 Lakh respectively. These apartments have 3 bathrooms and offer an easy installment plan of 48 months.
IRIS Block Payment Schedule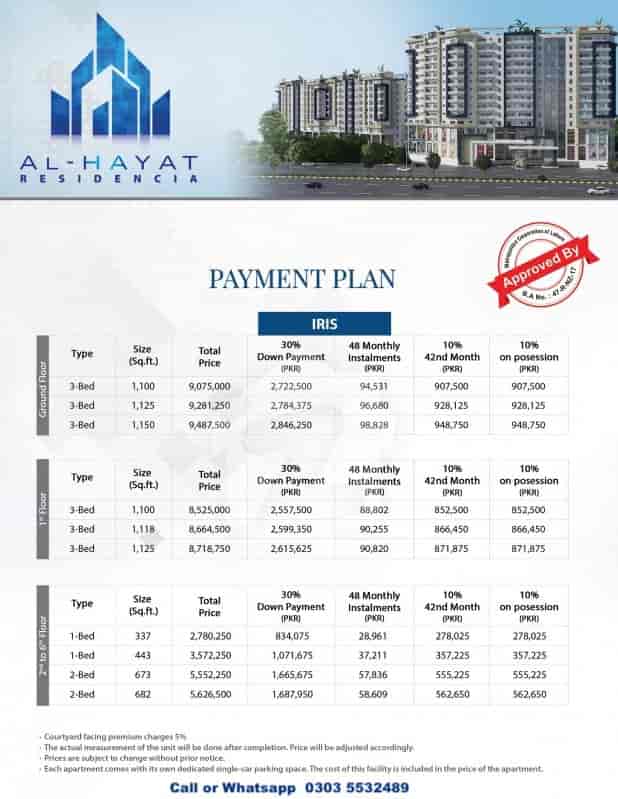 Daisy Block Apartment Prices and Installment Plan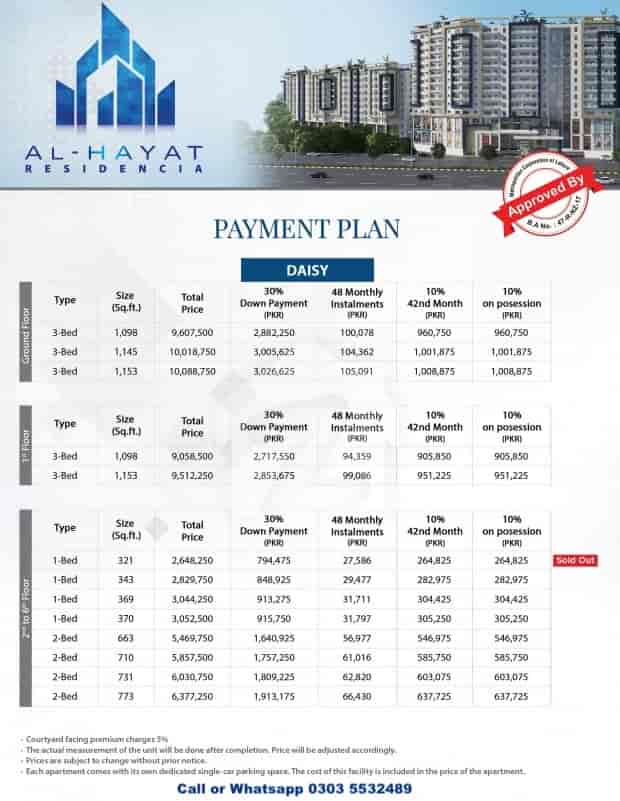 ---
Al-Hayat Residencia Lahore Project Plan
The main aim of this project was to provide an environment where people can live a modern lifestyle with all the security needed.
The residents of this megaproject don't have to leave the premises in search of any kind of basic facility because it provides almost all the facilities to its people and everything is available within its boundary walls.
This project consists of six residential blocks and one commercial plaza. The residential blocks are as below:
Iris
Bluebell
Lily
Jasmine
Daisy
Orchid
These blocks contain well-designed apartments with layouts that never sacrifice style and smart utilization of space. The apartment options available are:
1-Bed Apartments
2-Bed Apartments
3-Bed Apartments
The residential area has been designed to give a modern living coupled with international standard facilities and a peaceful environment.
This project aims to give a new life experience to its residents. This mega-project is like a dream come true. Fully furnished apartments, as well as non-furnished apartments, are available at affordable prices. The developers of this project have put so much effort into this project in making it a great success.
Developers of Al Hayat Residencia
It is a project of Hayat Engineers & Developer (Pvt) Ltd that is a renowned name in real estate development.
The company has completed several projects, with Al-Hayat Center being one of its masterpieces.
Recently, it has launched its latest venture which is ideally situated near the main Raiwind Road, Lahore, and is all set to be one of the most popular projects in the area.
Besides all the benefits and facilities that these apartments provide to their residents, there's a great opportunity for the investors too to invest here. What else can you dream of when you have all the facilities under one roof.
Al-Hayat Residences Lahore Features & Facilities
The project has some unique and prominent features as well as the basic modern facilities that it offers to its residents.
It aims to provide its residents with all the facilities that a modern society can have. Below are briefly described features that the society offers:
E-Access to apartments
24/7 security system & maintenance
24/7 power backup system
Gymnasium
Cinema
Community Center
Health & fitness club
Firefighting system
Underground utilities
Spacious parking
Parking for visitors & handicapped
Parks & children's play area
Shopping mall
Central mosque
Indoor games
Rainwater drainage system
Besides all these features, this project offers a wonderful opportunity for investment due to a variety of reasons, including:
Rising property prices in the vicinity, as the area has experienced a 45-50% increase in the past 3 years.
More than 50% return on investment in the next two years is expected.
It is a secure and gated community.
Easy installment plan of 48 months.
It is undergoing massive infrastructural development at a fast pace.
The project is approved by the Metropolitan Corporation of Lahore and all other relevant authorities.
The demand for apartments in Lahore has gone up due to changing preferences, and this project will help meet that demand.
---